The EKSA E900 Lords Mobile Edition headsets are the budget gamers' go-to accessory if they're after something simple and inexpensive, with soft cushions, a simple but sleek design, and a color scheme to match. Long periods of use do lead to a little discomfort, however, so be sure to take frequent breaks!
Pros
+

Appealing aesthetics

+

Surprisingly clear sound

+

Long cable
Cons
-

Heavy on the head

-

Uncomfortable after a while

-

The microphone is temperamental
Why you can trust TechRadar We spend hours testing every product or service we review, so you can be sure you're buying the best. Find out more about how we test.
One-minute review
The EKSA E900 Lords Mobile Edition is fundamentally a decent gaming headset that provides the basic essentials every gamer would need and nothing more. No extra frills like finicky apps or loads of buttons on the earcups: just plug-and-play simplicity. If you're looking for a quick replacement for a lost or damaged headset, a second pair for a younger user, or you're just getting into the world of gaming, the EKSA E900 is the headset for you.
The cheap price of this headset makes it incredibly accessible and it would make a great budget headset if you're planning to listen to music at your desk as well as play games, though we wouldn't recommend them for audiophiles looking for super-crisp spatial audio. As per the special-edition branding, you get a Lords Mobile gift card valued at $350 dollars as well, which makes this headset even better value - just so long as you're a fan of the game.

EKSA E900 Lords Mobile Edition Price and availability
Price: $32
Availability: in their store
EKSA provides shipping to most areas across the globe, though its site does single out some places that can't get to (like Puerto Rico and Hawaii) so it's worth checking out the shipping section of the site and making sure your area is covered. The Lords Mobile edition of the headset is not listed on Amazon in the US or UK, so its website is probably your best bet for getting a pair unless you're happy with the standard E900 headset.
Value-wise we do think these are a solid pair of cans for $32 (£27 or AU$ 48). This is cheaper than the next best gaming headset, the Corsair HS65 Surround, which has a lot more features and comforts. As we said, you get what it says on the box, and in our opinion, you probably don't need much more than that. You really don't need a super-expensive headset to feel immersed and enjoy your gaming, though you could always opt for some of the best gaming headsets out there if you're after more features. But if you want something comfortable to wear, easy to use, and with good sound quality, the EKSA E900 gets the job done.
EKSA E900 Lords Mobile Edition Design
Durable metal framework
No RGB Lighting
Can be uncomfortable after a while
The headset has a very straightforward appearance, and the simplicity of the black and purple design sets it apart from the over-the-top, RGB-filled tacky aesthetics that some gaming headset brands tend to go for. You would think that a collaboration between a game and brand this way would amount to some cringe designs, but EKSA keeps it simple and clean, and the E900 Lords Mobile Edition is a headset that you could get away with taking to the office or on the train without getting too much attention. Sure, some could argue that it may be a bit too simple, but there's something very stylish about the specific shade of purple against the black that we really like.
Wearing the headset can become a bit claustrophobic as the E900 has a rather snug fit that can feel rather constraining at first, but after a while, we did get used to it – though we noticed with longer sessions there's a bit too much pressure on the ears that can be a bit uncomfortable, even verging on painful, for larger-headed users. The earmuffs are supposed to be over-ear but we found they really just pressed against the ears rather than properly surrounding them. The metal framework gives the headset a durable feel and the headrest is padded and pretty comfortable - you don't feel any pressure from that when you wear them for long periods of time.
The noise-canceling microphone is detachable, which is super handy, so you don't have to swipe it up and away from your face when you don't need it. However, this does mean that it can be easily lost if you frequently detach it so beware, dear reader, of the wandering microphone.
EKSA E900 Lords Mobile Edition Performance
Decent sound quality
No noise cancellation on the headset itself

The sound quality of the EKSA E900 Lords Mobile Edition is pretty standard, with decent clarity and a believable soundscape both in-game and when listening to music or podcasts. We played Cyberpunk 2077 and enjoyed the experience, as subtle sounds are amplified so as to not get lost in the rest of the mix, and character dialogue is also brought to the forefront. The bass isn't going to compare with a pricier headset, of course, but it's perfectly adequate for most games.
The spatial audio of the headset is okay; not the best, but good enough not to detract significantly from gameplay unless you're used to a more expensive headset. Again, we did have to take frequent breaks between sessions to take the pressure off our ears, but otherwise, we enjoyed the immersive effect.
The noise-canceling feature of the microphone was handy in meetings, especially if you're in a particularly noisy office or the kids are screaming at home. We reckon these would actually be great for student gamers as they're cheap and durable enough to be thrown into a backpack, but the noise cancellation is still handy if you share living space and don't want your voice lost amongst environmental sounds. The noise-canceling is kept strictly to the microphone, unfortunately, and there is quite a lot of audio bleed from the earcups too, so be wary of that as you may annoy people nearby if you've got the volume high.
The EKSA E900 is wired, so bear that in mind, but at least the cable is long enough that you are not tethered to your desk. We wouldn't really expect to get a good-quality wireless headset at this price, anyway.
Should I buy it?
Buy If...
You want a basic headset that won't break the bank
You don't need the most expensive tech or the latest drop to enjoy your games, and the headset is a great addition to any gaming session that won't make your wallet cry.
You're just getting into gaming and want to start small
If you're just getting into gaming, the EKSA E900 are a great place to start. It's unintimidating in its simplicity and just requires you to plug it in, and then play! The noise cancellation on the microphone also means you won't have to spend money on a separate microphone while you're starting out.

Don't buy if...
You're after supreme sound quality
These headsets are great and will do the job you need well, but they're not equipped with Dolby Atmos, and the spatial audio capabilities are fine but not great. If you want supreme sound quality, these may not be right for you.
You need noise-canceling headsets
While the microphone of the EKSA E900 Lords Mobile Edition has noise-canceling faculties, the actual headset does not. We've been using it in the office and can hear every keyboard tap, every cough and sneeze and sigh.

You require mobility
The cable may be long but the E900 headsets are still wired, an do not have the option for wireless listening. So, again, if that's something you need you may need to look elsewhere.

Also consider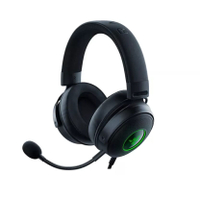 Razer Kraken V3 Hypersense
One of the best haptic headsets on the market that also provides a terrific audio experience in 7.1 Surround Sound and colorful RGB features. It is more expensive though, even when you skip the haptics.
Read the full Razer Kraken V3 Hypersense review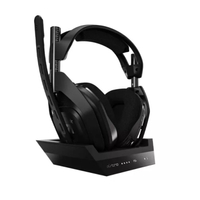 Astro A50 Gaming Headset
A premium gaming headset that features Dolby virtual surround sound. As a wireless option, it comes complete with a charging station and while the audio performance is outstanding, it has problems canceling noise. It's also more than three times the price of the HS65 Surround. If you've got the money to spend though, definitely give it a look.
Read the full Astro A50 Gaming Headset review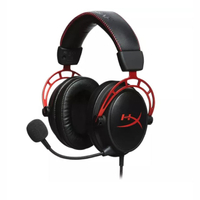 HyperX Cloud Alpha
A strong contender in the surround sound headset space, it features a detachable microphone and amazing virtual 7.1 Surround Sound, but costs a bit more as well.
Read the full HyperX Cloud Alpha (2022) review
Eksa E900 Lords Mobile Edition Gaming Headset: Report card
Swipe to scroll horizontally
| | | |
| --- | --- | --- |
| Value | The Lords Mobile Edition of the E900 headsets is inexpensive and comes with a great gift card incentive for the game. | 4 / 5 |
| Design | Sleek and simple design without RGB that tends to plague all gaming peripherals | 3.5 / 5 |
| Performance | Pretty standard sound quality, does the job and nothing more. Uncomfortable after a long wear session. | 3 / 5 |
| Total | Row 3 - Cell 1 | 3.5 / 5 |
How we test
We pride ourselves on our independence and our rigorous review-testing process, offering up long-term attention to the products we review and making sure our reviews are updated and maintained - regardless of when a device was released, if you can still buy it, it's on our radar.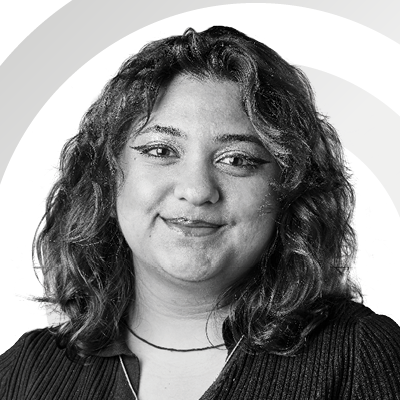 Muskaan is TechRadar's UK-based Computing writer. She has always been a passionate writer and has had her creative work published in several literary journals and magazines. Her debut into the writing world was a poem published in The Times of Zambia, on the subject of sunflowers and the insignificance of human existence in comparison.

Growing up in Zambia, Muskaan was fascinated with technology, especially computers, and she's joined TechRadar to write about the latest GPUs, laptops and recently anything AI related. If you've got questions, moral concerns or just an interest in anything ChatGPT or general AI, you're in the right place.

Muskaan also somehow managed to install a game on her work MacBook's Touch Bar, without the IT department finding out (yet).