Drop ALT: One-minute review
Though many mechanical keyboards are meant for gaming, the Drop ALT mechanical keyboard is meant for more professional use. And this is quite an underserved market, as many workers require hardier keyboards that will stand up to the grind of everyday productivity work.
The keyboard comes in two colors, black and space grey, with visually appealing two-toned keys that reflect those same colors. It also features fully programmable RGB lighting, which is not only practical for late-night typing but also enhances the visual appeal of the keyboard.
But the best feature in any mechanical keyboard is the ability to customize both keycaps and switches to best suit your needs. And, in an effort to make at least the latter more accessible to the uninitiated, you can choose from several switches Drop offers, with an easy-to-understand explanation near each choice. Having this level of customization for a non-gaming mechanical keyboard personalizes it in a way that many other keyboards aimed at non-gamers wouldn't allow.
However, this level of customization and quality comes at a steep price. The cheapest configuration costs $180, and the most expensive is $200. For those who are on a budget, the Drop ALT may not be for you. But if you're willing to put in a little extra, you'll get one of the most high-quality, smooth-as-butter typing experiences around.
Drop ALT: Price and availability
How much does it cost? $180 - $200 / £157.43 - £180.74 (around AU$260 - AU$290)
When is it available? Available now
Where can you get it? Either the Drop official retailer (US) or Amazon (UK)
Drop ALT: SPECS
Layout: 65%
Switch: Cherry MX, Kaihua, or Halo mechanical switches
Programmable keys: Yes
Dimensions: 32.2 x 11.2 x 4 cm
RGB or backlighting: RGB
No matter which switches you outfit your Drop ALT mechanical keyboard with, you'll find that the price is pretty steep. The range is between $180 - $200 / £157.43 - £180.74 (around AU$260 - AU$290), so if you're not willing to drop about two hundred for a single keyboard, and a 65% one at that, then you may have to pass this one up.
Availability isn't bad, with the US having the best of it. You can purchase all the configurations on the official Drop website, and at the time of this writing, there's even a sale going on. Those in the UK can purchase their keyboards on Amazon at prices adjusted for exchange rate and then readjusted for any import fees. Those fees would be paid by anyone in Australia, since all the keyboards are unavailable on Amazon.
Drop ALT: Design and features
High-quality form factor
Customizable RGB lighting
Great key and switch key
The Drop ALT's form factor is lightweight but sturdy, feeling every bit of that solid aluminum frame that it's made of. There are light pipes built into the switches, which enhances the already-extensive RGB backlighting and underlighting. You can fully customize said lighting, and the LEDs are at a frequency of 100 Hz, which means no visible flickering.
The keyboard also features hot-swappable switch sockets, which means no soldering is required when you want to change switches. There are even dual USB Type-C ports, one for connecting to the PC or laptop of your choice and the other for connecting to another device for either charging or transferring data.
Each key feels luxuriously smooth, and our review copy had a nice satisfying clack and tactile feedback with every key press. And despite the keycaps being a bit narrow, it didn't interfere with typing accuracy, though it still might be an issue for those with especially large or trembling hands. I found myself not particularly missing the num lock pad either.
Drop ALT: Performance
High-quality switches
Keys completely programmable
The Drop ALT is one of the most high-quality mechanical keyboards I've tested in a long while. As it's a wired keyboard, the response time is instantaneous with no latency issues.
Of course, this is a productivity keyboard so that's not nearly as much of an issue. But one aspect that does carry over well is the life cycle of the keyboard.
Unlike a much cheaper membrane keyboard (aka the keyboard most people use for work or school), mechanical switches are made to take a beating — as in millions of key presses worth of 'beatings.' And these switches are particularly great quality, especially the Cherry MX ones, as they're some of the most reliable on the market. Kaihua and Halo are also quite good, making for slightly cheaper but still good-quality switches.
All around, this keyboard is an ideal investment for those who tend to be much harsher on their keys.
The keys themselves are also completely programmable using the QMK firmware, meaning you can program macros and customized key mapping. Though this keyboard isn't meant specifically for gaming, there are some great options for those who want to use it that way. And thanks to the built-in switch plate and hot-swappable PCB, you can change out some of the innards whenever need be.
Should I buy the Drop ALT mechanical keyboard?
Buy it if...
You want high-quality switches
This goes especially for the Cherry MX switches, which are considered some of the best in the market.
You want a fully customizable keyboard
You're able to customize everything from the RGB lighting to the switches to the keycaps to macros.
You want a 65% keyboard that's still high-quality
While this keyboard is small, it features an aluminum body and excellent-quality switches.
Don't buy it if...
You're on a budget
This is a premium mechanical keyboard that comes at a premium price, so those on a budget beware.
You live in Australia
Unfortunately as of this writing the Drop ALT isn't available in Australia, so you'll have to import for even more money.
Also consider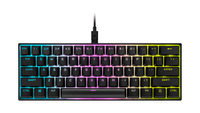 (opens in new tab)
Corsair K65
Though normally twice the cost of the Roccat Magma mini, this is still a high-quality gaming keyboard that won't break the bank. It also features a lightning-fast polling rate of up to 8,000Hz, which is perfect for professional gaming.

Check out our full Corsair K65 review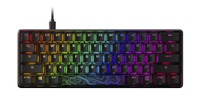 (opens in new tab)
HyperX Alloy Origins 60
A slightly more affordable option but still more expensive than the Magma mini, this keyboard has a sturdy build and HyperX Red switches on its keys. It's a bit awkward to use at first, however, and has no macros.

Check out our full HyperX Alloy Origins 60 review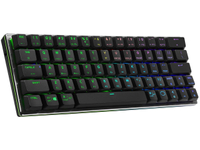 (opens in new tab)
Cooler Master SK622
A more affordable gaming keyboard than most, it boasts great gaming performance, light and thin form factor, can be both wired and wireless, and comes with tons of other features. The Bluetooth is a bit sluggish though.

Check out our full Cooler Master SK622 review
Drop ALT: Report card
Swipe to scroll horizontally
| | | |
| --- | --- | --- |
| Value | While expensive you definitely get everything you pay for. | 4.5 / 5 |
| Design and features | This keyboard comes with all the bells and whistles, and is fully customizable. | 5 / 5 |
| Performance | One of the best keyboards we've typed on in ages, it features high quality switches and tons of customizing options. | 5 / 5 |
| Total | This is one of the best 65% mechanical keyboards out there, it truly has the full package. | 5 / 5 |
First reviewed February 2023
How we test
We pride ourselves on our independence and our rigorous review-testing process, offering up long-term attention to the products we review and making sure our reviews are updated and maintained - regardless of when a device was released, if you can still buy it, it's on our radar.