The new Chromecast is a relatively impressive feat of engineering. Antennas are wrapped along the exterior to maximize reception, while the inside packs enough basic circuitry to get things set up and running smoothly.
The shell is a big departure from the USB stick-style original, and it's one that you might either love or hate, depending on where the Chromecast comes to rest in your media center.
Design
I expected the 2015 Chromecast iteration to be as accessible as its predecessor, an inconspicuous addition to our home entertainment setup that doesn't require any additional hardware or lengthy installation process.
I was right about most of it, but "inconspicuous" might not be the best way to describe the new Chromecast's color variations of Coral (Red) and Lemonade (Yellow). These colors highlight the top side of the disc that will hang from the HDMI port on the back of your TV. You'll find the Chrome logo proudly emblazoned on top, and only one port along the bottom edge that connects to a micro-USB cable used for power.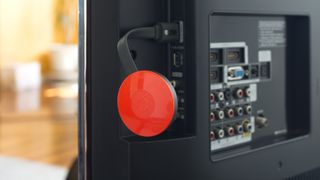 Let's talk about the disc itself. It's on the smaller side – at 2.04 x 2.04 x 0.53 inches (51.9 x 51.9 x 13.49mm), it definitely fits in the palm of your hand – and the switch from a plastic stick to a hanging disc is a practical one, essentially performing the same function as the extender Google sold with the first Chromecast.
But that means the Chromecast now dangles from the back of your TV instead of resting firmly in its port. It doesn't impact performance, nor has it ever come loose during testing, however, I could see it being a bit distracting for TVs with HDMI ports located on the side.
The last two important details on the design is the small reset button along the outer rim that corresponds to a status LED, and the magnetic back that allows the HDMI cable to stick for easy transportation. It's a minor detail and you might not ever use it, but these are appreciated subtle nuances that won't go unnoticed when you get one for yourself.
That said, I find the overall design itself to be polarizing. You'll either appreciate the pragmatic change from a rigid stick to a hanging disc, or you'll find it gaudy, odd and at least a little irritating. There's no middle ground here.
Interface
Once you run the included five-foot power cable into your TV or wall outlet with the included adapter, it'll be time to run through the new Chromecast's quick and easy setup process.
The process takes all of five minutes, most of which are spent actually downloading the Chromecast app from either the Google Play Store or iOS App Store. (Though, you can also use a PC or Mac by going to Google's "Getting Started" homepage.)
You'll be asked to connect the Chromecast to your home wireless network (unless you have the Ethernet Adapter for Chromecast that came out in July 2015. Finally, you'll be met with a settings screen that will let you to choose to enable Guest Mode and wallpapers.
When you're not actively streaming something to the Chromecast, it will enter a screensaver mode that can display images from Google Photos, Facebook, Flickr, curated artwork, the weather and even headlines from top news sources.
Unlike the Amazon Fire TV Stick or Roku Streaming Stick, there's no central hub for apps. Chromecast is either taking content from your phone, tablet or PC, or simply displays pretty pictures until it's told to do otherwise.
That said, the Google Chromecast app – discussed at length on the next page – serves as the main spot for checking out what content is available to stream and which apps you already have installed that work with your new streaming dongle.