Acer Chromebook 514 (2022): Two-minute review
If we weren't reviewing the Acer Chromebook 514 (2022), the words 'perfectly adequate' would probably feel like we were doing our target laptop down. But this isn't a normal laptop. It's a Chromebook, for a start, which means it gets graded on a very generous curve. And it is, well, perfectly adequate, and it turns out that's probably just what you need.
Context is everything. Inside you'll find a relatively pedestrian combination of 11th-gen Core chip - ours being the Core i5 spin, though a Core i3 model is more readily available - along with 8GB RAM and 128GB of proper SSD storage. Not much to write home about in, say, a Windows laptop, but put to work grinding out ChromeOS it's a package which chugs away without missing a step.
The shell, in terms of its looks, is as adequate as they come. The Acer Chromebook 514 clearly isn't built to be flashy, it's built for functionality and for grinding out documents. This is ostensibly part of Acer's enterprise-focused line, so it's made for work. It's a sleepy grey, the bezels are thin but not spectacular, and the ports are laid out in such a way that they'll very rarely become annoying. And yet there's enough expansion, thanks to a pair of Thunderbolt 4 compatible Type-C ports, that you can feasibly use it any way you need to. The chassis doesn't distract, it doesn't get in the way, and it's built specifically to take a knock or three - making this the ideal everyday machine to bash about in your bag.
The Chromebook 514's keyboard is fine - not offensively mushy, not a joyous experience for your fingers, just fine. The trackpad is large and reliable. The screen is decent and bright enough, but it's not the sharpest we've seen and the colour reproduction feels more like a vague approximation than anything you could feasibly use for graphics work. For the everyday grind, though, we found the Chromebook 514 entirely comfortable. Its battery life pales in comparison to ARM Chromebooks or those that have been slightly more generous with their lithium cells, but it's enough to easily see you through a day.
And the price is just about right. While an MSRP of $780 (£480/around AU$1,130) makes this a chunk of change more expensive than many Chromebooks, it also places this exactly where it should be in the mid-range. For a machine that performs fine and should last a while, its price tag isn't an unreasonable ask - particularly with enterprise budgets in mind.
The point is that the Acer Chromebook 514 review model we tested had an answer to every single one of our questions. It's not one of the best Chromebooks, but it's perfectly adequate, and it makes the case for adequacy perfectly well.
Acer Chromebook 514 (2022): Price and availability
How much does it cost? Reasonably priced in the UK, more expensive in the US
When is it available? Available now
Where can you get it? Available in the US and the UK, tricky to find in Australia
The Acer Chromebook 514 (2022) is not spectacularly expensive, but neither is it quite in the crowded domain of budget Chromebooks. Our particular review model, the Core i5-1135G7, touchscreen, CB514-1WT version, comes in at £480 in the UK and that's the price we've based our assessment on.
If you're in the US you may need to slightly alter your value judgement given that Acer lists it for a heftier $780. And in Australia, it doesn't currently seem to be available - though expect to pay a premium.
Bear in mind that if you shop around you may be able to save a little by opting for a Pentium Gold version - check enterprise suppliers for the best price.
Acer Chromebook 514 (2022): Design
Solid, functional chassis
Decent IPS screen
Nothing exciting - but it doesn't need it
How, exactly, do you judge a Chromebook's looks? The Acer Chromebook 514 (2022) is not supposed to be a flashy desk dazzler. It is built for functionality, for flinging in a bag and bringing to meetings, for getting out of the way and letting the work do the talking.
We could harp on about the things we don't like. We could complain about the beefy chin beneath its screen, the slightly-too-thick case, and the fact that there are far lighter laptops out there. But what would be the point? None of those things actually matter. And when you're grading on the Chromebook scale, when you're judging this based on other laptops which are around the same price - let alone other Chromebooks - it's clear that Acer has hit the mark.
The go-away grey of its upper chassis and screen lid gets just the slightest hint of sparkle; the black bezels around the screen are unspectacular and not distracting in the slightest.
While we are, again, grading on a scale, the touchscreen IPS panel is as good as you'll get in this price bracket. Yes, it's a little fizzy - we had a similar complaint about the larger screen of the Chromebook 515 - and its colour reproduction could be slightly better, but this isn't really made for ultra-accurate graphics manipulation or even for media: it's made for work.
In that context, we don't think Acer has put a foot wrong. You can work on the Chromebook 514. It has a generous selection of ports - a pair of Type-C ports on its left edge joined by an HDMI output and audio jack, a Type-A USB 3.1 port on the right along with a microSD connector. Only the addition of Ethernet (and perhaps a little desk-friendly rearrangement, putting one Type-C port on either side) would have made it better.
Acer also boasts of the Chromebook 514's military-grade drop testing; while we wouldn't take it into a warzone, it feels entirely sturdy and we'd have no problem slinging it in a bag.
Acer Chromebook 514 (2022): Performance
Smooth and snappy performance
Great storage speed
Acer Chromebook 514: Benchmarks
Here's how the Acer Chromebook 514 (2022) performed in our suite of benchmark tests:
Mozilla Kraken (fewer is better): 688.1ms
Speedometer: 293
JetStream 2 (higher is better): 194.4 points
Chrome OS doesn't pose the biggest technical challenge. That's basically why it exists at all. So it's not a huge surprise that the Chromebook 514 can pull a fair lick of speed out of its 11th-gen Core i5 processor. Sure, Rocket Lake isn't the very latest platform and doesn't quite touch on the extra efficiencies ushered in by Intel's newer chips, but it's sharp enough to give Chrome OS everything it needs. This loads fast copes with large numbers of tricky tabs and behaves like a laptop that could potentially cost a lot more.
Being backed up by a proper SSD, although small in our review unit at 128GB, gives the Acer Chromebook 514 (2022) an extra boost. Manual file manipulation feels far quicker than the equivalent action on eMMC storage - a cheeky Chromebook cost-saving staple - and we're sure that the snappiness of the OS owes just as much to the storage as it does to the CPU.
The keyboard and trackpad layout is perfectly functional, with a pleasing legend on the keys and smooth Gorilla Glass topping the generous trackpad. All very useable and inoffensive, and the Chromebook 514's typing action is, frankly, pretty excellent. Budget-friendly laptops have a tendency to skimp on their keys, but this is far from the mushy, unpleasant experience of some of its rivals: it's tight, consistent, and comfortable.
It does, naturally, have its limits. Attaching more than one additional screen is slightly more than the Chromebook 514's integrated graphics can manage. Running Android apps is perfectly feasible but, at least for those with heavy graphical demands, ends up somewhat stuttery. And, yes, this is a Chromebook - one with the requisite hardware to competently run a Linux install if you're feeling fruity, but most won't. Chrome OS is its own limitation, however small that limitation might be becoming.
All-in-all, though, the Chromebook 514 comes up very much on the correct side of any cost/benefit analysis there is. As a work machine, or just a reasonably-sized sit-on-the-couch browsing the web machine, it does its job without missing a beat. It may not be the luxury experience of high-end Chromebooks, but it's certainly more muscular than those costing very little less.
Acer Chromebook 514 (2022): Battery life
Lasts a decent amount of time…
…though ChromeOS seems to have no idea how long that'll be
If you want maximum battery from a Chromebook, Intel simply isn't the best choice. There are stacks of ARM-based options out there that'll go for age if you're happy to take the performance hit. But for an Intel-based machine, this isn't nearly as bad as you'd expect. Fully charged it'll take you from one end of a work day to the next, particularly if you're not testing it too much.
Our tests didn't quite see it reaching the ten hours Acer quotes; eight and a half hours was the limit, with closer to seven when streaming a lot of videos. You're within your rights to argue, but we feel like that's entirely reasonable for a machine of this price and relative performance.
Should you buy the Acer Chromebook 514 (2022)?
Swipe to scroll horizontally
Acer Chromebook 514 (2022)

| Attributes | Notes | Rating |
| --- | --- | --- |
| Price | This really depends on where you are in the world; in the US it's probably slightly on the expensive side, and the Australian price, if you can find it, is likely to be higher still, but the Chromebook 514's UK tag is right at the sweet spot. | 4 / 5 |
| Design | The Chromebook 514 won't win any awards for its design. Unless they're awards for least offensive or most functional laptop design, because this gets out of the way and we love it for that. | 4 / 5 |
| Performance | Specced as we recieved it the Chromebook 514 has all the power, RAM and storage speed you'll need in order to work and play without hitting any hitches. | 4 / 5 |
| Battery life | We're not entirely disappointed with the staying power here, but if you're looking for more than around seven hours on a charge there are plenty of options elsewhere in the Chromebook space. | 4 / 5 |
| Total Average | Row 4 - Cell 1 | 3 / 5 |
Buy it if...
You're not looking for pizazz
Acer keeps it simple here: this is a plain, grey laptop which isn't out to blow you away with features or flashy gimmicks. It's just there to knuckle down and do its job.
You're OK with Chrome OS
A mid-range machine of a similar price might be a better choice if you really need all the features of Windows. Online-only work is becoming a more than plausible option, but it's your only option here.
You're often on the move
There are lighter machines and smaller machines, but for a 14" laptop this is tough (and cheap) enough to happily withstand the rigours of a rucksack.
Don't buy it if...
You need real power
Let's use the word 'adequate' once more, for old time's sake. The package here is slick and speedy, particularly running under Chrome OS, but it's no world beater.
You need to work with colour
It's not awful, but we didn't find ourselves particularly impressed with the colour reproduction of the Acer Chromebook 514's otherwise-decent screen. For graphics work it's a dud.
You work long, long hours
The battery is fine, but it's not going to allow you to burn the midnight oil without plugging in. Type-C charging does at least mean the task of finding juice is made a little easier.
Acer Chromebook 514 (2022): Also consider
Swipe to scroll horizontally
| | Acer Chromebook 514 (2022) | Acer Chromebook 516 GE | Acer Chromebook Spin 713 |
| --- | --- | --- | --- |
| Price: | £480 (around $599 / AU$890) | $650 (around £530 / AU$955) | $699 / £599 (about AU$980) |
| CPU: | Intel Core i5-1135G7 | Intel Core i5-1240P | Intel Core i5-1135G7 |
| Graphics: | Intel Iris Xe | Intel Iris Xe Graphics | Intel Iris Xe Graphics |
| RAM: | 8GB LPDDR4 | 8GB | 8GB |
| Screen: | 14" 1080p IPS Touchscreen | 16" WQXGA (2560 x 1600) 16:10 120 Hz | 13.5-inch, 2256 x 1504p (3:2) LCD Touchscreen |
| Storage: | 256GB SSD | 512GB SSD | 256GB PCIe SSD |
| Ports: | 2x USB Type-C (Thunderbolt 4), 1x USB 3.2 Gen 1 Type-A, HDMI, audio combo jack, microSD reader, fingerprint sensor | 2 x Type- C, 1 x USB Type-A, 1 x Ethernet, 1 x combo jack, 1 x HDMI 2.0 | 2 x USB Type-C Thunderbolt 4, 1 x USB 3.2 Gen Type-A, 1 x HDMI, 1 x microSD |
| Wireless: | 802.11ax (Wi-Fi 6), Bluetooth 5.0 | Wireless Wi-Fi 6E AX211, Bluetooth 5.2 | Wi-Fi 6, Bluetooth 5.0 |
| Camera: | 720p | 720p | 720p |
| Weight: | 3.09 pounds (1.4 kg) | 3.75 lbs (1.70kg) | 3.20 lbs (1.45kg) |
| Dimensions: | 12.7 x 8.7 x 0.76 inches (32.2 x 22.09 x 1.9cm) | 14 x 9.8 x 0.84 inches (355.6 x 248.9 x 21.3mm) | 11.8 x 9.3 x 0.67 inches (299.72 x 236.22 x 17.01mm) |
If our Acer Chromebook 514 (2022) review has you considering other options, here are two more laptops to consider...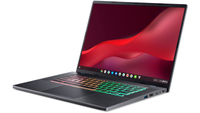 Acer Chromebook 516 GE
If it's cloud gaming you're after, Acer's marginally more expensive machine is an excellent choice - it gets a more modern processing package and drops the office-first vibe.
Read our full Acer Chromebook 516 GE review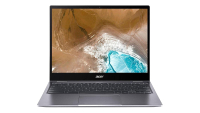 Acer Chromebook Spin 713
There's something to be said for a flippy screen, and the 713 feels very similar to the Chromebook 514 outside of its convertible nature and glossy screen. If you want more flexibility, this is a great choice.
Read our full Acer Chromebook Spin 713 review
How I tested the Acer Chromebook 514 (2022)
Several hours a day over the course of a week
Office work, general web use, Android games and apps, media playback
Techradar benchmark suite, real-world tests, using the laptop for work
I committed to using the Chromebook 514 as my main laptop for a week. That meant using it for writing work and research during the day, and for general media consumption and web browsing in the evening.
During the course of testing the Chromebook 514 was also subjected to a battery of tests; the three main Techradar Chromebook benchmarks, as well as tests of Android game performance, heavier productivity apps, and a specific looping video battery life test.
I'm a long-tenured tech writer, and have been testing laptops in various forms since the late 20th century. Whether it's a full-on gaming beast or the lowliest of cut-price chuggers, I know the things to look for and the buttons to push.
First reviewed February 2023