Samsung management resigns over tax scandal
Chairman, son of founder, indicted over missing funds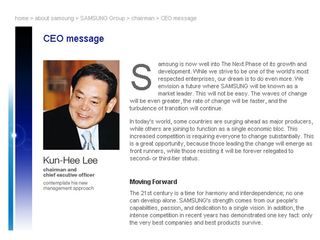 As usually happens when company chiefs are accused of evading almost a quarter of a billion pounds in taxes, Samsung today lost its most senior management after they chose to resign en masse.
The most high-profile departure was that of Kun Hee Lee, group chairman and son of Samsung's founder. Speaking at a news conference, he said, "We, including myself, have caused troubles to the nation … I deeply apologize for that, and I'll take full responsibility for everything, both legally and morally."
Korean problem
South Korean prosecutors chose only to indict Lee, not to have him arrested, as they fear the repercussions for Korea's economy of such a dramatic move. Samsung is responsible for around 20 per cent of the country's exports.
Lee was joined in leaving the company by his ally and vice chairman, Hak Soo Lee, and his son and heir, Jae Yong Lee. A total of 10 Samsung executives have been formally indicted.
Only the beginning
Rather ominously for Samsung, an exceedingly contrite official statement released after the news conference added, "We also acknowledge that today's announcement of restructuring is not the last — that it is only the beginning."
The resignations come at the climax of a three-month investigation that was instigated after a former company lawyer blew the whistle on the alleged financial mismanagement.
Sign up to receive daily breaking news, reviews, opinion, analysis, deals and more from the world of tech.
J Mark Lytle was an International Editor for TechRadar, based out of Tokyo, who now works as a Script Editor, Consultant at NHK, the Japan Broadcasting Corporation. Writer, multi-platform journalist, all-round editorial and PR consultant with many years' experience as a professional writer, their bylines include CNN, Snap Media and IDG.