Fuel cell has potential to power gadgets forever
Toshiba's methanol charger need never go near a mains supply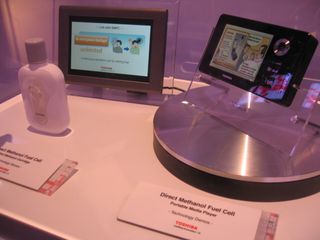 In a week of exciting news for clean power fans, we would be remiss to overlook Toshiba's announcement that it is finally ready for market with its long-awaited methanol fuel cell for powering all kinds of gadgets.
The Dynario is the first direct methanol fuel cell (DMFC) to go on sale anywhere in the world, which gives an idea of why it's strictly aimed at early adopters for now.
Wait and see
Toshiba says it's offering just 3,000 of the ¥29,800 (£197) devices in an effort to decide whether or not to ramp up production and push down the price in future.
Come 29 October, Japanese tech-heads will be able to squirt 14ml [corrected] of methanol (50ml bottles are an eye-watering ¥3,150, or £21, a pop) into the Dynario and then use it to charge the equivalent of just two mobile phones via a USB cable.
Longer road life
Pricing issues aside, DMFC technology is clearly one to watch, as it frees gadgets from the tyranny of needing a hit of AC every few hours. The science of how it works will likely matter not a jot to most people.
If the Dynario is a success, we can expect the fuel cell market to rapidly become crowded with other manufacturers looking to reap the rewards and extend the life of all manner of mobile devices.
Via CNNGo
Sign up to receive daily breaking news, reviews, opinion, analysis, deals and more from the world of tech.
J Mark Lytle was an International Editor for TechRadar, based out of Tokyo, who now works as a Script Editor, Consultant at NHK, the Japan Broadcasting Corporation. Writer, multi-platform journalist, all-round editorial and PR consultant with many years' experience as a professional writer, their bylines include CNN, Snap Media and IDG.