When England won the World Cup in '66, home entertainment consisted of little more than a game of shove ha'penny and a couple of rounds of buttered tea cakes. If you wanted big screens and kick ass sound, you'd have to drag the sofa a little closer to the small black and white telly (rented) and wind up the volume dial.
To find out more about the Honor 10's incredible AI camera, watch this:
Today, we expect a rather more immersive experience when lounging in our boxers. If you want to make the most of the FIFA Russia World Cup, and live sporting events to follow, then a new UHD TV screen and cinematic sound system constitute the bare essentials.
To help you prepare, we've shortlisted all the kit you need…
Best for... watching football
Hisense U7a (HE55U7A1WTSG)
You don't need to spend a big bucks to get a big screen. Basic 50-inch panels can be had for a few hundred. Up your budget though, and you can take home a 55-incher built from the boots-up for footie. This Hisense even powers up with the FIFA logo!
It may not cost a transfer fee, but build quality is high. Smart connectivity is good too. Hisense's connected interface offers easy access to apps, inputs, media and settings. Netflix, Amazon Prime Video and Youtube all support 4K streaming. This set is compatible with HDR10 and HLG, and will stream the World Cup in glorious 4K HDR via the BBC iPlayer app (if you are in the UK).
UHD images are razor sharp and motion handling is spot on. Hisense's Ultra Smooth Motion processing, specifically the Clear and Standard modes, keep players crisp and panning smooth. The cherry on the cake is a dedicated sports mode. The U7A auto detects sports content from its tuner and optimises picture and audio to suit.
Get the Hisense U7a (HE55U7A1WTSG) for £599 here
Best for... watching fast-moving sports
Sony AF8 4K OLED
OLED is fast becoming the MVP at the higher-end of the telly market, and Sony's AF8 dominates the front line. The KD-65AF8 combines superb imagery with class-leading motion handling.
Sony's proprietary Motionflow processing does a remarkable job, smoothing pans and maintaining clarity. Our advice is toggle between Standard and Clear, and choose the one that works best for you, if you want to follow all the action.
The panel has premier league good looks. Clean and minimalist, a central foot provides support. There are no visible speakers, because the TV uses Acoustic Surface technology. The panel itself vibrates, courtesy of two attached actuators on the rear, which creates forward facing stereo sound. It sounds mad, but works brilliantly. Twin rear-mounted woofers lend extra depth.
While there's no Freeview Play, a bespoke YouView app provides most of the same functionality. The core platform is the Android TV OS, with integrated Chromecast and Google Assistant. The AF8 can handle the BBC's 4K HDR iPlayer streams, but also offers Netflix, Amazon Prime Video, YouTube, DisneyLife and Rakuten TV.
Key to picture performance is its X1 Extreme image processor. This supports HDR10, Dolby Vision and HLG. SDR handling is particularly good (significant given that ITV will not be showing its matches in 4K). There's a faux HDR lift to SDR material that seems entirely naturalistic.
Get the Sony AF8 4K OLED here for £3,299
Best for... an all-in-one TV sound upgrade
Q Acoustics M2 soundbase
Nothing builds excitement quite like good sound. While some tellies make a decent noise, a dedicated sound system will always pay back in dividends. If you want to crank it up, but keep things simple, then Q Acoustics Bluetooth-enabled M2 soundbase is the box to bring home.
This all-in-one delivers with aplomb. Pop it under your TV (it'll take the weight of screens up to 25kg) or in a cabinet, and connect via either HDMI ARC to your display, or a digital optical audio lead. There's no need for a seperate subwoofer, as the screen has a down-firing 100mm x 150mm dual voice-coil subwoofer on-board. Front-facing 58 x 58mm BMR (Balanced Mode Radiator) drivers ensure a wide stereo spread.
Given that the M2 is plug 'n' play, there's no auto calibration system to worry about. Two switches on the rear help optimise performance, but that's about it.
The M2 may be unapologetically stereophonic, but it delivers a stadium-sized soundstage that's perfect for sports. A power plant of 80W (with 2 x 20W going to the stereo pair, and 40W going to the sub), keeps things lively.
Get the Q Acoustics M2 soundbase here for £239
Best for... adding Dolby Atmos to your setup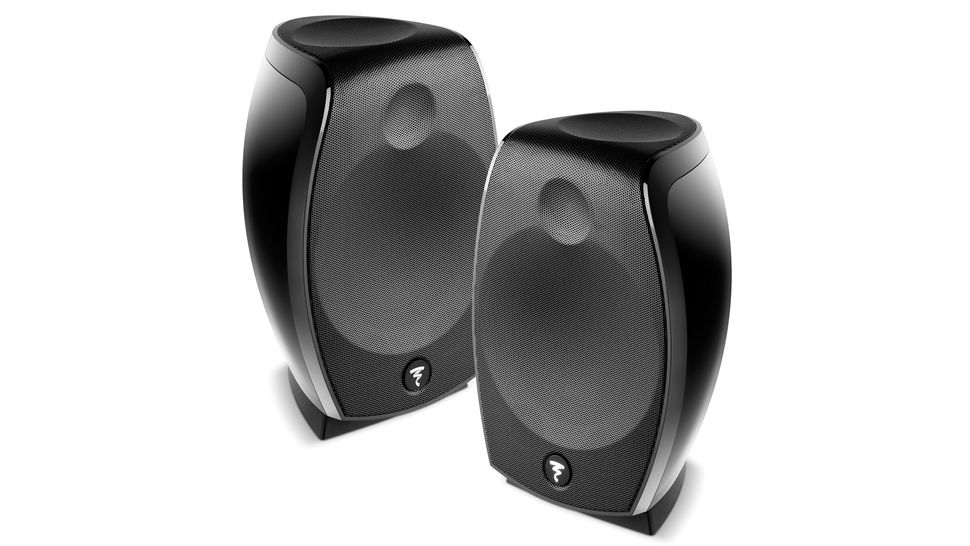 Sony STR-DN1080 AV receiver and Focal Sib Evo Dolby Atmos speakers
If you demand something more elaborate that a stereophonic soundbase, then an AV receiver with multichannel speakers is the obvious upgrade. For value as well as performance, our suggestion is the Sony STR-DN1080 Dolby Atmos AV receiver coupled to Focal Sib Evo Atmos speakers.
The Sony AVR features six 4K HDMI inputs, with two HDMI outputs, enabling it to support a TV as well as the projector. Other connectivity is covered by Bluetooth, Airplay and Chromecast Built-in (for audio only). You can even pair the AVR with Bluetooth headphones, if you'd rather listen to matches without disturbing family or flat mates.
The STR-DN1080 has seven channels of grunty amplification, giving Dolby Atmos in a 5.1.2 configuration. Power output is (optimistically) rated at 165W per channel, but there's no shortage of real world welly. The STR-DN1080 also boasts phantom rears to give the impression of full wraparound crowd ambiance. While no World Cup matches are being broadcast in the UK in Dolby Atmos audio, this receiver is able to upmix a 5.1 stream, for a surprisingly effective listening experience.
Partnering the STR-DN1080, is Focal's Sib Evo Dolby Atmos loudspeaker package. It may be compact in design, but will have no problem recreating the roar of the crowd.
The Focal system comprises two Sib Evo (with integrated) Dolby Atmos upfirers for left/right and height, plus a Cub Evo subwoofer, and three Sib Evo satellites, which handle the rear surround and centre channels.
Get the Sony STR-DN1080 here for £417
Best for... projecting sports on a big screen
Optoma UHD51 4K projector
If you want to supersize your soccer (and who doesn't?), consider upgrading your TV to a projector. Optoma's UHD51 is the cheapest 4K projector we've seen, and it's bright enough to deliver pin sharp images in rooms with moderate ambient light.
Weighing just 5.22kg, it's small enough to park on a coffee table, so you can fire it at walls and screens with ease.
Rear connections include two HDMI inputs, both of which are 4K ready. It also has an internal 5w sound system, so you don't have to use outboard speakers. That said, you can always use it with a separate sound system (like our Sony STR-DN1080/Focal Sib Evo combo) if you want to audio to match the scale of its images.
Picture quality is excellent, offering beautiful detail with no visible pixel structure, even when watching at more than 100-inches across. The UHD51 features a 0.47-inch DMD device, which cleverly employs hyper-fast switching to create a 4K (8 million pixel) image from just over 2 million mirrors .
Crucially, the projector features top notch image interpolation, in the form of PureMotion. Our advice is keep the PureMotion mode High for all sports, to retain detail during fast action (probably not required for England matches).
Get the Optoma UHD51 4K DLP projector here for £1,499
TechRadar's World Cup coverage is brought to you in association with Honor.