Panasonic: Wi-Fi shouldn't be a 'tickbox' feature
More research needed into consumer trends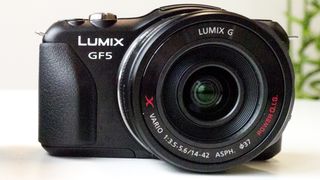 Wi-Fi is becoming a more prevalent feature among all kinds of electronics nowadays, but Panasonic believes that it's not necessarily a good move for cameras.
Recently, Samsung introduced a new series of NX cameras, each with integrated Wi-Fi. For Samsung, this is being touted as one of its key selling points.
Speaking to TechRadar, Barney Sykes from Panasonic UK said, "Seeing Samsung introduce [Wi-Fi] to CSCs is very interesting, but we are conscious of using it."
"There's got to be a real end-user benefit, and we don't want Wi-Fi just to be a tickbox feature that you've got to have it but nobody actually knows the benefit, or even uses it. That's one of the key things for us, to really find out from the consumers how they're going to use it."
Panasonic does have Wi-Fi capability in some of its other cameras, such as the compact FX90, but as yet, there's no sign that the G series of Micro Four Thirds cameras will include the functionality in the near future.
Remote
Not only does Wi-Fi allow for emailing and uploading of images to social networking sites, but smartphone apps allow for control of the camera.
"Remotely controlling the camera would be good," admitted Sykes, "especially with interchangeable lens cameras, that's a really strong value-add, that would be quite cool."
It's clear that Panasonic is monitoring the trend quite closely, so it will be interesting to see what comes with future developments.
Sign up to receive daily breaking news, reviews, opinion, analysis, deals and more from the world of tech.
Amy has been writing about cameras, photography and associated tech since 2009. Amy was once part of the photography testing team for Future Publishing working across TechRadar, Digital Camera, PhotoPlus, N Photo and Photography Week. For her photography, she has won awards and has been exhibited. She often partakes in unusual projects - including one intense year where she used a different camera every single day. Amy is currently the Features Editor at Amateur Photographer magazine, and in her increasingly little spare time works across a number of high-profile publications including Wired, Stuff, Digital Camera World, Expert Reviews, and just a little off-tangent, PetsRadar.