ZTE adds a budget Axon and new Axon Pro handset to its lineup
The Pro gets more storage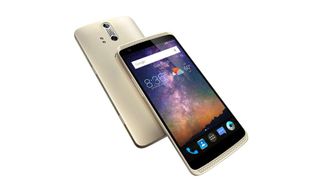 ZTE has two new handsets for its Axon range, including an even cheaper Axon and the Axon Pro which touts a larger storage option.
The Axon Pro is basically identical to the Axon handset that was released earlier this year, but with 64GB of storage and will cost $449.98. The 32GB model Axon will still be available as well, though it is getting updated to the name Axon Pro and will come with a price drop from $450 to $399.98.
Both of these handsets come sporting 5.5-inch display with a quad HD, 2,560 x 1,440 resolution, as well as a 2.0 GHz Octa-Core Qualcomm Snapdragon 810 chipset, 4GB of RAM, 3,000 mAh battery and 13MP dual lens camera with 4K HD video recording.
Going even cheaper
While the Axon Pro models are already pretty competitively priced, ZTE is introducing an even cheaper handset, the Axon.
With its downgraded specs, it is be priced at $329.98, but still sports the sleek aluminum looks of the Axon Pro range.
This cheaper handset is powered by a 2.0 GHz Quad-Core Qualcomm Snapdragon S800 chipset with 2GB of RAM and sports a 1080p 5.5-inch Full HD display.
And that's where the big differences end for the Axon compared to the Pro range, as it also comes with a 3,000 mAh battery and 13MP dual lens camera with 4K HD video recording.
Unfortunately, all three models will ship with Android Lollipop, but you'll be able to pick up Axon and and Axon Pro unlocked for T-Mobile and AT&T, but you'll only buy it through ZTE's website or through other online stores like Amazon and Ebay.
Sign up to receive daily breaking news, reviews, opinion, analysis, deals and more from the world of tech.