Sprint may release all-touch BlackBerry 10 alternative to Z10
Not a Sprint Z10, but a new touchscreen BlackBerry phone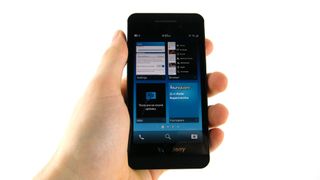 The next Sprint BlackBerry 10 phone to be announced may be an all-touch device, and it's not the BlackBerry Z10.
The unnamed keyboard-less Sprint smartphone is expected to be released in the second half of this year, reported AllThingsD, citing a source familiar with the situation.
So far, Sprint is the only U.S. carrier without an all-touch BlackBerry 10 smartphone, with AT&T, Verizon, and T-Mobile all preparing to launch versions of the touchscreen Z10.
Sprint's all-touch BlackBerry 10 alternative would join the third-place carrier's announced BB10 smartphone, the BlackBerry Q10, which has a physical keyboard typical of the BlackBerry brand.
BlackBerry 10 keyboards
BlackBerry, formerly RIM, would not confirm the existence of a new all-touchscreen BlackBerry 10 model coming to Sprint or any other U.S. carrier.
"We will not comment on rumor or speculation," a BlackBerry spokesperson told TechRadar.
However, the representative for the Canadian telecom company did verify that the BlackBerry Q10 is still slated for release next month.
"The BlackBerry Q10 will be available starting in April," the spokesperson said.
By releasing the keyboard-equipped BlackBerry Q10, Sprint customers are missing out on the new virtual keyboard layout that the company designed for its BlackBerry operating system.
It resembles the physical QWERTY keyboard style of older generation BlackBerry devices and auto-predicts the next word by learning the user's typing preferences
In addition to mimicking physical QWERTY keyboard style of older generation BlackBerry devices, it auto-predicts the next word by learning a user's typing preferences and using contextual information.
Like the Z10 from AT&T, Verizon and T-Mobile, Sprint's all-touch BB10 smartphone should give opened-minded BlackBerry faithful a chance to use the new virtual keyboard later this year.
Sign up to receive daily breaking news, reviews, opinion, analysis, deals and more from the world of tech.