Nvidia CES 2022 Special Address as it happened - the RTX 3090 Ti is coming
Nvidia announced a bunch of new GPUs at CES 2022. Here's what happened.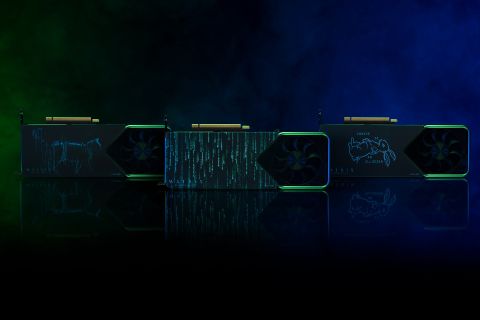 (Image: © Nvidia)
Nvidia isn't physically at CES 2022, but its big keynote is halfway over, and is now focused on AI and self-driving cars. But for gamers, the show is essentially over. We're getting two new desktop GPUs and two new mobile GPUs. And yes, the RTX 3090 Ti is coming.
We're also getting the RTX 3080 Ti and the RTX 3070 Ti in gaming laptops, and the former is supposedly going to be capable of driving equivalent performance to the Nvidia RTX Titan - which should be around where the Desktop-class RTX 3080 sits. Definitely exciting stuff, but it is going to be very expensive.
Here's the event as it happened. Unfortunately, we didn't get to see Jensen's kitchen this time.
Refresh
We wouldn't be terribly surprised if we see Ti-branded laptop GPUs show up, and it wouldn't be without precedent. The RTX 2080 Super and the rest of the Super-branded Turing lineup showed up in laptops in March 2020, just about 6 months before the RTX 3080 graced our lives. So, an RTX 3080 Ti for a laptop would be early if it showed up at CES 2022, but not by enough that would make it infeasible.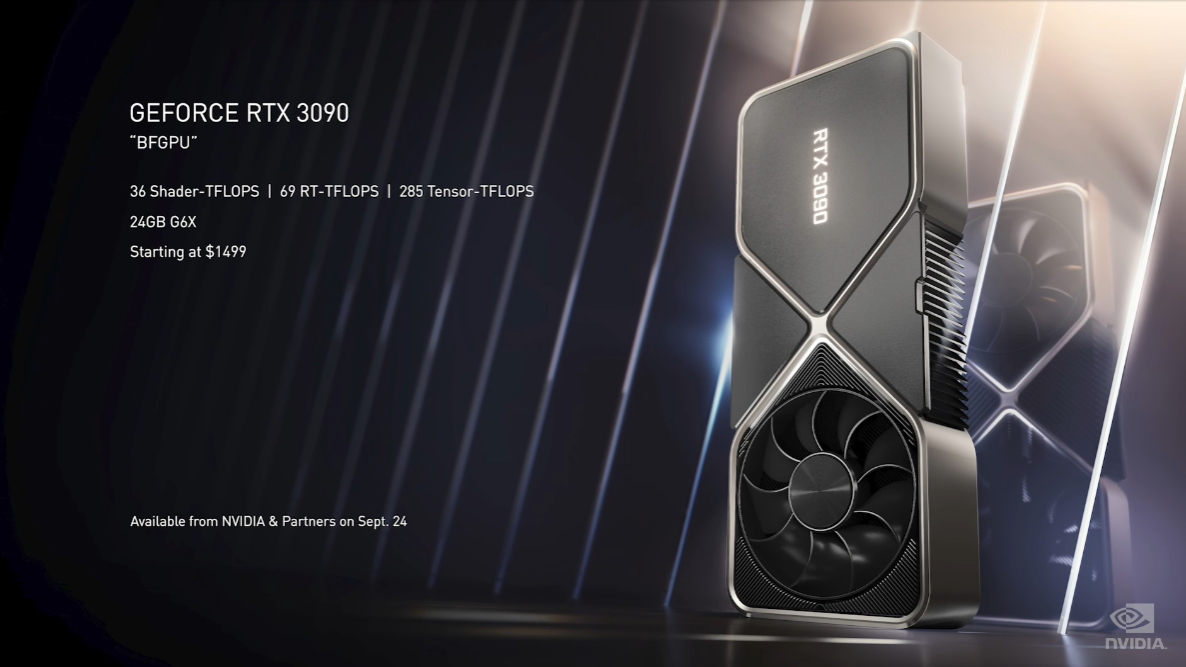 We've been hearing so many rumors about the Nvidia GeForce RTX 3090 Ti that we're starting to think it might actually arrive. Honestly, it would make sense to us - the RTX 3080 Ti basically made the RTX 3090 completely irrelevant to gamers that aren't going to fully saturate the 24GB of GDDR6X memory. So, while usually we'd say "please put out a budget card" - we kinda want to see something flashy right now.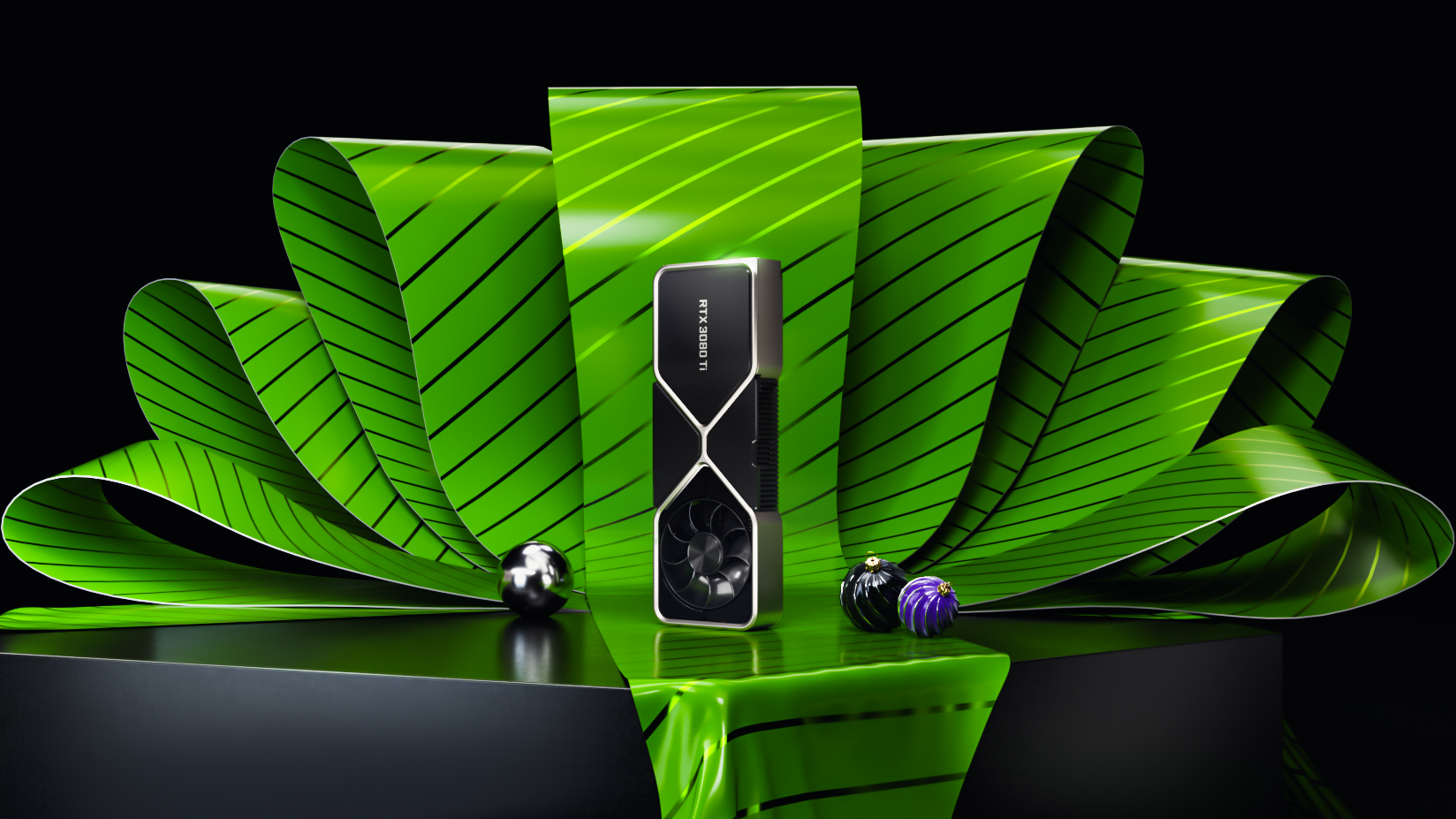 As I get ready to call it a night before Nvidia takes the stage in the morning, I just want to say that I can't wait to see what it has to offer. It's definitely a mid-generation launch, so probably nothing totally groundbreaking, but I really want to see whether the company will focus on even more high-end products that no one needs or if it will fill out the rest of its product stack with affordable cards that people will actually be able to get their hands on.
It's tough, I want to ask for both, but I know that's unlikely. Oh well! I guess we'll see in the morning!
We're now mere hours away from Nvidia's CES keynote, and the hype is certainly building. One thing we'd like to see from Nvidia, alongside new desktop and laptop GPUs, is some sort of clue to how the company is planning on improving the stock situation. Last year, it was almost impossible to find a new Nvidia RTX GPU at a sensible price due to numerous factors, so we'd like Nvidia to show how we can actually get hold of the stuff it'll be showing at CES 2022.
As Nvidia's tweet below shows, it won't just be showing off gaming hardware at CES 2022 - it'll also be revealing hardware and devices aimed at content creators and creative professionals with its 'Studio' branded products.
In 𝟮𝟰 𝗵𝗼𝘂𝗿𝘀, tune in for exciting creator news during the NVIDIA Special Address at #CES2022. 🎨👉 https://t.co/N0zN2oVFDm pic.twitter.com/sSEj55IrlQJanuary 3, 2022
Nvidia's Studio drivers make its GPUs perform especially well for certain creative applications and tasks, much like its Game Ready drivers boost game performance.
So, if we have new gaming laptops with RTX 3000 series laptop GPUs, we'll likely see Studio laptops as well from the likes of Acer and Razer that use these new laptop GPUs as well.
Not only will we likely see new hardware from Nvidia, but we'll probably see how its new GPUs, as well as technology like DLSS, make new PC games look and run even better, so be on the lookout for glimpses of upcoming games at Nvidia's show as well. One game we know will be there is Dying Light 2, thanks to this tweet:
Join @NVIDIAGeForce's Special Broadcast Event on January 4th at 8am PST for some exciting news on Dying Light 2 https://t.co/LhwYGrXBap #DyingLight2 pic.twitter.com/0mgAJr0ZycJanuary 3, 2022
We expect DLSS support to help boost performance, and likely advanced ray tracing effects as well for Nvidia RTX GPUs.
Almost two hours to go until Nvidia's CES 2022 presentation kicks off! Will we see new super-powerful GPUs that no one can afford or buy? Or some much-needed budget options in the RTX 3000 series? Not long until we find out!
We may hear more about Nvidia's GeForce Now, the game streaming service. It's one of the best we've tried, allowing us to play games on a range of non-gaming devices. Nvidia is sure to boast about it, but with a new RTX 3080 subscription tier having just launched, there's probably little in the way of new announcements, except maybe more games coming to the service.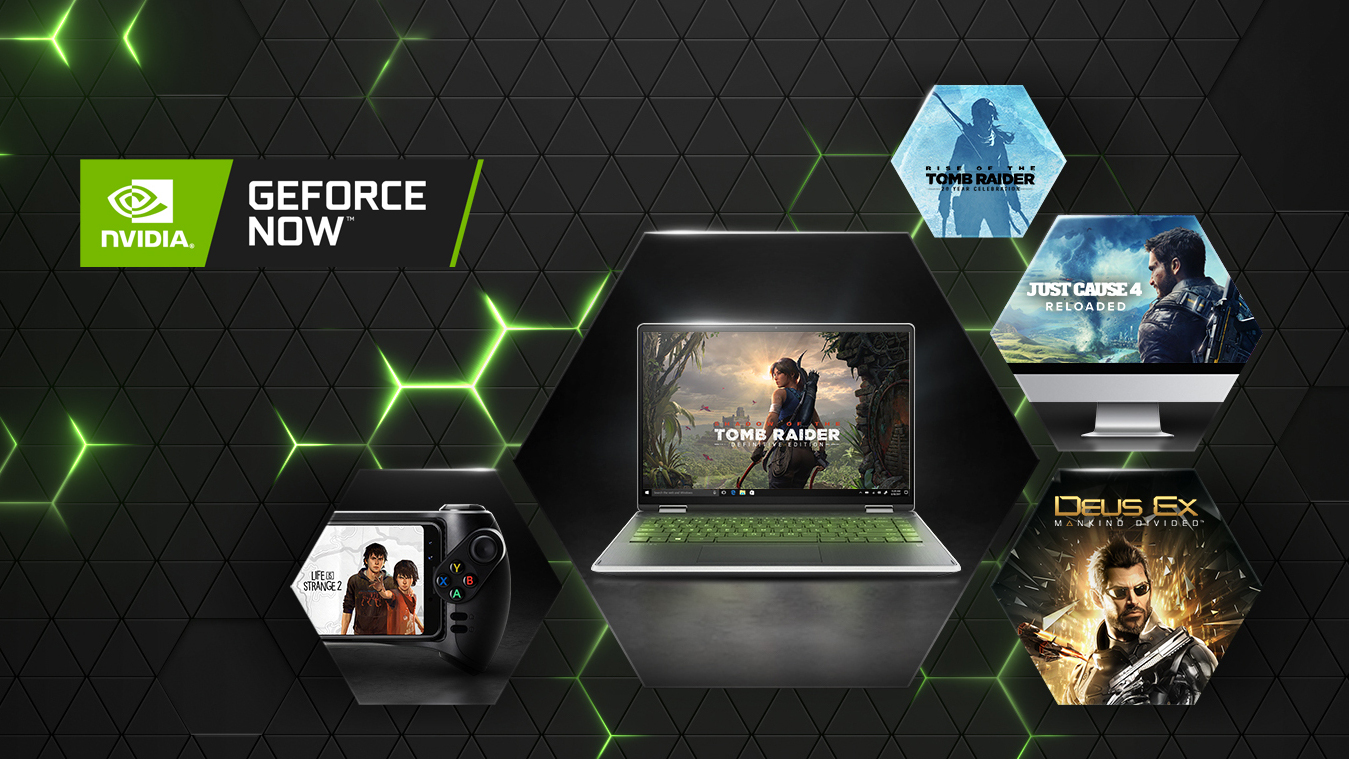 AMD's presentation is going on right now, and it's announced some new budget GPUs, so there's even more pressure on Nvidia to bring the goods with affordable GPUs. Will it show some at its own presentation? We'll find out in 30 minutes!
Ok, AMD's press conference is over, and it announced some new low-power laptop GPUs, a refresh of the Radeon 6800M and a budget desktop graphics card. Now I'm honestly expecting an RTX 3050 and I might be a little upset if we don't get it. I've been asking Nvidia for a budget graphics card for a while now. Gamers deserve a card that won't cost them a thousand bucks.
ETA 5 minutes. Will we get the RTX 3090 Ti? What about gaming laptop chips? Will we see Jensen in his kitchen? Stay tuned to find out answers to all these questions and more.
Here we go. 20 seconds. Very sci fi opening.
We're starting it off with Jeff Fisher, talking about gaming and creators. Which is honestly mostly what we're here for. A bunch of games being shown, likely because they have ray tracing and/or DLSS. Get ready to hear about both a lot.
Keith David really said "RTX it's on" That's all I needed tbh.
Now Jeff is talking about esports. This would be a great way to pivot to a budget GPU. Is this gonna be the RTX 3050?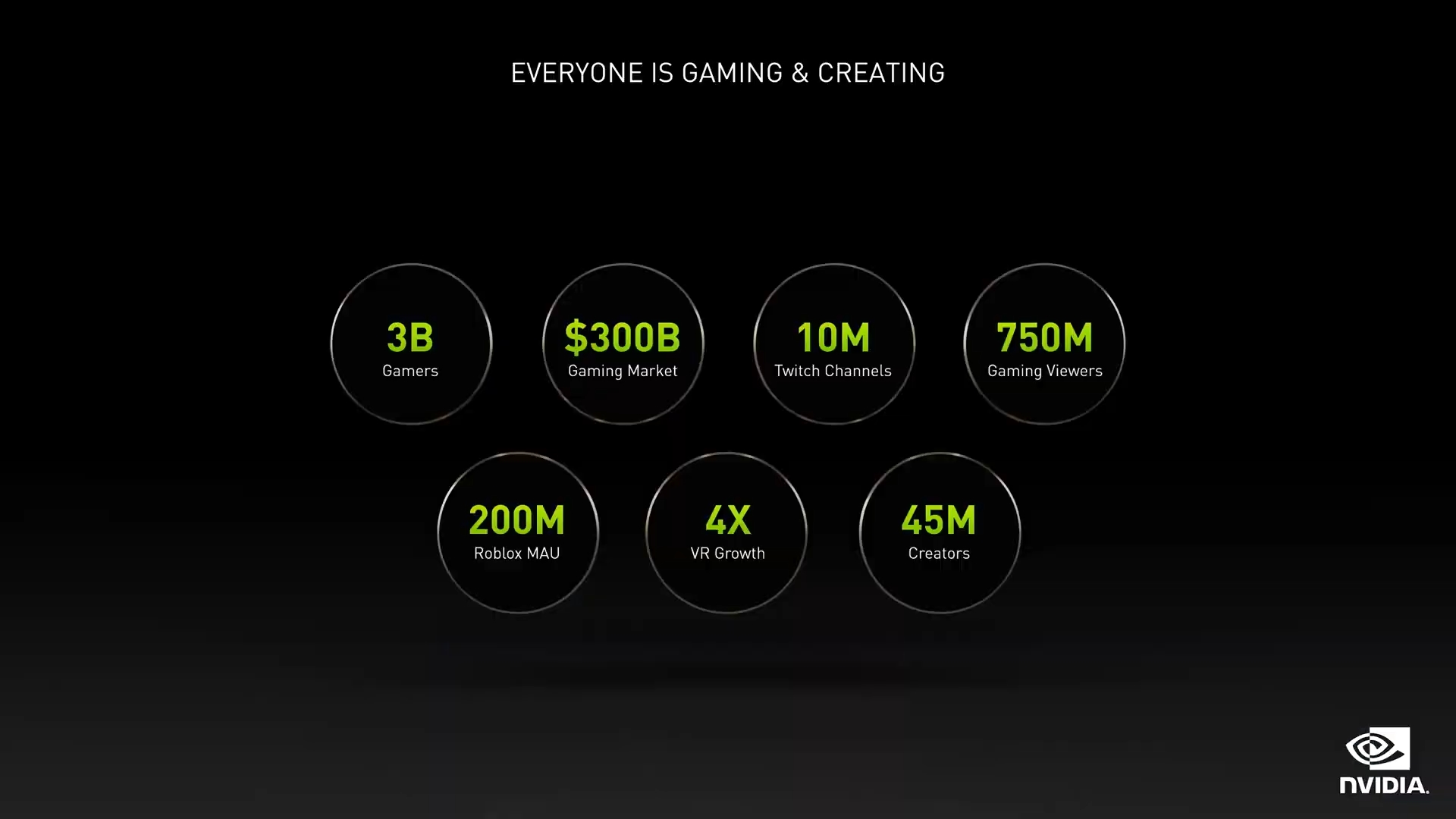 Cloud gaming is expected to grow to 100 million users by the end of the year. A couple of years ago we would have scoffed but now that we know no one can buy hardware anymore, it kind of makes sense!
Hey look it's ray tracing. The thing Nvidia has been going on about for the last 4 years. It's as good as usual, but probably not really worth spending this much time on.
Hey look its another game trailer. Does Nvidia have any actual hardware? Or are we just going to see DLSS titles here?
Now we get a trailer for Dying Light 2. Remember, while this looks pretty, the dev is recommending an RTX 3080 for 1080p. These lighting effects are probably not worth it.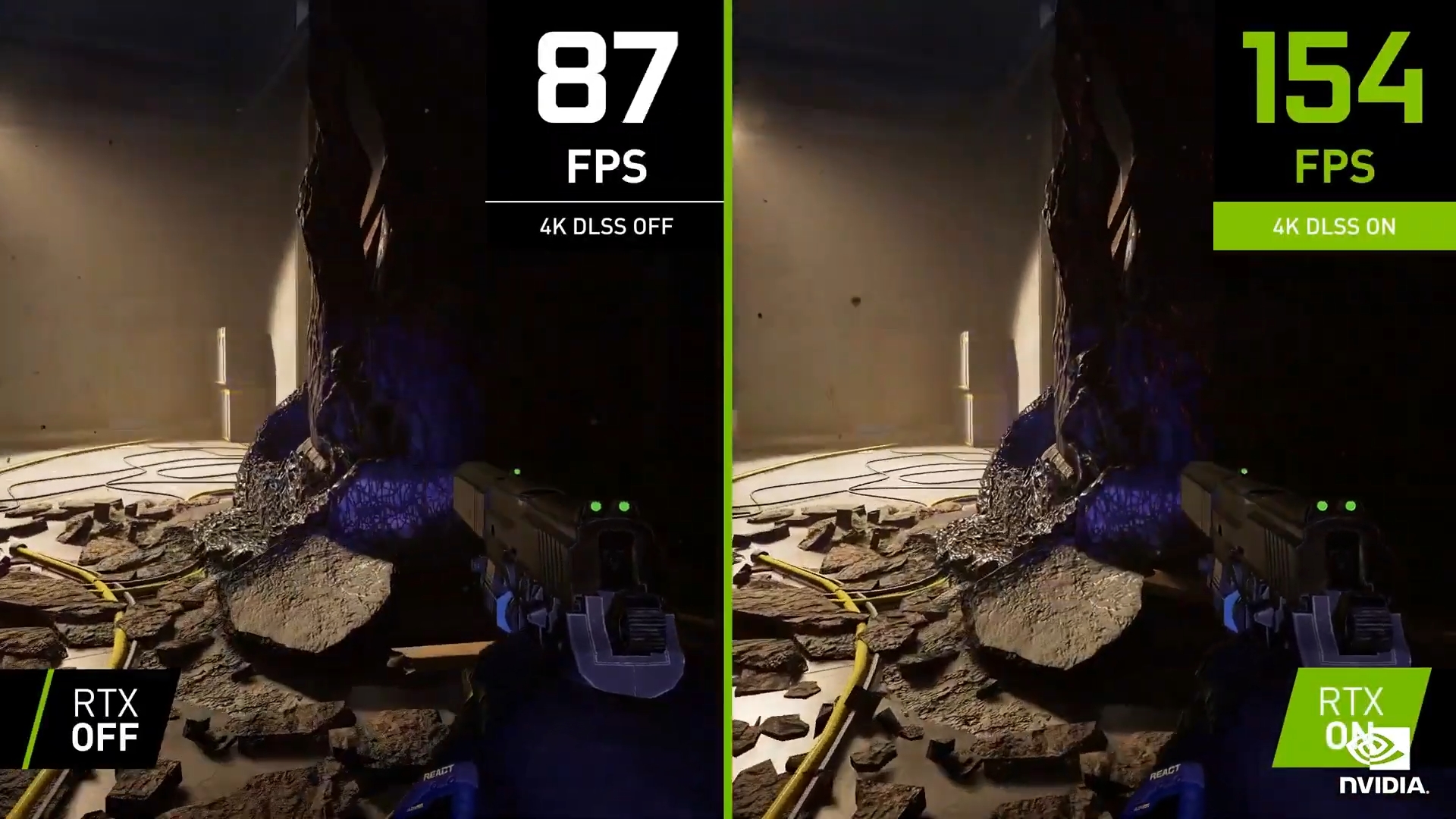 Nvidia Reflex is coming to God of War. Why?
Nvidia is claiming that higher-resolution displays will improve your performance in esports titles and is introducing a new class of G-Sync displays. 1440p displays at up to 360Hz. That's going to require a lot of GPU power to run, and it'll be up for debate whether or not the higher resolution will actually be worth it.
Ok we're talking about the GTX 1050. Are we finally getting a GPU now?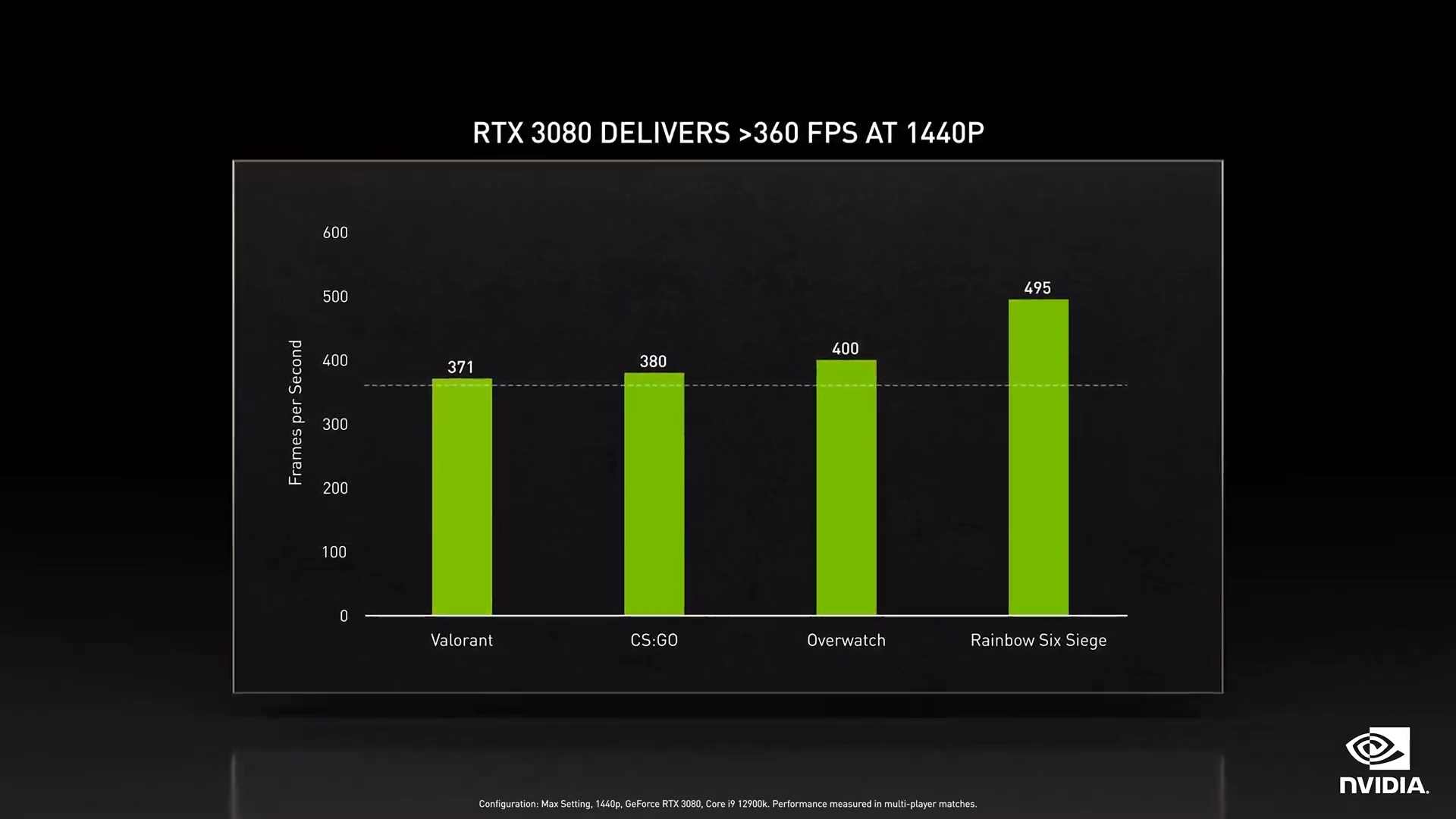 HERE WE GO. RTX 3050 coming to desktop, more than 6 months after it came to laptops. Starts at $249, which is more expensive than the AMD Radeon RX 6500 XT. Will be interesting to see how they perform.
Up to 8GB GDDR6 VRAM, and is apparently capable of RTX gaming with DLSS enabled at 1080p 60 fps. Hopefully the price of this graphics card doesn't get inflated by a lot once it comes out.
Nvidia Studio is genuinely great for creators. It lets gaming laptops be used to help create on a reasonable budget. There are special Studio devices to be sure, but anyone can install the drivers by going into GeForce Experience, over to the Drivers tab and changing the preferences to install Studio drivers instead of Game Ready.
So basically any Nvidia laptop can be a studio laptop, and if you're into a lot of video editing rather than video gaming. Probably worth enabling.
Nvidia has 160 more gaming laptops coming. Is this where we're going to see the RTX 3000 Ti GPUs for mobile? Is the Super brand dead after a single generation?
Nvidia is announcing a new generation of Max-Q. It likely won't be seperate SKUs of the GPUs, but will just be built into all of its mobile chips by default. Hopefully workstations and gaming laptops will have actually good battery life now.
There we go, the Nvidia GeForce RTX 3080 Ti for laptops, 16GB RAM. Is faster than the Titan RTX for desktop - that's huge. 4K gaming laptops are going to be a thing with this. I'm excited.
We're also getting the RTX 3070 Ti, which is also going to be pretty incredible. Both GPUs will be available in laptops starting February 1, so we should be getting some in the lab in the very near future to see what they're capable of.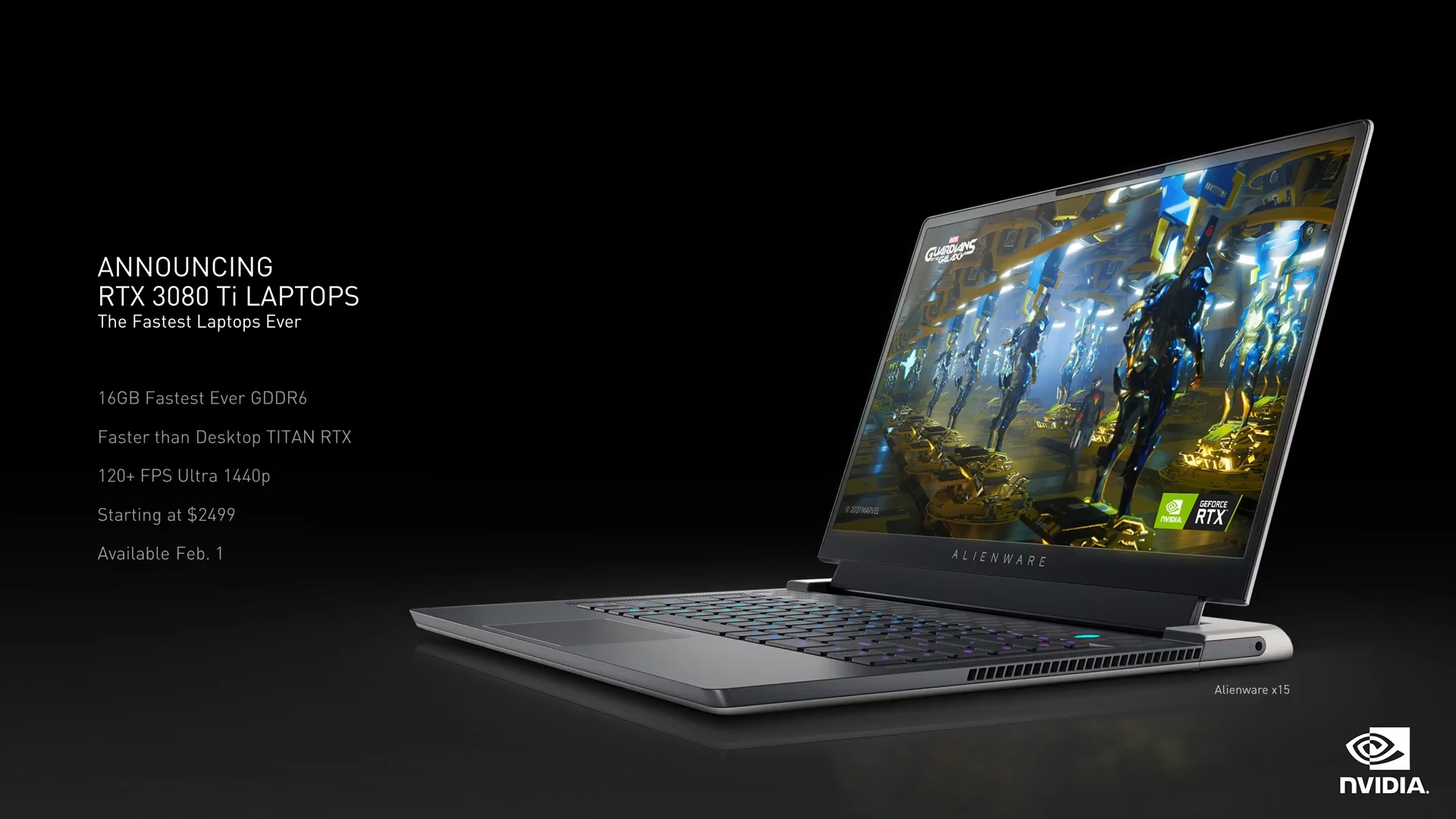 AND THERE IT IS. The Nvidia GeForce RTX 3090 Ti is getting fully detailed later this month. Apparently the fastest memory Team Green has put in a graphics card with 24GB of GDDR6X. Same capacity, but with 2TB/s of bandwidth. Can't wait to plug this into our test bench.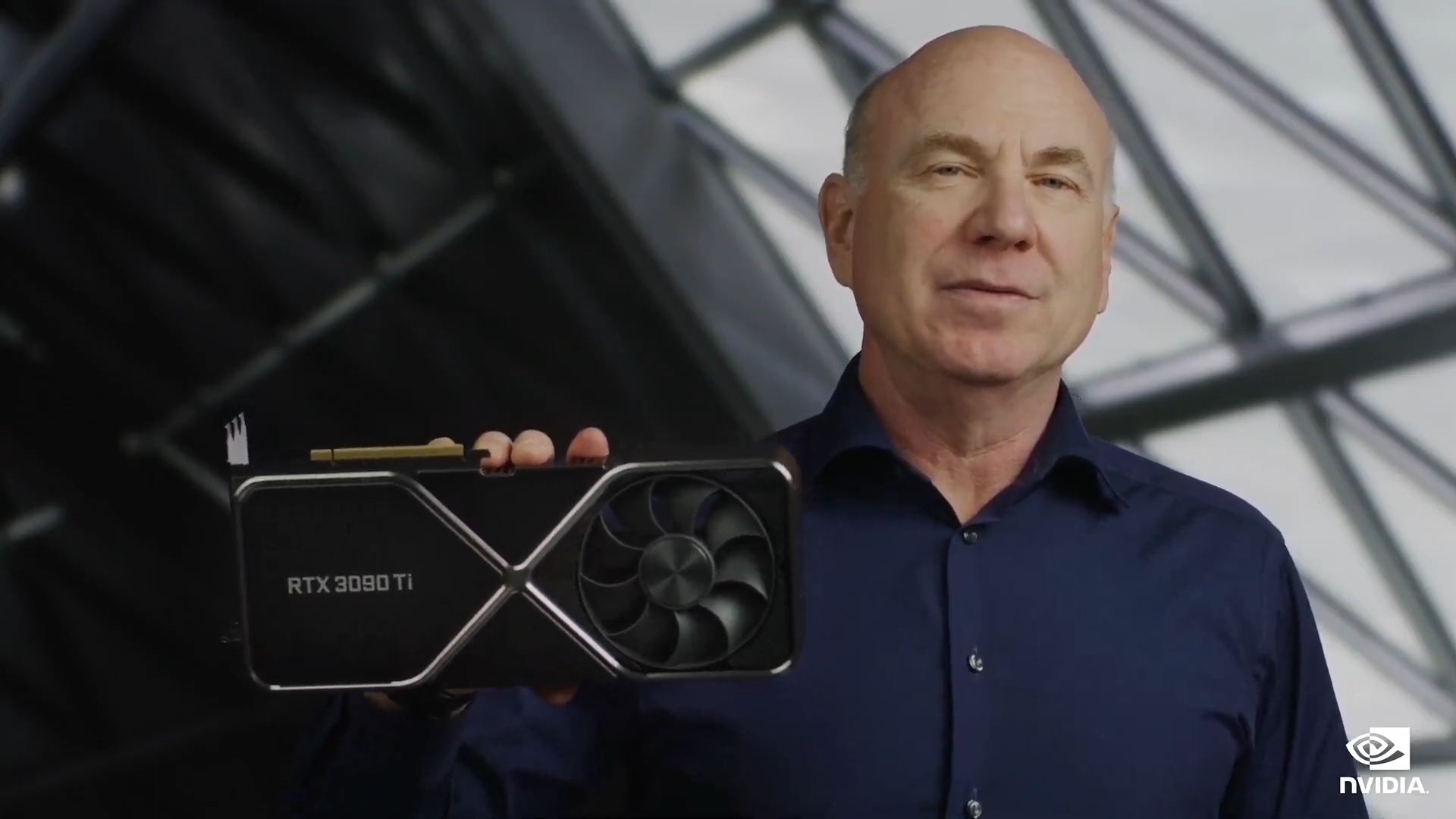 And now we're moving onto AI and data stuff. That's not really our wheelhouse, so we're going to call it here. But we got two new graphics cards and a bunch of new gaming laptops. Not bad. Just wish we didn't have to sit through a bunch of game trailers to get to the juicy bits.
Sign up to receive daily breaking news, reviews, opinion, analysis, deals and more from the world of tech.
Thank you for signing up to TechRadar. You will receive a verification email shortly.
There was a problem. Please refresh the page and try again.