World's first DIY high-end speaker system
Highcraft challenges brave souls to build their own speakers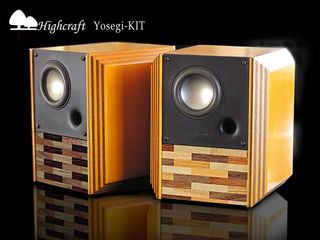 We'd wager a hefty sum that you've never seen one of these before - a build-it-yourself stereo speaker kit. Moreover, coming from audio specialist Highcraft , the Yosegi-Kit speaker system is guaranteed to produce a quality sound; assuming you can manage to get it together, of course.
The JPY30,000 (£129) set includes all the parts required to build two speakers that output 15W each - wooden enclosures decorated with traditional Hakone Odawara mosaic work, oscillating boards, titanium magnets and the various electronic components that do the spadework.
Highcraft reckons setup should be a breeze as no soldering is required - a saw and a spot of glue are all that's needed - and that the end result is a speaker of as high a quality as its range of conventionally assembled speakers. Just don't glue your keys inside. J Mark Lytle
Sign up to receive daily breaking news, reviews, opinion, analysis, deals and more from the world of tech.
Tech.co.uk was the former name of TechRadar.com. Its staff were at the forefront of the digital publishing revolution, and spearheaded the move to bring consumer technology journalism to its natural home – online. Many of the current TechRadar staff started life a Tech.co.uk staff writer, covering everything from the emerging smartphone market to the evolving market of personal computers. Think of it as the building blocks of the TechRadar you love today.