Connecting the Arctic: Q&A with Inmarsat
Inmarsat is expanding its GX network with two additional satellites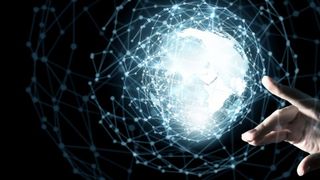 (Image credit: Shutterstock)
Providing high-speed mobile connectivity to remote locations is a formidable challenge that London-based Inmarsat has been able to accomplish thanks to its global network of satellites. Now the firm is preparing to launch two new satellite payloads to service the Arctic region in a partnership with Space Norway and its subsidiary Space Norway HEOSAT.
TechRadar Pro spoke with Inmarsat's CEO, Rupert Pearce to learn more about the upcoming launches and how its expanded coverage will benefit both businesses and governments.
Can you give us a little background on the Global Xpress (GX) network, its history and what regions it currently covers?
Global Xpress (GX), which is owned and operated by Inmarsat, is the world's first and only high-speed broadband service offering global coverage from a single, seamless network. It is already proving to be the most successful service launch in Inmarsat's history and has been adopted by world leading airlines, major merchant shipping companies, governments and commercial enterprises on every continent.
Inmarsat commenced global services in 2015 and growing demand means that we are on course to launch a further six GX payloads over the next four years. To illustrate the step-change in capabilities that will be offered through these additional satellites, our GX5 spacecraft – which is on schedule to launch from French Guiana later this year – will deliver more capacity that the first four GX satellites combined. Our 7th, 8th and 9th GX satellites, due for launch from 2023, will represent a further order-of-magnitude increase.
Of greater importance, however, is the revolution that our GX network is enabling. As we enter a new era of the always-on, pervasively connected global digital society - a planet empowered by dense, diverse interoperable 5G networks - the next generation of connectivity, as represented by GX, is transforming enterprises in a huge variety of market segments, and also having an increasingly powerful impact on the daily lives of consumers and on the relationship between governments and their citizens.
Uniquely, Inmarsat's two primary satellite networks – the Ka-band Global Xpress and our L-band narrow-band service – offer customers the ability to integrate the broadband power of GX with the unparalleled reliability of our L-band constellation. This has resulted in services such as Fleet Xpress for the maritime industry, where the two networks work seamlessly together.
With the recent announcement of Inmarsat's partnership with Space Norway, two additional satellites will be placed into Highly Elliptical Orbits (HEO) to offer the world's first dedicated broadband coverage over the Arctic region.
How will the next generation of GX satellites (GX7, 8 and 9) differ from those already in orbit?
The GX7, GX8 and GX9 satellites will represent a further step-change in both the capabilities and capacity of Inmarsat's Global Xpress fleet. They will form the first software-defined network (SDN) constellation for global mobile connectivity, and in terms of improvements in capacity, each new GX satellite will deliver twice the total capacity of the entire current GX network.
These satellites are capable of generating thousands of independent spot beams of varying size, bandwidth and power that can be reconfigured and repositioned across the globe, allowing Inmarsat to respond to peaks in customer demand in real-time and with precision accuracy. This is how we are able to target regional hot spots at different times of the day to ensure that connectivity is available when and where it is needed most.
Each of the new satellites will be built by Airbus Defence & Space, reducing lead-time from order to orbit. The first launch is scheduled for H1 2023.
Can you tell us how your partnership with Space Norway and its subsidiary Space Norway HEOSAT came about?
We have a strong relationship with Space Norway – and the country of Norway – that has spanned many years. A prime example of this is the location of one of our most advanced research and development centers – Ålesund, Norway, located at the Norwegian Maritime Competence Center (NMCC).
This strong history of partnership between Inmarsat and Norway is one of the many reasons that we decided to work with Space Norway on this new venture. Interestingly, the other payloads on the Space Norway satellites will be from Governments. Inmarsat was the only commercial operator invited to join the project.
It is important to stress that while the Space Norway satellites will operate as HEO constellation – as opposed to the GEO orbit used by all our other satellites – they will fully and seamlessly integrate into the full GX network. Customers will therefore be able to travel to and from the Arctic region unaware that they are passing from one constellation to another.
This is all part of Inmarsat's strategic approach of seeking to always remain ahead of where our customers are going and what they demand from us. And, we plan to continue this pace of innovation and to remain an industry-leading pioneer.
What industries will benefit from the launch of the new GX Arctic payloads?
The Arctic Circle is a region of growing importance for customers in the Aviation, Government and Maritime sectors and we expect many industries to benefit from the new GX Arctic payloads. These payloads will primarily benefit merchant fleets, fishing vessels, commercial airlines, and the ever-expanding energy market – although customers from any industry operating in the area stand to benefit.
How will governments be able to take advantage of the expanded network?
For Government customers, the Arctic payloads will bring connectivity benefits to users in the United States, Canada, Scandinavia, and other parts of the Arctic region. These benefits will include high-capacity steerable beams that complement Governments' own satellite resources in a cost effective manner, while reducing redundancy and improving protection, scalability and global portability.
What is Inmarsat doing to prepare for a successful launch in 2022?
Inmarsat has always taken a very hands-on approach to the design, construction and launch of all its satellites. We have one of the world's most experienced and professional in-house satellite engineering teams, which means that we ensure everything is undertaken to the highest standards and always with the needs of our customers front of mind.
As with any launch, we are working closely with our partners to ensure that everything is on-schedule and progressing smoothly. Launches are complex, and require precision coordination from all stakeholders – and with 40 years' experience, it is not too immodest to say that we are experts in this area.
In your opinion, what does the future hold for satellite broadband?
I believe that the future of satellite broadband is brighter than it has ever been. The days are receding rapidly when satcoms was considered a niche and, in many respects, an almost invisible industry.
We are entering the era of the always-on, pervasively connected global digital society, fuelled not just by person-to-person interactions, but by both person-to-machine and machine-to-machine interactions. We are becoming a planet where human potential is fundamentally empowered by dense, diverse, interoperable, highly reliable & secure communications networks. We already see next generation networks transforming a huge variety of markets and bringing the benefits of broadband to billions of people. This process will accelerate with the advent of 5G, which will bring a step-change in coverage, capability, energy consumption, as well as a step-change in IoT services.
This emerging digital society will not be possible or sustainable without satellite communications woven into its infrastructure. Satcoms extends 5G into the seas, the skies and into rural and remote areas. It will add resilience and security to terrestrial networks, and it will add important complementary capabilities such as broadcast, precision navigation and earth observation services. Governments and policy-makers do not want a 5G society only for urban elites, or only for developed economies and a digital society cannot thrive on fragile or unsecure networks. It is the pace of technological innovation in the satellite industry and the growing reliance on connectivity by every nation and every sector of the economy that bodes well for the future of our industry.
Are you a pro? Subscribe to our newsletter
Sign up to the TechRadar Pro newsletter to get all the top news, opinion, features and guidance your business needs to succeed!