EA surprised many with the sudden announcement of Apex Legends in February, a free-to-play battle royale shooter that sees the publisher going toe-to-toe with genre mammoths PlayerUnknown's Battlegrounds and Fortnite Battle Royale.
Developed by Respawn Entertainment and set in the Titanfall universe, Apex Legends is a squad-based battle royale shooter where teams of three go up against 57 other players to try to gather loot and be the last person (or squad) standing.
However, unlike Fortnite and PUBG, Apex Legends sees players take on one of eight classes, each represented by a unique character (imagine Fortnite mixed with Overwatch and you'll be on the right track.)
Whether that sounds like your kind of gaming or not, it's clear Apex Legends is going from strength to strength. It managed to reach a million players in its first eight hours and amassed 10 million players in three days.
That's good going. Really good going. Particularly when you consider that it took Fortnite two weeks (a fortnight!) to reach those same numbers. Similarly, it took Fortnite 24 hours to accrue a million players, compared to eight hours for EA's shooter.
Do we have another Fortnite on our hands? Let's not get ahead of ourselves and instead let's take a look at everything we know about Apex Legends.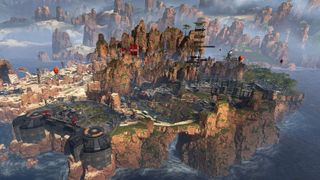 Apex Legends: the TechRadar verdict
Apex Legends is an engrossing, revamped take on battle royale that as it stands cannot be beat for its attention, detail and care:
Great customization
Beautiful visuals
Great use of team interaction
Definitely not a single-player game
Predictable story
Frequent bugs
As we said in our full Apex Legends review:
"Truth be told, the Battle Royale movement has never quite grabbed me. I dabbled in PUBG and spent a dozen hours or so with Fortnite, yet nothing ever quite stuck the landing. Apex though, has got me hook, line and sinker. Featuring intuitive controls, an outstanding comms system and remarkable rogue's gallery, Respawn has created what feels like the AAA outing for the genre."
Apex Legends update news
What's new? Apex Legends is coming to mobile
In EA's quarterly earnings report, the publisher announced that it's looking at bringing the Respawn Entertainment-developed game to mobile platforms and to both South Korea and China.
"We're in advanced negotiations to China and mobile", EA's CFO Blake Jorgenson stated, before later mentioning South Korea as another expansion point.
While the specific platform details haven't been confirmed, it's fair to assume that this will include both Android and iOS releases down the line, and as far as the Eastern market releases, this will be via EA's PC platform and marketplace, Origin.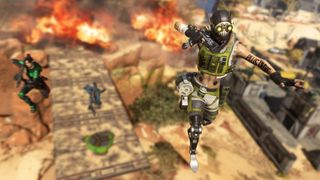 Apex Legends tips and tricks
Apex Legends can be difficult to get to grips with. There are a lot of different characters each with their own abilities and skills, plus this battle royale arguably leans more heavily on strategy and teamwork than some of its competitors.
Get ahead of the pack with our selection of Apex Legends guides, designed to help you become a champion.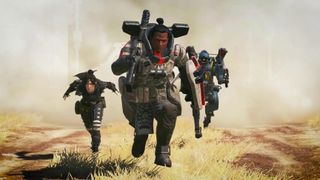 How to download Apex Legends
Apex Legends can be downloaded for free from the PlayStation Store, Xbox Store, Origin Store or Apex Legends website. Simply search for the title, download the game and enjoy!
But do keep in mind that a good internet connect and subscription to either PS Plus, Xbox Live or Origin Access is required to play.
The good news is that Apex Legends is also coming to mobile in the future, following in the footsteps of Fortnite and PUBG.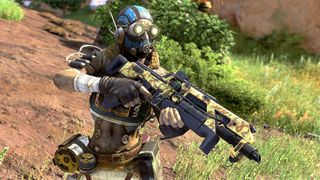 Apex Legends Battle Pass
Apex Legends has now officially launched its first Battle Pass season, dubbed Wild Frontier.
Players on PlayStation 4, Xbox One and PC are now able to purchase the Wild Frontier Battle Pass for 950 Apex Coins, entitling them to a new character in Octane (available separately for 750 Apex Coins or 12,000 Legends Tokens) and the ability to earn 100 new items, such as Legend Skins, Apex Coins and a new legendary Havoc skin.
As a reference, Apex Coins start at $9.99 (around £7.50 / AU$14.15) in real world money for a pack of 1,000.
Along with this speedy new Legend, the Wild Frontier Battle Pass also offers the ability to earn 100 new items, such as Legend Skins, Apex Coins and a new legendary Havoc skin.
Players who want to get a head start can immediately unlock the first 25 levels (out of 100 available in Season 1) by purchasing the Battle Pass Bundle, which costs 2,800 Apex Coins.
According to EA, Apex Legends will follow a seasonal model with each themed season bringing new content to the game in the form of new weapons, new Legends, new skins and more.
Check out our full guide to the Apex Legends Battle Pass.
Apex Legends roadmap - what's next?
Respawn Entertainment has shared the season roadmap for Apex Legends. Apex Legends Battle Pass seasons run for approximately three months. Currently four seasons have officially been announced:
Season One: March 19, 2019 until June 18, 2019.
Season Two: June 2019
Season Three: September 2019
Season Four: December 2019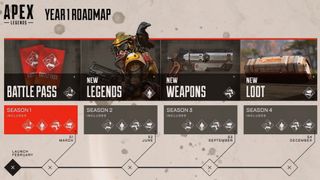 Apex Legends characters and abilities
Octane
Adrenaline Junkie
Apex Legends' newest Legend is the ultimate death-defying adrenaline junkie, speeding his way through the map, healing himself as he goes and getting into as much trouble as possible.
Tactical Ability: Stim
Passive Ability: Swift Mend
Ultimate Ability: Launch Pad
Bloodhound
Technological Tracker
Bloodhound is one of the the Outlands' greatest hunters. There's little known about them except that they are non-binary and super-skilled at tracking enemies in the battlefield.
Tactical Ability: Eye of the Allfather
Passive Ability: Tracker
Ultimate Ability: Beast of the Hunt
Wraith
Interdimensional Skirmisher
Wraith is a fighter with a dark twist. She's able to execute swift attacks and open rifts in reality to benefit herself and her teammates.
Tactical Ability: Into the Void
Passive Ability: Voices from the Void
Ultimate Ability: Dimensional Rift
Gibraltar
Shielded Fortress
Built like a brick house, Gibraltar is essentially the tank of Apex Legends. He is great for defending teammates and unleashing massive damage on any enemies who dare get close enough.
Tactical Ability: Dome of Protection
Passive Ability: Gun Shield
Ultimate Ability: Defensive Bombardment
Bangalore
Professional Soldier
Bangalore serves as a classic offense character, at her best when she's inflicting damage on enemy teams and using strategic attacks to unleash devastating assaults.
Tactical Ability: Smoke Launcher
Passive Ability: Double Time
Ultimate Ability: Rolling Thunder
Lifeline
Combat Medic
Prefer to play a healer? Then Lifelines is probably the Legend for you, providing medical assistance to her teammates on the battlefield with her healing drone and calling in extra supplies when needed.
Tactical Ability: D.O.C. Heal Drone
Passive Ability: Combat Medic
Ultimate Ability: Care Package
Pathfinder
Forward Scout
It's important to survey and scout potential locations before sending your team in. Better to be safe than sorry. That's where Pathfinder comes in, checking areas for enemies before making a speedy exit and guiding your team along the safest route.
Tactical Ability: Grappling Hook
Passive Ability: Insider Knowledge
Ultimate Ability: Zipline
Caustic
Toxic Trapper
Prefer to trap your enemies rather than combat them head on? Then Caustic is your guy. He's one of two current characters unavailable in the base game and requires you to pay 12,000 Legend Tokens or 750 Apex Coins to unlock.
Tactical Ability: Nox Gas Trap
Passive Ability: Nox Vision
Ultimate Ability: Nox Gas Grenade
Mirage
Holographic Trickster
Arguably the most charismatic Legend, Mirage is a master of illusion and uses decoys to confuse enemies. Like Caustic, Mirage is unavailable in the base game and requires you to pay 12,000 Legend Tokens or 750 Apex Coins to unlock.
Tactical Ability: Psyche Out
Passive Ability: Encore!
Ultimate Ability: Vanishing Act
(Image credits: Respawn Entertainment/EA)