Update (July 22): the Nord is no longer available, but the OnePlus Nord 2 is here.
The OnePlus Nord is one of the most-anticipated smartphones (opens in new tab) of the year. Even if you're not a tech enthusiast, you probably must have heard of it, all thanks to the hype created by the company. The plot got even thicker when its price was announced — was it the new best smartphone under Rs 30,000 in India?
Nord is an all-new series from OnePlus that is meant to give users a premium software and hardware experience at an affordable price. In many ways, it marks OnePlus return to the segment where it started its journey years ago. For its first tango with a mid-ranger, OnePlus seems to tick the right boxes, and even manages to be the cheapest in the market for some of these additions…something that we haven't been able to say about OnePlus in recent years.
The OnePlus Nord is not a compromised phone at any angle. It offers extremely satisfying performance in all the major aspects of the phone and more often than not, it comes out as a winner.
In India, it goes against popular offerings such as the Realme X3 and the Redmi K20 Pro, smartphones which were the price champions for their time. However, OnePlus's software-first approach shows that not all Android battles can be won via brute force.
OnePlus Nord price in India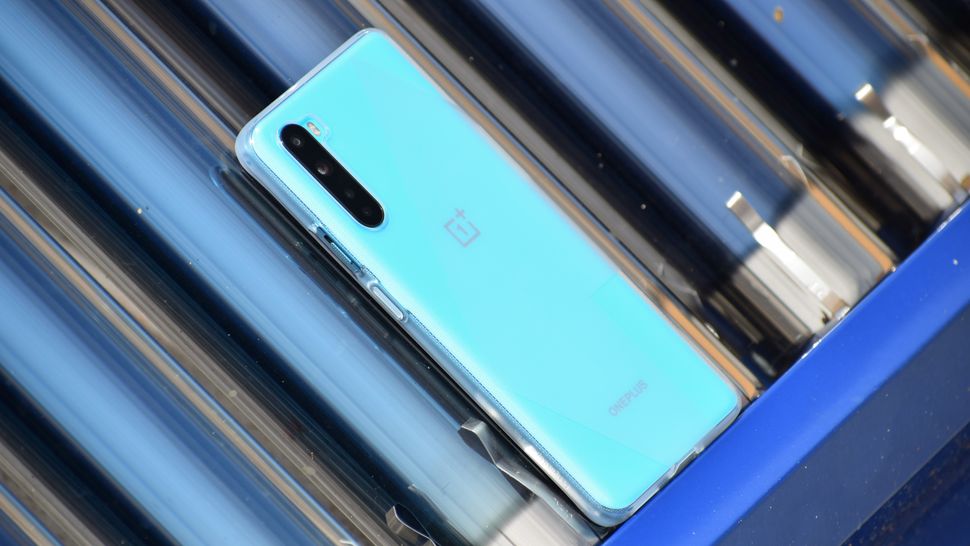 India is one of the first markets to get the Nord. And just like last time, it is priced way more competitively in India. It starts at Rs 24,999 for the 6+64GB variant. The 8+128GB variant is priced at Rs 27,999 and the top of the line 12+256G variant costs Rs 29,999. The colour options include Blue Marble and Gray Onyx.
The OnePlus Nord first sale is scheduled for August 4 and it will go on sale via Amazon. The India exclusive 6+64GB variant will go on sale later in the month of September.
Check out OnePlus Nord on Amazon (opens in new tab)
Design
184 gram weight, 8.2mm thickness
Glass sandwich with a polycarbonate frame
Blue Marble and Gray Onyx colours
Even though the Nord is not an expensive phone, OnePlus has not compromised much in terms of design. It comes with a glossy glass body with Corning Gorilla Glass 5 on the back as well as the front. Holding the phone feels solid and comfortable. However, it opts for a plastic frame which definitely affects its premium positioning. You'll be reminded of that each time you hold the phone and the rails aren't cold.
The Nord can also be used with a single hand, a feat that is rare these days. The taller display makes the phone a lot narrower (73.3mm) with dimensions very similar to the OnePlus 8. At just 184 grams, it is also extremely lightweight, especially when you look at the competition which is at the 200-gram mark. OnePlus has done a good job with weight distribution too. Overall, the build of the phone seems pretty solid.
The device comes in two colour options: Blue Marble and Gray Onyx. We tested the blue variant here, and oh boy, does it stand out from the crowd! For those who prefer something a little more understated, the other variant is your only option.
Towards the right, you get the power button, which is easy to access without needing to readjust the grip by a lot. It has good clicky tactile feedback. Right above the power button, you get the iconic alert slider, which can be used in three modes: Ring, Silent, and Vibrate. On the left, you get the volume rocker. All the three buttons are coated with blue colour here, which looks pretty cool. Towards the back, you get a quad-camera array which protrudes out quite a bit. Next to the camera, there is a dual-LED flash. You get the OnePlus logo at the centre and OnePlus branding towards the end.
The glass used in the rear camera is so deep black that it reminds me of the OnePlus Concept One phone which features a hidden camera array. On the front of the device, there is a pill-shaped dual front-facing camera towards the left, a first in a for a OnePlus phone. The earpiece is located along the top edge of the phone.
The USB Type-C port and the SIM slot is also present at the bottom. For audio, you get a mono speaker with two outlets at the bottom of the device. As you might have already guessed, the device omits the 3.5mm headphone jack.
The design of the Nord in no way is the best we've seen in this price point. In fact, most of the Realme devices sport a very similar design language. But, there is nothing wrong with the design. It is just that it doesn't stand out from the crowd in terms of design, as it does with the colour.
A silicone case is also included in the box, which has a weird pattern that switches between matte and glossy. There's a subtle arrow pointing upwards, figuratively looking towards the North. You'll have to settle for this plain case which is nowhere as interesting as the one included on the OnePlus 8 series.
Just like other OnePlus devices, the Nord has some degree of (unofficial) water-resistance. Rain and sweat shouldn't pose an issue.
Overall, I was pretty happy with the design although it is no way unique or stands out. It feels good in the hand and you get a solid grip. Far from the worst we've seen in this segment.
Display
6.44inch AMOLED panel, 20:9 aspect ratio
90Hz fluid refresh rate
The OnePlus Nord has a 6.44-inch Fluid AMOLED screen with Full HD+ (2,400 x 1,080p) resolution. You get a 90Hz refresh rate panel for smoother scrolling experience. It also comes with an option to switch back to the traditional 60Hz mode. The phone is tall with a 20:9 aspect ratio. It is capable of handling HDR content and comes with support for sRGB, DisplayP3, and AMOLED wide gamut screen calibration modes. Furthermore, you get a vibrant colour effect which optimizes the video colors and contrast to make it more vivid. There are also options to turn on Reading mode and Night mode. You can turn on the reading mode in Mono effect mode or Chromatic effect mode depending on your preference.
A high refresh rate phone in the flagship phone is a must and now, we're seeing the same of mid range smartphones with the OnePlus Nord. Apart from the Nord, Realme X2 Pro is the only phone that offers AMOLED screen + 90Hz combo. The AMOLED display on the Nord is just as good as any flagship devices we've seen from the OnePlus. Unlike the OnePlus 8 series, you get a flat screen on Nord with Corning Gorilla Glass 5.
There is some doubt around the utility of a 90Hz panel on a smartphone. Honestly, even I didn't find much of a difference at first, but when I switched back to 60Hz for a day, the entire phone felt slow and borderline lagging! I doubt I'll ever enjoy a 60Hz display again.
The display itself is excellent, the AMOLED display does its job pretty well, you get deep blacks and good viewing angles. The phone's animation starting from the home screen live wallpaper comes to life when you unlock the phone and acts as another reminder of the higher refresh rate.
You can reach easily to most parts of the screen with just your thumb and the touch is also pretty responsive.
The phone can get bright enough for indoor usage and the auto-brightness works pretty well, surprisingly. The sunlight visibility is just above average and the texts and videos are visible during the day time. The hole punch is bigger than what I'd like, but it gets easier to ignore with time.
Overall, the display quality seems to be excellent and watching contents from OTT apps was also delightful. You get an AMOLED screen, 90Hz refresh rate, HDR support. It was enjoyable and colour reproduction was accurate as well. There's nothing much to complain about the display.
Audio
Single downward-firing speaker
No headphone jack
Audio performance is as important as the screen or visuals. The combination of good screen and good audio always make the content more enjoyable and immersive. The OnePlus Nord comes with a mono super linear speaker at the bottom right with two small passages to put out the sound. Playing audio via the bottom firing speaker was quite good and enjoyable. The overall output levels were overall hig, but nothing extraordinary. There is very little distortion even at max volume.
When you are using the phone in landscape mode, it is very easy to block the speaker grill and muffle the audio. There's no headphone jack on the device. For personal audio experience, you'll have to depend on the Type-C port or Bluetooth. The device comes with Bluetooth 5.1 and supports aptX, aptXHD, LDAC, and AAC standards. The experience with Bluetooth devices was great.
You also get Dirac audio tuner which allows you to set scenario based enhancement such as Dynamic, Movie, and Music. And, surprisingly, these worked pretty well in my experience. Additionally, there is also support for earphone mode which offers autoplay, smart call answering, and notifications in earphones. You get support for equalizer for both the wired and wireless earphones. The call quality was also pretty good, people on the other end could hear me without any issue. The audio was crystal clear on my side too, the earpiece is loud and clear, despite its position.
Performance
Snapdragon 765G
LPDDR4X RAM, UFS 2.1 storage
5G capable
Here's where OnePlus's approach is a little different than others in this segment. The Nord is powered by the Snapdragon 765G SoC, which is also 5G capable, thanks to the Snapdragon X52 RF 5G modem. While that technically makes it the cheapest 5G smartphone in India, that shouldn't really be a major factor for consumers for the near future (unless Jio pulls off another miracle). Regardless, it is one of the most advanced chipsets on the market, built on an efficient 7nm process with integrated modem components.
The Snapdragon 765G has a prime core clocked at 2.4GHz, one gold core at 2.2GHz and six silver cores at 1.8GHz. Graphics will be taken care of by Adreno 620 GPU. The OnePlus Nord is available paired with LPDDR4X RAM and UFS 2.1 storage. You get a 6GB+64GB variant which is exclusive to India along with the standard 8GB +128GB variant and the top-of-the-line 12GB+256GB variant, which is insanely well-priced.
We tested the top variant. If you are planning to get the OnePlus Nord, we suggest you stay away from the 6GB + 64GB variant as a big chunk of the storage is occupied by the OS. With no support for expandable storage, it could get exhausted pretty quick.
Unlike Realme, who went with last-gen flagship chipset on the X3 series, OnePlus has gone with the mid-range yet powerful chipset from the Snapdragon 7 series. And, I am happy to report that the decision has not let down OnePlus by any means. The performance and day-to-day operations with the device was a breeze, in line with what we've come to expect from OnePlus. The phone handles everything you throw without any hassle and manages to consistently run at 90Hz. However, the memory management was a little too aggressive at times, which shouldn't be the case for a phone with 12GB of RAM.
In my testing period, I didn't experience any lags or stutter. Everything was smooth sailing. The wireless options like Wi-Fi were getting good range and NFC was also easy to use with headphones. The Snapdragon 765G nails the performance in every single aspect, you should have no issues with the phone be it running multiple apps. For regular day to day usage, the phone shouldn't be any problem at all. In most cases, you'll not be able to tell the difference with a flagship phone. OnePlus software and Qualcomm's hardware comes out a winning combo. I'd go as far as saying that this is the more superior approach instead of opting for a last-gen chipset for affordable flagships, mainly due to the efficiency and consistency that tag along.
Gaming
Adreno 620 GPU
Fnatic mode
Gone are the days when you could game heavy 3D graphic intensive games only on proper flagship phones. Thanks to some breakthroughs that the silicon makers have achieved over the years, the same experience can be obtained from the 765G SoC as well (the G in the Snapdragon 765G stands for Gaming). The OnePlus Nord is the first phone from OnePlus to feature a mid-range or a non-flagship grade chipset. Even the sub Rs 20,000 OnePlus phones featured a flagship chipset for their time, but it's time we move on….
The Adreno 620 GPU is being used for graphic performance here. The device retained close to 60fps during PUBG Mobile gaming and Asphalt 8. Real Racing 3 also ran pretty smooth. All three games were set to the highest graphics that were available. The high refresh rate and 180Hz touch sampling rate shines. While gaming it is quite comfortable to keep the hands and I had no issues with the finger placements. This is also in part due to the taller aspect ratio which provides a wider viewing experience. However, since the device comes with a mono bottom-firing speaker, it is recommended to wear a wired earphone or a wireless earphone as the sound will be muffled or gone by at least 50-80% depending on the placement. The vibration motor onboard is also pretty solid and you get nice, satisfying feedback.
The phone is also bundled with a dedicated gaming mode and a Fnatic mode which boosts the CPU and GPU performance and optimizes and provides more resources to the game. You also get an option to toggle graphic optimization which improves shadow detail and enhances overall gaming performance. Unlike the flagship OnePlus 8 series, you don't get any cooling system and thus it heats up quite a bit. In my testing, after 20-30 minutes of continuous gaming like PUBG Mobile, the upper side of the device crossed 40-degrees.
Software
OxygenOS 10.5 based on Android 10
Minimal interface with very little bloat
Switches to Google apps instead of first-party
Oxygen OS is often regarded as the strongest point for OnePlus smartphones, especially when compared to the competition. That is even more relevant in this sub Rs 30,000 segment where existing players are known to bring bloatware and ads to be able to bring the price down. At this price where we aren't exactly looking at power users, Oxygen OS is the best Android experience possible.
As with other OnePlus phones, we see a no-nonsense approach with the right mix of minimalism and customization. Things are just where they should be and work just as they should. Anyone who's used Oxygen OS in the past will understand this better. For everyone else, think of it as the easiest skin to adapt to.
There are several customizations available that can be modified such as system-wide dark theme, icon pack, accent colour, colour tone, icon shape and even the ability to change fonts. Even with these additions, the experience was almost always fast and smooth.
For the -1 screen, you can choose between OnePlus Shelf and Google Discover. We found Shelf's abilities pretty limited and switched to the Google feed for better and personalized updates.
In the notification shade, there are the usual connectivity and quick toggles. Apart from these, OnePlus has added Night mode, Switch data card, DND, Reading mode, ZenMode, and screen recorder. The screen recorder is capable of recording up to 2,340 x 1,080, 24 Mbps bit rate, and up to 60fps. It also allows you to record internal audio. Wi-Fi sharing also gets easier with QR code scanning.
There is a separate utility section which comes with Work-Life balance mode that will control your incoming notifications based on your work profile. Parallel apps to clone the apps and app locker that can be locked with your fingerprint scanner. One of the underrated features for me was the OnePlus switch app that made my life easier by transferring all my data including apps, call/text logs, apps including data. A laboratory feature allows you to switch to dark mode when the app doesn't come with native support. And, lastly, you get a quick landscape reply mode which brings up a floating keyboard when you get a message while you're in landscape mode.
You can also switch to gestures for system navigation instead of buttons. They work well, and the gesture to quickly switch to the previous app is godsent.
All in all, the software experience is pretty similar to any other OnePlus flagship smartphone - smooth, fluid, and fast. Apps open quickly and games too open fast, there is no delay or whatsoever. The push notifications arrive on time for most of the part. However, I had some issues with receiving notifications from Slack (which is known to suck on Android).
There's barely any bloat on the OnePlus Nord, The big change comes with shifting to Google's dialler, messages and Duo instead of Oxygen OS counterparts. Out-of-the-box, you also get Amazon, Netflix, Facebook and Instagram; apps that I'd anyway install, so that's fine. The device was missing AR Core functionality and the company confirmed that it'll be enabled later in August via OTA update.
During our testing period, we received two OTA updates which optimized several camera features and also bought the latest July security patch. With OnePlus Nord, you will get two years of the software update and three years of security update.
The OnePlus Nord scores high in this regard with a well-executed software package that is rare in the market. We've often talked about how Oxygen OS feels a little too vanilla, but that isn't as much of an issue at this price.
Biometrics
In-display fingerprint
2D Face unlock
OnePlus was one of the first mainstream manufacturers to move to in-display fingerprint scanners, starting with the 6T. As with the flagships, the Nord opts for Goodix's fingerprint scanners and is one of the best implementations we've seen on any phone. It is fast and accurate for the most part, and is positioned in a convenient place to be able to reach with one hand.
The performance as always is extremely quick here. There is no need to press your thumb against the screen or press harder. You can keep up to five fingerprints and there are five unlock animations as well.
Apart from the In-display fingerprint scanner, you also get 2D face unlock that uses the front-facing camera to authenticate. It works pretty fast too and eliminates the chances of you unlocking the phone with a fingerprint scanner. Just click the power button and show your face and boom, you're in. It is so fast that you'll struggle to check notifications from the lock screen.
Battery life
4,115 mAh battery
30W WarpCharge 30T fast charging
Even with a thin and light body, the OnePlus Nord manages to pack in a decently-sized 4,115mAh battery. As always it supports Warp Charging at 30W with the included charger.
In my usage which included intense usage of WhatsApp, Slack, emails and calls along with some social media surfing and 30 minutes of PUBG gaming, I got pretty average results with 4 to 5 hours of screen-on-time. This was with Bluetooth connected to my watch all the time, earbuds for an hour, and display refresh rate set to 90Hz. When the refresh rate was set to 60Hz, the battery life improved quite a bit and I got around 6 to 7 hours of screen-on-time easily.
For charging, you get 30W Warp Charge 30T charging wired charger which tops up over USB Type-C interface. It charges from 0-50% in about 30 minutes and a full charge takes about 80 minutes, which is convenient. The charging speeds don't really slow down even while gaming or heavy usage while plugged in. The battery usually drains from 3-5% overnight with Wi-Fi and Bluetooth turned on.
Considering OnePlus was one of the first to bring real fast charging to its phones in 2016, it's time we see the 30W threshold get crossed, at least on flagships... Even phones priced at Rs 15,000 surpass that.
Camera
Six cameras in total
The same primary camera as the OnePlus 8
Dual-selfie cameras for the first time
OnePlus made tall claims (as it always does) about the cameras on the Nord, suggesting that it had a "flagship-grade camera". In reality, they will seldom surprise you (also, as always). There are a total of six cameras this time, with four on the rear and, for the first time for OnePlus, two on the front.
The primary camera on the rear is inherited from the flagship OnePlus 8. It's a Sony IMX586 sensor along with OIS and EIS with f/1.75 aperture. It is followed by an 8MP f/2.25 wide-angle camera with 119-degree field of view. This is accompanied by a 5MP depth sensor and a 2MP macro shooter with an aperture f/2.4. Over to the front, you get a 32MP Sony IMX161 primary snapper along with an 8MP wide-angle camera for groufies.
vs the OnePlus 8
The OnePlus Nord is the company's first phone come with six cameras: two at the front and four at the back. In fact, four of them are the exact ones found on the OnePlus 8.
You get a bunch of modes in the camera app. The rear camera can shoot in normal, wide-angle, portrait, nightscape, pro mode, panorama. For video, you get timelapse, slow-mo, up to 4K video recording, and super stable mode. The front camera functionalities include photos and videos up to 4K 60fps(normal and wide), portrait, and time-lapse(normal and wide).
The primary although comes with a 48MP shooter, by default it shoots at 12MP. Since OnePlus has been using the same sensor from OnePlus 7, it has improved the image processing.
Just like the OnePlus 8, Nord often over-sharpens a bit too much and takes the contrast up. With great white balance and dynamic range, the camera manages to nail images in bright day conditions. There's also the option to shoot in the full 48MP resolution (without pixel binning) which didn't really change the overall exposure, but adds a bit more detail while zooming in.
The 5MP depth sensor sensor creates good bokeh and brings out nice, usable portrait shots. The edge detection sometimes goes off the grid but works for most of the time.
The ultra-wide snapper offers a 119-degree view. It reproduces colours close to real with minimum distortion. The dynamic range also takes a hit with this lens and the details go out missing compared to the primary camera; the 8MP resolution is a real bottleneck. The ultra-wide lens is a cool addition but should be used much where you want good dynamic range or details.
The macro lens on board is not too great with the OnePlus Nord. It struggles to focus on the object and once focused, you need to bring in more light to it to capture a detailed image. The macro takes 2MP photos which is again average and nothing extraordinary. Sometimes you'll be able to take good images with good lighting conditions and focus locked properly. But, more often than not getting the focus and bringing more light itself is a task. Don't expect too much detail with the 2MP sensor.
Low-light performance is very good with the OnePlus Nord thanks to the Nightscape mode. The device was able to capture bright light, which brings more light than reality and brighten up the picture. You need to have a stable hand to capture night shots as they take a couple of seconds to capture. You can also shoot ultra-wide nightscape but you'll miss out on details. You get more details at night when you shoot in Nightscape mode than you click in regular mode. However, the noise level increases in the Nightscape mode which results in less details. It's better to use this mode when in dim light rather than pitch dark.
For videos, you can shoot in Full HD @ 30fps and 60fps, 4K 30fps, 4K Cine(21:9) @ 30fps. It is pretty weird that OnePlus has not given 4K shooting @ 60fps on the primary camera as the front camera supports that. It does support optical image stabilization along with electronic image stabilization which removes unwanted shakes and movement while shooting videos and produce fairly stable videos. Apart from the regular video mode, you can take timelapse video(normal & wide), and slow-mo.
The front camera on OnePlus Nord is a combo of 32MP and 8MP. The 32MP Sony 32MP Sony IMX616 sensor is paired with an 8MP ultra-wide-angle lens with a 105-degree field-of-view. Selfies come out really well in well-lit conditions and the wide-angle camera works like a charm — a very meaningful addition compared to something like a depth sensor. The front camera also supports videos up to 4K @ 60fps in both normal and wide-angle. This comes out well and is good if you are looking to vlog. The selfies and groufies also turned out well in my testing.
All in all, the OnePlus Nord camera is pretty average. It's good for still captures and basic point and shoot. For under Rs 30,000, its competition could give a better experience. The Realme X3 Super Zoom and even the Redmi K20 Pro offer more complete camera packages. However, it's a different story with the front camera here, it's pretty good and the secondary wide camera is an ultra-wide shooter does the job pretty well.
Verdict
When OnePlus announced that it will be "returning to its roots" and try to compete in the budget segment, it raised quite a few eyebrows.
OnePlus had its work cut out and knew it would have to jostle with established offerings from Xiaomi and Realme in this "affordable flagship" segment, a term that OnePlus made famous almost six years ago. For all intents and purposes, it is as disruptive as it was back in the day.
Just like the flagship smartphones from the company, the OnePlus Nord follows the same mantra of marrying excellent hardware and premium software. We're used to seeing brands compromise on at least one of them in the sub Rs 30,000 space. OnePlus not only aces both, but also manages to be more affordable while adding extravagant elements such as 5G, a 90Hz AMOLED panel and 12GB of RAM.
It is not perfect by any means, and the cameras and battery life are just about average, but the pros outweigh the cons by a huge margin. The OnePlus Nord shines with its display, performance and gaming experiences. Fans, who'd been waiting for OnePlus to return to a more affordable point, have their prayers heard.
With this, the OnePlus Nord becomes our top smartphone recommendation for those with a budget of around Rs 30,000. The closest competition is the Realme X3 series which brings a 120hz display and a cool periscopic camera which is a segment outlier. Then there's also the Realme X2 Pro and the Redmi K20 Pro which also bring versatile cameras and an AMOLED display. If you are fine with the software, they might even offer better gaming and camera experience. The Google Pixel 3a is another alternative, but then you must really prioritize the camera over everything else.
With the Nord, OnePlus is able to democratize the popular Oxygen OS experience and get more people used to a more superior software experience and will hope to eventually upsell them. However, it remains to be seen how long can OnePlus win battles solely on the basis of its Android implementation. While the future is uncertain, in the present, the OnePlus Nord is a winner.
Check out OnePlus Nord on Amazon (opens in new tab)