These air fryer filo pastry baklava bites are great for parties
Flaky pastry, sweet honey, and crunchy walnuts. What more could you need?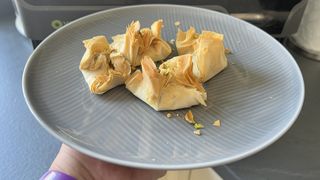 (Image credit: Future)
I'm a big fan of baklava but building up all the layers of filling in between thin strips of filo pastry is time-consuming; not to mention way beyond my basic baking skills.
So I was thrilled to have discovered these air fryer filo pastry baklava bites while carrying out tests of the best air fryers.
Instead of creating one large tray of baklava, this recipe takes all the classic flavors of honey, walnuts, and pistachios and condenses them into cute little baklava bites.
Below, I show you how to make these delicious pastry parcels – whether you're looking for a tasty air fryer dessert, or want to impress friends and family at a party.
Air fryer deals
If you're yet to take the plunge and buy yourself an air fryer, or are looking to upgrade, check out our top-rated air fryers below, all available to buy now for the best prices.
Air fryer filo pastry baklava bites recipe
The air fryer filo pastry baklava bites recipe I followed is from YouTuber Beth Le Manach. Beth posts recipes via her @EntertainingWithBeth channel, and this particular recipe has been watched more than 865k times as of writing. There are six air fryer recipes in this video, and the baklava bites one starts at 5 minutes and 10 seconds.
Air fryer filo pastry baklava bites ingredients
The original recipe uses cinnamon but I don't like it, so I didn't include it. You can also swap it for nutmeg.
Filo pastry
1/4 cup chopped walnuts
1 tsp honey
Cinnamon (or nutmeg!) to taste
Orange zest to taste
2 tbsp melted butter (or vegetable oil)
1 tbsp chopped pistachios
Air fryer filo pastry baklava bites method
To make air fryer filo pastry baklava bites you will need the following:
Step 1: Place a stack of eight sheets of filo pastry on a sheet of baking paper, or lightly floured surface.
Step 2: Divide each sheet into four 4in x 4 in/10 x 10cm squares.
Step 3: Brush every second sheet of pastry in each square with melted butter, or vegetable oil.
Step 4: Roughly chop the walnuts and place a small pile in the center of each filo square.
Step 5: Drizzle over a small amount of honey and sprinkle with the orange zest and cinnamon.
Step 6: Bring the corners of the pastry together and push them into the filling. The honey should act as "glue" to hold them in place. Twist the corners together gently to form a parcel or purse shape.
Step 7: Repeat this process for each filo pastry square and place the parcels into your air fryer basket.
Step 8: Set the air fryer to 375°F (175°C) for 8 minutes.
Step 9: After six minutes, check on your baklava bites. If they look golden brown, remove them from the basket and put them on a plate.
If they still need more color, leave them in for the remaining two minutes.
Step 10: Roughly chop the pistachios and sprinkle them over each baklava bite, and serve.
Air fryer filo pastry baklava bites verdict
Granted, these baklava bites don't pack as much flavor as a baklava tray bake – the filo pastry outweighs the filling somewhat – but they're the next best thing.
They contain all the flavors of the classic Greek recipe with very little effort, and my friends all loved them when I served them at a party recently.
They taste best when they're still warm from the air fryer, but the filling gets very hot so I recommend you leave them a minute or two before taking a bite.
The corners of the filo pastry can also be a bit sharp. I get around this by drizzling over a small amount of honey when the bites are warm out of the air fryer. This helps to soften it slightly, and enhances the sweet honey flavor.
One final point to note, you can make larger baklava bites by increasing the size of the filo squares.
If you're still sitting on the fence and wondering whether to buy an air fryer, you may want to read our article to decide whether air fryers are worth it?
Get daily insight, inspiration and deals in your inbox
Get the hottest deals available in your inbox plus news, reviews, opinion, analysis and more from the TechRadar team.
Victoria Woollaston is a freelance science and technology journalist with more than a decade's experience writing for Wired UK, Alphr, Expert Reviews, TechRadar, Shortlist and the Sunday Times. She has a keen interest in next-generation technology and its potential to revolutionise how we live and work.