Baldur's Gate 3 hotfix 8 makes His Majesty bald again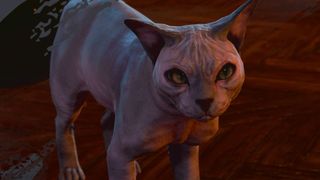 (Image credit: Larian Studios)
Baldur's Gate 3 Hotfix 8 is now live and aims to address a series of crashing issues, but most importantly it makes His Majesty hairless again.
Larian Studios has released the next hotfix for its RPG and while the small update mainly takes care of technical issues, the developer has listened to some feedback from players to make one character look like their original self again.
During your travels, you may have encountered His Majesty - a Sphynx cat with a sassy attitude that players quickly fell in love with. But it turns out that he was supposedly never intended to be a Sphynx cat after patch 3 - the same patch that let us finally able to change our character's appearance - made it so the feline had a full body of hair.
Players were outraged by the change and asked Larian to make him bald again. So they did and in Hotfix 8, you'll find His Majesty is back to his usual hairless look. Thank you, Larian.
Hotfix #8 is now live for Baldur's Gate 3. This update addresses several crashes and issues, including your party members transferring every important item to you upon dismissal.More importantly, we shaved His Majesty.Read More: https://t.co/KTwWD93LzH pic.twitter.com/IyqXLkomK9October 3, 2023
Raphael's original brown hair color has also been restored after it was turned black in the same patch that made His Majesty hairy, another fix that was implemented following player feedback. The devil's portrait in the House of Hope has also been reverted back to reflect his original appearance.
On top of some crashing issues that have now been resolved, another particular problem that has been frustrating players pertains to companions unloading their equipment onto them every time they get dismissed from their party.
This bug has been fixed with Larian saying, "When dismissed, they will no longer give you all the items they deem important for you to carry, like a toddler in a grocery store." You can read the full patch notes below.
Baldur's Gate 3 Hotfix 8 patch notes
Companions will no longer transfer story items in their inventory to the player upon dismissal, restoring Patch 2 behaviour.
Fixed reaction popups sometimes showing no text descriptions of the reactions available.
Fixed a multiplayer crash that would occur when listening to a dialogue after an active roll.
Eavesdrop will no longer trigger when a character is in any Character Creation session, such as level up or the magic mirror.
Fixed a bug in Vulkan causing DEVICE_LOST crashes.
Fixed a bug where Skeletons created using Animate Dead were missing their ranged weapons, despite specialising in them.
Fixed an issue where the Weapon Master Feat would show as incomplete if a player was already proficient with all weapons.
Fixed a crash when re-assigning characters in splitscreen.
Fixed a visual issue with volumetric fog and materials generation.
Fixed an issue with invalid savegames being created.
Restored Raphael's hair colour and horns. The House of Hope is once again fashion-forward.
Fixed an issue where Splint Armour for Githyanki Females caused some unnecessarily psychedelic visual effects.
Shaved His Majesty, who is once again a Sphynx. Steelclaw's eye colour has been adjusted so they are no longer identical twins.
Fixed Raphael's portraits after restoring his hair colour. Maybe he's born with it, maybe it's Avernus.
Fixed Twitch drops not being claimable on PS5.
If you're waiting for Baldur's Gate 3 to arrive on Xbox, there's good news because Larian Studios' CEO and game director Swen Vincke, has revealed that the RPG will be launching on Xbox Series X|S before December, along with every major patch already released.
Baldur's Gate 3 is one of the best RPGs of the year, but if you're looking for something new, here's our list of the best single-player games to play solo.
Sign up for Black Friday email alerts!
Get the hottest deals available in your inbox plus news, reviews, opinion, analysis and more from the TechRadar team.