I've tried just about every breakfast, lunch, and dinner staple during my various tests of the best air fryers but there is one I never considered – air fryer boiled eggs.
I've cooked eggs in other ways, of course, and I've made recipes that involve eggs – including this delicious bread pudding recipe – but when a pan of water does the job quickly and effectively, why would you need an air fryer?
That's what I thought until I saw TikTok user Becky Lyons cook perfectly runny air fryer eggs, in just eight minutes. Below, I guide you through how to make both soft- and hard-boiled eggs in the air fryer.
I know, technically, they shouldn't be called 'boiled' eggs. They're air fryer eggs but given how close this sounds to fried eggs, and how similar the results are to traditional methods, I'm going to call them air fryer boiled eggs for the purpose of this recipe.
Air fryer deals
If you're yet to take the plunge and buy yourself an air fryer, or are looking to upgrade, check out our top-rated air fryers below, all available to buy now for the best prices.
Air fryer boiled eggs recipe
There's a lot of love out there for this air fryer eggs recipe from @beckyly0ns with 2815 likes (and counting) and encouragingly positive comments.
Air fryer boiled eggs ingredients
Air fryer boiled eggs method
In the TikTok video the Ninja Dual-Zone Air Fryer was set at 350°F (180°C) for soft-boiled medium eggs. I used the Tower Vortx 9 Litre Duo Capacity Basket Air Fryer with Smart Finish 5.2L and 3.3L, and experimented with a number of settings when cooking my air fryer boiled eggs in order to balance the finished result with cooking time.
The cooking time of your own air fryer eggs will depend on the size of your eggs, as well as what air fryer you're using and how many eggs you're cooking at any one time. That's before you even factor in how you prefer your eggs to be cooked, from soft- to hard-boiled.
As a result, the timings and temperatures listed below should be used as a guide only. It will likely take some trial and error to get your air fryer-boiled eggs how you like them.
Step 1: Put the required number of eggs in the air fryer basket.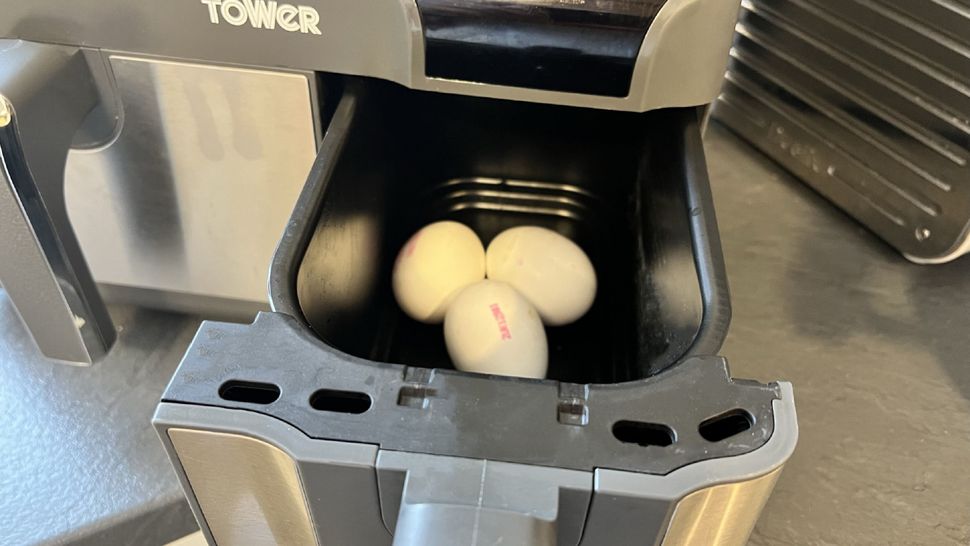 Step 2: Set the air fryer to 390°F (200°C) and set the time based on how you like your eggs to be cooked:
Medium-sized, soft-boiled eggs: Five minutes
Medium hard-boiled eggs: Eight minutes
Large, soft-boiled eggs: Six-and-a-half minutes
Large, hard-boiled eggs: 10 minutes
Step 3: Put the cooked eggs into a bowl of cold water. This stops the cooking process and also makes the eggs easier to peel. Some videos and recipes recommend using ice water but we found cold water works fine.
Step 4: Peel and serve. You can tell almost immediately when you start peeling the egg if they're undercooked, yet it's difficult to tell they're overcooked without cutting them open.
Air fryer boiled eggs recipe verdict
There may have been a reason why I'd never considered cooking air fryer eggs until now. It's because they're really difficult to get right. The vast number of variables and experimentation takes away from the fast and convenient benefits that come from using an air fryer.
The best results I got when cooking large eggs was when I set the temperature to 390°F (200°C) for 10 minutes (hard-boiled) and 390°F (200°C) for six-and-a-half minutes (soft-boiled).
For medium-sized eggs, I cooked the eggs at 390°F (200°C) for five minutes for soft-boiled eggs, and eight minutes for hard-boiled eggs.
Setting the air fryer temperature any higher, or cooking the eggs for any longer resulted in the eggs cracking, or the skin of the eggs turning brown. While turning the temperature down, to match Becky's video, significantly increased the cooking time – and I don't want to wait 15 minutes for boiled eggs!
When you do get the timing and temperature right, air fryer-boiled eggs are great. You can cook more eggs at one time than you typically can in a saucepan, and there's minimal washing up in comparison. The timings for the different-sized eggs in the air fryer aren't that far off boiling times, either.
If I was cooking a boiled egg, or two, alongside other air fryer food then I can see the benefit of adding them to the same basket. I'm not sure I'd do this, but I can see why it would be useful. If it's just for breakfast though, or because I fancy a snack, I think I'll stick with my tried-and-tested saucepan.
If you're still sitting on the fence and wondering whether to buy an air fryer, you may want to read our article to decide whether air fryers are worth it?