The Dyson Corrale can cut your styling time in half, and I've got the locks to prove it
Well, sometimes you just need to shell out the big bucks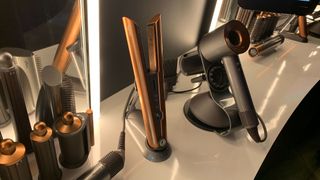 (Image credit: Future)
Styling my hair is something I generally avoid at all costs. For me, it's immensely stressful — sometimes a little painful — and rarely successful. I'm also a little paranoid about hair damage.
My hair is pretty thick and heavy, and normally takes hours to dry. When I chopped off my long locks last year, I quickly realized that short hair actually needs some TLC. With shorter hair, I needed to do more with it.
Since then, I've been relying heavily on my old faithful Remington Keratin Protect straightener, which just barely gets the job done. But the Remington plates judder down my hair, resulting in flyaways and breakage. The shape of the tongs isn't quite right for curling, so I use them strictly for straightening even though it's very rare I'll achieve straight locks in one stroke.
Now that you know of my hair woes, you can imagine how excited I was to be invited to Dyson's Styling Tour for — gasp! — a professional styling session and some hands-on time with the tech giant's much-hyped haircare range.
The tour is bringing Dyson's tools to the people, offering a complimentary 30-minute dry-styling session from Dyson experts, as well as several demonstrations and showcases of its hair styling engineering. It arrived in London's Westfield (White City) shopping mall, where it will stay until October 30 before moving on to Edinburgh in early November.
Curls without cremation
My instinct has always been to dial my straighteners up to the highest heat and aggressively — painstakingly — go over sections of my hair in order to straighten it. This process can take up to 30 minutes on my shoulder-length hair; for curling, it can be 45-60 minutes before I can rest my aching, fatigued arms. Even after all this work, I never expect the results to last. Even after a healthy dousing of hairspray, the hair styling is completely gone by the end of the day.
Let me tell you about the Corrale experience. In just 15 minutes using the Dyson Corrale, my lovely Dyson hair stylist, Lorraine, achieved shiny and gorgeously curled hair. After a quick whizz round with the Dyson Supersonic Flyaway attachment, my hair looked better than ever, and it stayed that way for the rest of the day.
In our Dyson Corrale review, we had to knock down the rating to 3 stars because of its lofty price tag ($499 / £399 / AU$699) and because it's a heavy thing with plastic casing that we we felt cheapened its look. However, our reviewer, like me, was immensely impressed by its performance and the results.
While I'm sure it would still take me a little longer to achieve the same results at home, there's no doubt in my mind that I could halve the time it takes me to get ready with these high-tech tools.
Engineering at the heart
My stylist said that the Dyson Corrale was her favorite tool to style with because of its flexibility, portability and the technology it uses to style and protect hair. Take that, Dyson Airwrap.
She used the middle-temperature setting (365°F / 185℃), explaining that my hair type doesn't actually need the scorching heat I typically applied — because hotter doesn't necessarily mean faster. Since my hair isn't actually as coarse as I thought it was, I was probably just causing unnecessary damage by opting for the higher 410°F / 210℃ setting.
Additionally, the Corrale is generally much better for hair than other straighteners, thanks to the unique technology adopted by Dyson — namely, the flexing plates. These plates collect strands of hair together, and small panels along the plates flex to ensure even pressure is applied across the entire hair segment.
Inside the Corrale is where the rest of the magic happens. Sensors regulate the plates' heat up to a reported 100 times per second, meaning the temperature is constantly maintained and less heat is needed.
Dyson claims this plate technology reduces heat damage by 50%, but that's not something we can easily validate. I will say I noted a lot less breakage and fewer flyaways in my hair after using the Corrale.
As it's cord-free, the Corrale is very easily maneuverable, despite its weight. Personally, and especially given the shorter time needed to style, I actually don't mind the heavier feel; but, it's not for everyone.
Time is money
If you can look past the price and weight, the Corrale is easily one of the most impressive straighteners out there, and the newer colorways feel a lot more deluxe than the standard Black Nickel model we used for our review.
Speaking of the new colorways, Dyson is launching its gorgeous new Vinca Blue and Rosé colorway in time (and exclusively) for the 2022 gifting season. The tour was a great opportunity to have a look at these designs in person — and let me tell you, they are beautiful.
Resulting in a more porcelain-like texture, layers of satin paint topcoats give the Vinca Blue colorway a silky finish. This technique also lends more durability to the products than the standard plastic coating.
For me, time is definitely money, and my high-maintenance hair eats up a lot of my time. The Corrale could save me hours every month, and that alone might just convince me to shell out for one.
We're unlikely to see the Corrale — or any other Dyson hair styling products — on sale in this year's Black Friday deals, but if you've got gifting budget to spare and someone to spoil, it's a worthy investment.
Sign up to receive daily breaking news, reviews, opinion, analysis, deals and more from the world of tech.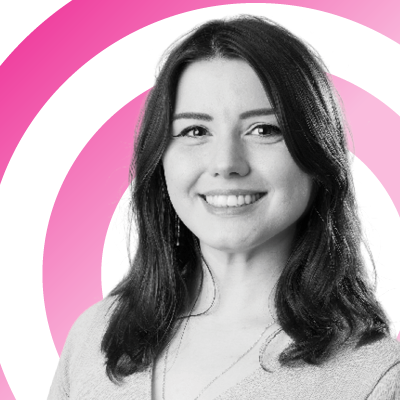 Managing Editor, Lifestyle
Josephine Watson (@JosieWatson) is TechRadar's Managing Editor - Lifestyle. Josephine has previously written on a variety of topics, from pop culture to gaming and even the energy industry, joining TechRadar to support general site management. She is a smart home nerd, as well as an advocate for internet safety and education, and has also made a point of using her position to fight for progression in the treatment of diversity and inclusion, mental health, and neurodiversity in corporate settings. Generally, you'll find her watching Disney movies, playing on her Switch, or showing people pictures of her cats, Mr. Smith and Heady.