It feels like only yesterday that PS5 stock was a lot like the Loch Ness Monster – elusive, rarely seen, but almost certainly real. Now though, we're finally seeing consistent stock of the current-gen PlayStation, and there's also opportunities to save some cash when buying one as well.
As proof in the pudding, this sweet deal on a PS5 bundle featuring the disc edition of the console and digital download of 2022's mega-hit God of War: Ragnarök will see you pay just AU$779 via eBay, saving you AU$125. Given the RRP of the console alone sits at AU$799, this deal manages to save you cash on the console and get one of the best PS5 games thrown in for free.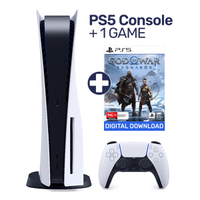 (opens in new tab)
PlayStation 5 disc edition console + God of War: Ragnarök bundle | AU$904 AU$779 at eBay (opens in new tab) (save AU$125 with code)
Pairing a PS5 console with a digital copy of one of 2022's best games, this bundle is a great way to get started with the latest PlayStation console. Already discounted from AU$904 down to AU$829 via Big W on eBay, adding the code FEBSNS23 at checkout will save you an extra AU$50 on top, and you don't even need to be an eBay Plus member to get what is the lowest price we can remember seeing for the bundle.
If you're willing to shell out a tiny bit more, this bundle can also be had for just AU$795 on Amazon AU (opens in new tab).
First arriving in early November 2022, God of War: Ragnarök is the latest entry into one of the PlayStation's most popular first-party franchises, seeing series protagonist Kratos returning to the world of Norse mythology first introduced to the franchise in 2018's God of War. Like the game before it, Ragnarök is a hack-and-slash adventure with RPG elements set in an expansive and utterly gorgeous game world.
Also like the previous game, Ragnarök sees Kratos journeying with his son Atreus and the animated head of Mimir, with the former particularly playing a more prominent role in this latest entry as one of the keys to either preventing or triggering the world-ending Ragnarök event.
Nominated for Game of the Year and Best Narrative award winner at 2022's The Game Awards, the latest adventure for Kratos and company earned top marks from TechRadar, with our review saying: "Building upon the themes of its predecessor, God of War: Ragnarök's emotive narrative shines in its subtler moments, while clever evolutions to combat introduce welcome changes that advance gameplay without oversaturating it."
So if you've been keen on the game itself and in been waiting patiently for a PS5 price drop, this opportunity might be just be the ticket.