ChatGPT gets its biggest update so far – here are 4 upgrades that are coming soon
Some big treats are en route for Plus subscribers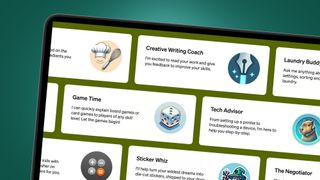 (Image credit: OpenAI)
Almost exactly a year on from the launch of ChatGPT, the AI chatbot has been given its biggest update so far – with its creator OpenAI announcing a powerful new AI model, the ability to make your own custom AI assistants, and a new marketplace that's effectively an App Store for chatbots.
The announcements were all made at OpenAI's first developer conference, called DevDay, on November 6. And while its main audience was developers, similar events like Apple's WWDC have shown us that these conferences can also deliver big news for the average tech fan – and that was the case again at DevDay.
ChatGPT is in an AI arms race with Bing Chat, Google Bard, Claude, and more – so a rapid pace of innovation is essential. This year, we've already seen ChatGPT get a powerful new GPT-4 model, the significant arrival of plug-ins that hook it up to other web services, and integration with OpenAI's Dall-E 3 image generator.
But now some equally significant new ChatGPT features are about to roll out – here's a quick rundown of all of the biggest ones for ChatGPT Plus subscribers.
1. You can now make your own custom AI chatbot
For most people, ChatGPT has been a one-size-fits-all AI sidekick – until now. If you're a ChatGPT Plus subscriber ($20 / £16 / AU$28 a month), you'll now see a 'Create a GPT' option that lets you create a version of ChatGPT that's tailored to your specific needs.
While a big audience for this feature will be businesses – for example, a chatbot that's specifically for employees – there are also potential use cases for the average ChatGPT user, too. Parents could, for example, make a chatbot to help teach their kids how to solve math problems.
The process for creating a 'GPT' is straightforward, but does also involve a lot of steps. The GPT Builder will quiz you on everything from the capabilities the chatbot should have to its name and logo. Crucially, you can also upload data for the chatbot to use as the basis for its responses, and then share it publicly via a link.
Right now, the GPT Builder is available in a beta state to everyone with a ChatGPT Plus subscription. But later in November, OpenAI says it will also launch the other significant half of this news – the GPT Store.
2. ChatGPT gets it own 'App Store' for AI chatbots
As if to confirm that AI chatbots are fast becoming this decade's equivalent of early iOS apps, OpenAI also announced that it'll be launching the GPT Store later in November.
This will be home to AI chatbot creations made using the GPT Builder (above), which will be searchable and feature in a leaderboard. It doesn't sound like the GPT Store will be a complete free-for-all, as OpenAI says it will feature creations "by verified builders".
But much like Apple's App Store, OpenAI says it will "spotlight the most useful and delightful GPTs we come across in categories like productivity, education, and 'just for fun'". Developers will also be able to earn money based on the number of people using their GPTs "in the coming months".
3. ChatGPT Plus gets a Turbo boost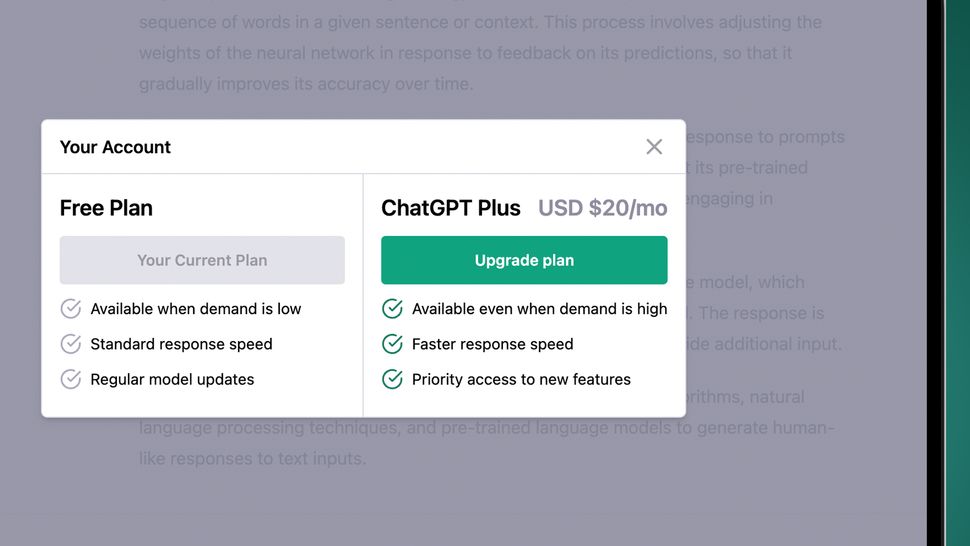 The launch of the more powerful GPT-4 model back in March was a big upgrade for ChatGPT, partly because it was 'multi-modal'. In other words, you could start to feed the chatbot different kinds of input (like speech and images), rather than just text. But now OpenAI has given GPT-4 (and GPT-3.5) a boost in other ways with the launch of new 'Turbo' versions.
One of the biggest benefits of the new GPT-4 Turbo model is that it's been trained on fresher data from up to April 2023. That's an improvement on the previous version, which struggled to answer questions about events that have happened since September 2021.
The quality of ChatGPT's answers in long conversations should also be better for Plus subscribers, thanks to a boost to its so-called 'context window'. This refers to the AI chatbot's 'memory' during text chats, which allows it to apply context to its answers.
The larger this 'context window' the better, and GPT-4 Turbo can now handle the equivalent of 300 pages of text in conversations before it starts to lose its memory (a big boost on the 3,000 words of earlier versions).
Lastly, ChatGPT Plus should also now be simpler to use, as you'll no longer have to switch between different models – you can now access DALL-E, browsing, and data analysis all without switching.
4. Pro users will now get a 'Copyright Shield'
This one's more relevant to ChatGPT's professional users, but it's a significant development for AI chatbots – OpenAI has also introduced what it calls a 'Copyright Shield' to protect its enterprise and API users from legal claims around copyright infringement.
Unfortunately, this feature doesn't apply to ChatGPT's free or Plus users, but as OpenAI CEO Sam Altman explained: "We can defend our customers and pay the costs incurred if you face legal claims around copyright infringement".
This isn't the first time we've seen a company offer legal protection for AI users, but it's still pretty big news for businesses and developers who use ChatGPT.
Exactly how the feature will work isn't clear, but OpenAI will effectively cover legal costs in copyright infringement lawsuits, rather than attempting to remove the copyrighted material itself.
You might also like
Sign up for Black Friday email alerts!
Get the hottest deals available in your inbox plus news, reviews, opinion, analysis and more from the TechRadar team.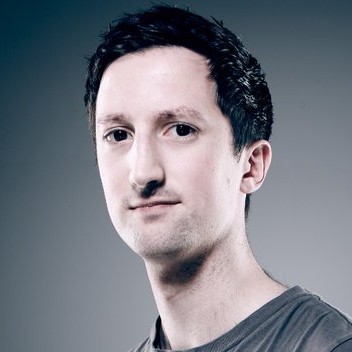 Mark is TechRadar's Senior news editor. Having worked in tech journalism for a ludicrous 17 years, Mark is now attempting to break the world record for the number of camera bags hoarded by one person. He was previously Cameras Editor at Trusted Reviews, Acting editor on Stuff.tv, as well as Features editor and Reviews editor on Stuff magazine. As a freelancer, he's contributed to titles including The Sunday Times, FourFourTwo and Arena. And in a former life, he also won The Daily Telegraph's Young Sportswriter of the Year. But that was before he discovered the strange joys of getting up at 4am for a photo shoot in London's Square Mile.