Google Assistant gets AI boost - but will it make it smarter?
Google Assistant is about to get smarter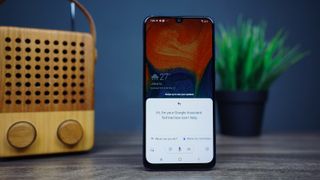 (Image credit: Shutterstock)
The AI chatbot race is far from over, despite ChatGPT's current dominance, and Google is not showing any signs of letting up. In fact, reports suggest Google is preparing to "supercharge" Assistant, its virtual personal assistant, by integrating generative AI features similar to the ones found in OpenAI's ChatGPT and Google's own generative AI chatbot Bard.
Google has begun development on a new version of Google Assistant for mobile (check out the full list of devices that will be able to run , as stated in an internal email circulated to employees as reported by Axios. This is allegedly going to take place through a reorganization of its present Assistant team which will see a reduction of "a small number of roles".
The exact number of employees that are expected to be let go has not been specified, though Axios has claimed that Google has already laid off "dozens" of employees. We have contacted Google to find out more.
The newer, shinier, and AI-connected Google Assistant
As reported by The Verge, Google is looking to capitalize on the momentum of the rapid development of large language models (LLMs) like ChatGPT to "supercharge Assistant and make it even better," according to Google spokesperson Jennifer Rodstrom.
Google is placing a big bet on this Google Assistant gambit, being "deeply committed to Assistant" and its role in the future, according to Peeyush Ranjan, Google Assistant's vice president, and Duke Dukellis, Google product director, in the email obtained by Axios.
This step in Google's AI efforts follows Bard's recent big update which enabled it to respond to user queries by "talking" (presumably meaning that it will reply using a generated voice, much like Google Assitant does), visual prompts, opening up Bard to more countries, and the introduction of over 40 languages.
Google has not yet revealed what particular features it's focusing on for Assistant, but there are plenty of ways it could improve its virtual assistant such as being able to respond in a more human-like manner using chatbot-like tech.
Making sure customer data remains safe and protected
Google Assistant is already in many people's homes thanks to it being included in many devices such as Android smartphones and Google Nest smart speakers (find out how the Google Nest currently compares here) , so Google has an extensive number of users to test with. "We're committed to giving them high quality experiences," Rodstrom told the Verge.
Of course, this does raise concerns about the privacy and security of its customers, as Google is likely to try and implement changes of this type to its smart home products, and some people may not be comfortable with giving the search giant even more access to their private lives.
There is also a major concern (which, to be fair, also applies to other chatbots such as ChatGPT); accuracy of information.
Tackling the issue of bad information and final thoughts
Google could tackle accuracy and misinformation concerns by making the generative AI being developed for Google Assistant devices linked to Google Search, as Bard is not intended to serve as an information source.
In a recent interview, the Google UK executive Debbie Weinstein emphasized that users should double-check the information provided by Bard using Google Search (as reported on by The Indian Express).
If we're talking hands-free Assistant devices, I assume that there is development happening to add mechanisms of this sort. Otherwise, users have to carry out a whole interrogation routine with their Assistant devices which could interrupt the flow of using the device quickly and intuitively.
It's an enticing idea - the home assistant that can fold your laundry and tell you bedtime stories, and steps like these feel like pushes in that direction. It all comes at a cost, and the more tech saturates out lives, the more we expose to those who wish to use it for ill-intentioned purposes.
This is going to be a huge issue for many people, and it should be, and Google should make just as much of an effort to secure its users data as it does doing magic tricks with it. That said, many Google device users and Android users will be looking forward to a more intelligent Google Assistant, as many report that they don't get much sense from it at the moment. We'll see if Google can deliver on its proposed steps (hopefully) forward.
Hopefully, these upgrades to both Bard and Google Assistant will make them, well, more intelligent. Putting security and privacy aside (only for a brief moment), this has real potential to make users' home devices, like Nest devices, more advanced in their ability to react to your questions and requests with relevant information and tailor responses using your personal information (responsibly, we hope).
Get daily insight, inspiration and deals in your inbox
Get the hottest deals available in your inbox plus news, reviews, opinion, analysis and more from the TechRadar team.
Kristina is a UK-based Computing Writer, and is interested in all things computing, software, tech, mathematics and science. Previously, she has written articles about popular culture, economics, and miscellaneous other topics.
She has a personal interest in the history of mathematics, science, and technology; in particular, she closely follows AI and philosophically-motivated discussions.