Real or AI? We asked and you responded
Opinion: Our 'Real or AI' poll confirms AI image generators are believable, but we need to keep it real, too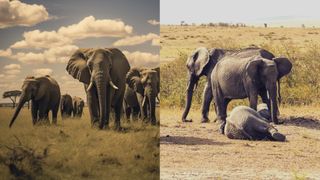 (Image credit: Future | AI generated)
We posted a poll on our TechRadar WhatsApp channel – where you can enjoy a concise feed of the top tech stories each day – and on our Tech Radar Facebook page about which one of two images of elephants was real, and which one is AI-generated. The votes flooded in. Evidently, AI-generated images remain a hot topic, and around two-thirds of you guessed correctly. Victory to humans, well done!
The choice of real image was deliberate and involves a personal tale which I'll get to shortly. Before I do, I should say that AI image generators are far more effective at other subjects than the tricky one I assigned it – such as head and shoulder portraits, in which it's much less clear to anyone what's real and what isn't.
AI image generation and AI-powered editing tools are increasingly utilized by industry-leading brands like Adobe and Google in mainstream tech now, too. The latest Google Pixel 8 Pro phone features Google's Best Take tool that can swap out faces from different photos into one to compile everyone's best self into one group photo. As a wedding photographer who's cursed the one person constantly blinking or looking away, it's a neat trick in the 'why didn't they do that earlier?' category, but it is receiving mixed responses, too.
Adobe Max 2023 unveiled the latest Adobe Photoshop that now has Firefly fully integrated. The AI-smart tool can select objects as a new layer to remove or replace with word prompts through Firefly, and fill in the space left behind, sampling the immediate surroundings using content-aware wizardry. It's fusing the real and the generated.
Beyond the question of what's real and what isn't, I'm reflecting on what it means to be human in the images we create and share. Back to the elephants image.
Our vital human experiences
It actually took me many attempts using the latest version of the AI image generator Midjourney to get a real-ish looking image of elephants to closely match my own photo, which I took with a real camera, in a real moment in time and place, in Kenya several years ago.
The best AI art generators default to the perfect composition and perfect subjects, which is exceptionally hard to achieve and find in the real world. For example, despite clear word prompts to exclude clouds from the sky to match the white sky in my own photo, Midjourney kept adding perfectly fluffy white clouds and a blue sky.
Creating the believably real – in other words, within the capacity of average photographers like me – is something AI doesn't do. But there's something else I really want to address.
Many people go to places like Kenya for the safari of a lifetime, armed with a camera to get that photo of a leopard they've always dreamed of. As someone who's lived in Kenya for a few years and taken visitors on safari, you do get the type that majors on the photography and less on the experience.
And now with image generators that can concoct perfectly framed photos of the big five; elephant, lion, leopard, rhino, and buffalo, why bother going on safari at all?
My real photo is the reason why we should keep it real. As I said, the choice of photo was deliberate – it documents one of the most powerful encounters that I've experienced in the animal kingdom.
It's a family of elephants mourning the death of an infant in its ranks. You can see the deceased calf between the adult elephant's legs, with another calf slumped to the ground in sadness for its lost sibling (see the Instagram post, above).
Our visiting group observed the elephant family for quite some time, who were barely moving, trunks slumped on the ground. The grief was palpable, and it was verging on a spiritual encounter. Our guide informed us that elephants grieve for a long time.
Minutes after moving on from the family of elephants, we witnessed an impala give birth and its newborn take its first unsteady steps, which personally prompted a time of life and death reflection as we crossed the bumpy Masai Mara terrain in the late afternoon sun.
This type of real and lasting encounter, you don't get it with an AI image generator.
I have mixed feelings about all these new and powerful AI image generation and editing tools.
The warts and all group shots corrected by Google's Best Take feature – I love and hate it for different reasons. Are we erasing spontaneity in favor of perfection? Adobe's easier-than-ever edits, fortunately, pose simpler questions like, should I replace my blue jeans with black ones using Firefly in Photoshop?
Yes, there's a place and imaging industry for these AI tools, fantastic and powerful as they are, but AI-generators are infiltrating our sacred human spaces too, our real moments and personal encounters, and these need to be protected and celebrated, warts and all.
You might also like
Get daily insight, inspiration and deals in your inbox
Get the hottest deals available in your inbox plus news, reviews, opinion, analysis and more from the TechRadar team.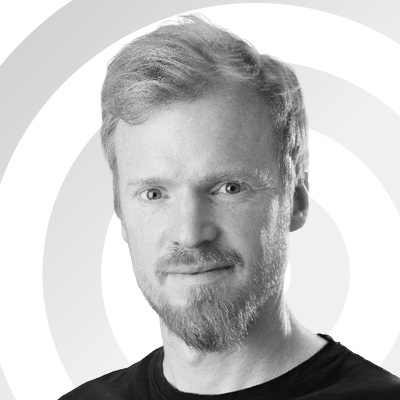 Tim is the Cameras editor at TechRadar. He has enjoyed more than 15 years in the photo video industry with most of those in the world of tech journalism. During his time as Deputy Technical Editor with Amateur Photographer, as a freelancer and consequently editor at Tech Radar, Tim has developed a deeply technical knowledge and practical experience with cameras, educating others through news, reviews and features. He's also worked in video production for Studio 44 with clients including Canon, and volunteers his spare time to consult a non-profit, diverse stories team based in Nairobi. Tim is curious, a keen creative, avid footballer and runner, and moderate flat white drinker who has lived in Kenya and believes we have much to enjoy and learn from each other.