Black Friday 2022 is over but there's still time to grab an Adobe deal. In fact, Adobe is still offering its excellent 40% off its Creative Cloud plan now that Cyber Monday deals are about to start.
We've been keeping an eye on prices for Adobe's Creative Cloud suite of apps over the years, and this is one of the best deals we've found. Adobe's suite of apps, including Photoshop and InDesign, are essential tools for many creatives, so any price cut is always welcome.
To make sure you get the best Adobe deal, we'll go through the best Black Friday deals from Adobe (opens in new tab) so you can use Photoshop and its other apps, alongside other potential apps and subscriptions that could be likely to get similar discounts to last year.
Best Cyber Monday Adobe Creative Cloud deals in the US
Best Cyber Monday Adobe Creative Cloud deals in the UK
Today's best sales
Adobe has launched a page (opens in new tab) laying out the discounts that have arrived. If you're tempted to go for a deal, there are also some good laptop deals around to use Creative Cloud in style.
US laptop sales
UK laptop sales
Should you wait for a Black Friday Adobe deal?
It depends on how badly you need to use Adobe for your day-to-day tasks. Some need Photoshop to create banners every day for example, while some need it for certain classes at school that may not begin until the new year.
With Adobe bringing out its 2022 deals on 14 November, you can find yourself saving a great deal on Adobe's suite. The company has recently announced some improvements to Elements, so buying a subscription with a 40% discount would be great timing to take advantage of the recent updates to Adobe's apps.
Black Friday Adobe deals: our predictions
When will the best Adobe deals start in 2022?
Black Friday falls on November 25 this year, but we're used to seeing some significant discounts on Adobe's apps and subscriptions before then, which is what occurred.
Traditionally the biggest discounts are released on the day itself, and while that's still a good date to aim for, in recent years we've seen Adobe launch their Black Friday deals earlier, such as the beginning of the week to the event.
Based on last year's deals from Adobe, these are very likely to be as good as the ones we see during the week of Black Friday, which is a trend that we expect to see again this year as November approaches.
How good will this year's Black Friday Adobe deals be?
Taking previous Black Friday events into consideration, we've seen up to 30% of its Creative Cloud subscription be discounted during the period, and well into December as well.
Similar to last year, the deals launched a week before Black Friday, so already there are new offers to entice new and existing users to look into a Creative Cloud plan.
We wouldn't be surprised to see something similar arrive again in 2023, alongside other offers for its Photography Plan, and individual apps like Premiere Pro and Photoshop CC.
What Black Friday Adobe deals did we see in previous years?
Usually, Adobe discounts the Creative Cloud suite of apps by up to 35% on both Black Friday and Cyber Monday. As this is an online subscription, the deals are usually purchased from Adobe directly, so it's always best to look out for when the company is advertising certain discounts nearer the time.
How can I get the best Adobe Black Friday deals?
Alongside bookmarking this page for when it's updated with the latest deals from Adobe, another tip is to keep an eye out on Adobe's website (opens in new tab) for hints towards any Black Friday and Cyber Monday deals.
In the past, they've launched pages on their site that would hint towards some significant discounts, and would replace these pages with a bunch of deals, ready to buy. Last year, this occurred the day before Black Friday, so we wouldn't be surprised to see this happen again.
What about Adobe's Black Friday deals for individual apps?
A few apps from Adobe are available as individual subscriptions, and at previous Black Friday events, there have been significant discounts on these, not just Creative Cloud.
This is why we'd expect to see discounts on these subscriptions as well, especially as Adobe Max 2022 will have been and gone by the time Black Friday 2022 arrives with new updates across the Adobe suite.
However, if you're planning on using some of these apps from Adobe, but not all, we'd be surprised if there weren't deals for apps like Premiere Pro and Photoshop separately.
3 Adobe apps to look out for on Black Friday
If you edit photos at least once a week, then you've heard of Adobe Photoshop. For over 30 years it's been the go-to app for fixing issues or creating images for projects across PC, Mac and iOS, and more recently on the web, albeit with fewer features. Last year saw a significant discount for Adobe Photoshop on the Black Friday weekend, where you could either subscribe to it on its own, or as part of the Creative Cloud suite for up to 30% off. We can see a similar deal occurring for Black Friday 2022, especially with Adobe already announcing Photoshop Elements 2023 before Adobe Max begins on October 18 to October 20.
Read our full Adobe Photoshop review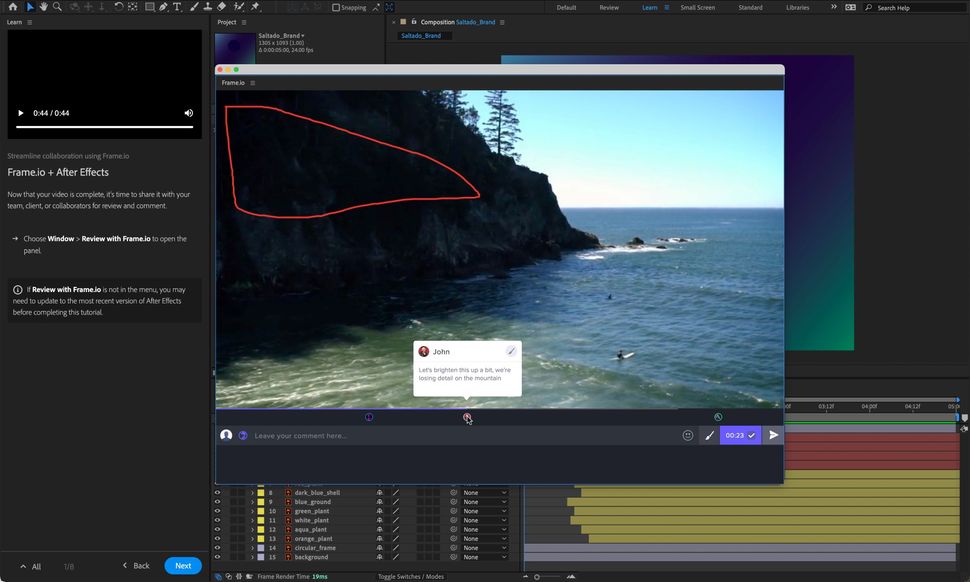 Adobe After Effects is still the go-to tool if you're in the market for the best special effects software for Windows or Mac. From creating 3D effects in films to removing unwanted objects and building transitions between scenes, After Effects can be a powerful tool in the right situation. For Black Friday, we've previously seen After Effects as part of the Creative Cloud suite, where there's been up to a 40% discount. We wouldn't be surprised to see a similar deal again for Black Friday 2022, especially one for students as well.
Read our full Adobe After Effects 2022 review
As Photoshop is the go-to for editing images, Premiere Pro is the other go-to for editing videos. Available on Windows and Mac since its debut in September 2003, the app has helped with editing movies such as Hugo, Deadpool and Sharknado 2. It also has the ability to use powerful plugins that can read different video formats and color match with ease. For Black Friday, while you can either buy the app on its own subscription, or as part of the Creative Cloud suite, there have been offers for its own subscription, where last year had $48 off a Premiere Pro subscription at Best Buy.
Read our full Adobe Premiere Pro review