Asana is one of the biggest names in the work management game, but you may have your own reasons for avoiding the provider, be that budget, company preference, or anything else.
According to the company, its software provides a 72% increase in employee satisfaction, as well as faster execution and a significant decrease in time spent on administrative tasks. Its primary offerings are product management software and project management software designed to see processes through from start to finish.
Among its customers are Amazon, P&G, and 80% of the Fortune 100 companies, though its appeal extends to a variety of sectors including marketing, operations, IT, product, and sales.
The list of features included with Asana is extensive and includes timelines, boards, calendars, reporting, and workload management.
As well as time-saving automations, Asana can also handle more than 200 integrations with popular business software including collaboration software like Teams, cloud storage like Google Drive, and other productivity software like Miro.
Project management software is designed specifically to help organizations better manage a variety of workloads simultaneously to drive the ultimate productivity. They can also offer higher-level insights for managers and executives to oversee an entire organization. Combined with product management platforms, which break down each individual stage of a product's launch to market, and you should end up with a system that can manage most aspects of a company's daily operations.
The truth of the matter is, if you search for any of the apps below, chances are you'll also find alternatives because it's an area of the market that seemingly relies on aggressive marketing to attract customers from other companies.
With that in mind, here are the best Asana alternatives to suit a wide range of business needs.
---
The best Asana alternatives of 2023 in full:
Why you can trust TechRadar We spend hours testing every product or service we review, so you can be sure you're buying the best. Find out more about how we test.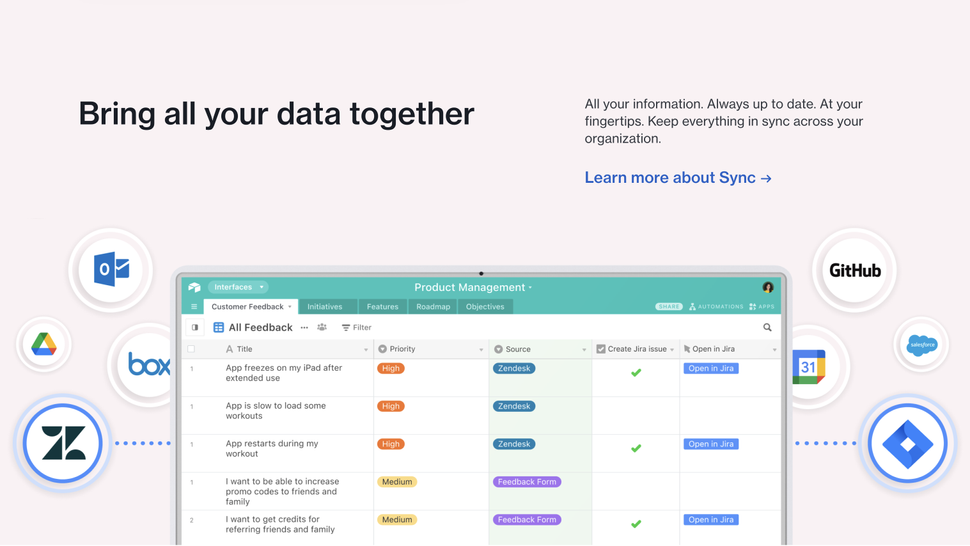 Airtable markets itself as a catch-all solution for a variety of workloads including project management, CRM, inventory management, and more, so it has a broad appeal in that sense. It's also a flexible tool that can be detailed and powerful if you need it, but also easy to use if that's more up your street.
A variety of plans each have different features and limitations, but the addition of a free plan makes it an exciting proposition for sole traders and startups who may not have the budget for a premium tool. It's no more expensive than Asana, though there are cheaper alternatives available.
Read our full Airtable review.

Monday.com's app promises to cater for software development, project management, CRM, HR, and more. In addition, there are supplementary apps like Monday Work Management and Monday Dev that offer more tailored packages, for an additional fee.
The software is very easy to use and there's a selection of templates to get you started as per your business's needs. It's clear that the company wants to make it easy for you to manage your own business and assign different work to different teams, which is made even better by some in-house collaboration tools, though don't expect it to replace your company Slack anytime soon. There are plenty of third-party integrations to speed up your workflow, too.
Read our full Monday.com review.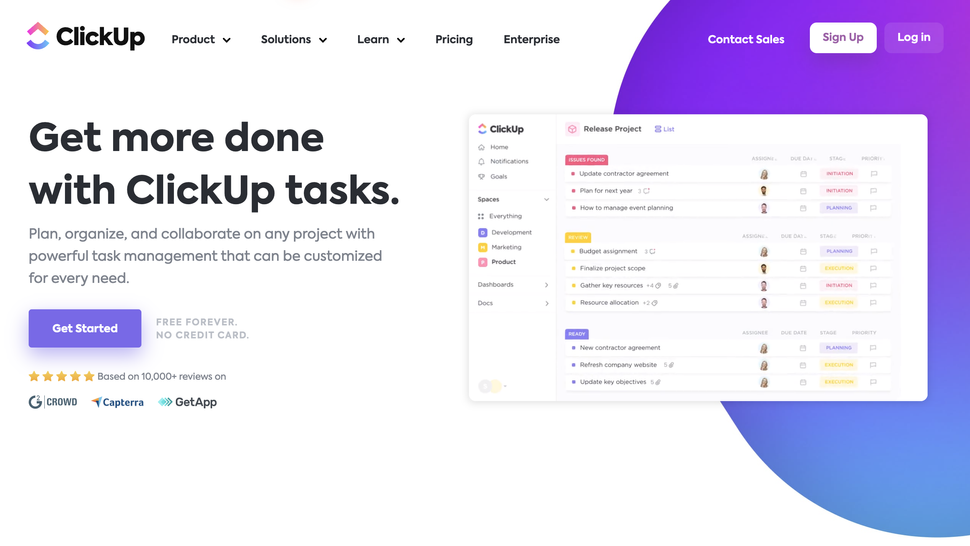 ClickUp is one of the many Asana alternatives that actually integrates with Asana, which is especially important if you're migrating from it as it enables you to link and transfer your data. It also integrates with Monday, Airtable, Wrike, Basecamp, and more. In terms of workflow integrations, the vast array includes GitHub, GitLab, and over 1,000 more, plus an API to build your own.
As well as offering broader project management tools, you can handle task management as well as collaborate with colleagues straight in the app. The free plan isn't as limited as you may expect, but there are also three designated paid plans should you need to expand.

Trello is an Atlassian product, which may be great news if you're an existing Jira user because you'll be familiar with how the system works. It's a series of boards, lists, and cards designed to organize your work.
You can choose to use the automations to save you time, but Trello will actually recognize repetitive tasks and suggest automations to you, so even if you're not au fait with such software, you'll be able to get the best out of Trello. Pricing is affordable, and like many of its rivals, there's a free tier available.
Read our full Trello review.

In reality, there's not a huge amount that sets Wrike apart from any of its other competitors including Asana. It has clearly been designed with more modern businesses in mind and the user interface presents a clear way to navigate, filled with helpful graphics and icons.
That said, it's one of the few early apps to adopt artificial intelligence to help you speed up your work. Wrike AI is there to help you prioritize, transcribe, and even generate some basic content. Even though the AI era is just dawning, the company has already committed to more features like generative AI and intelligent search, so it's definitely one to consider even at its slightly higher price point.
Read our full Wrike review.

Basecamp is designed to be easy to use, and while that's true, it's not as aesthetically pleasing as some other options like Wrike or Airtable. However, it's incredibly easy to navigate, and makes it easy for teams to collaborate, aiming to eliminate the need for any messaging platforms (though they have their own merits).
It might be best used by smaller companies that don't need the extensive features that other project management software offers, but at the lower end of the scale on a per-user basis, pricing can be a touch pricey. An unlimited plan, which costs the equivalent of between 20 and 25 workers, per month, presents incredible value for money for companies with substantially more workers, though.
Read our full Basecamp review.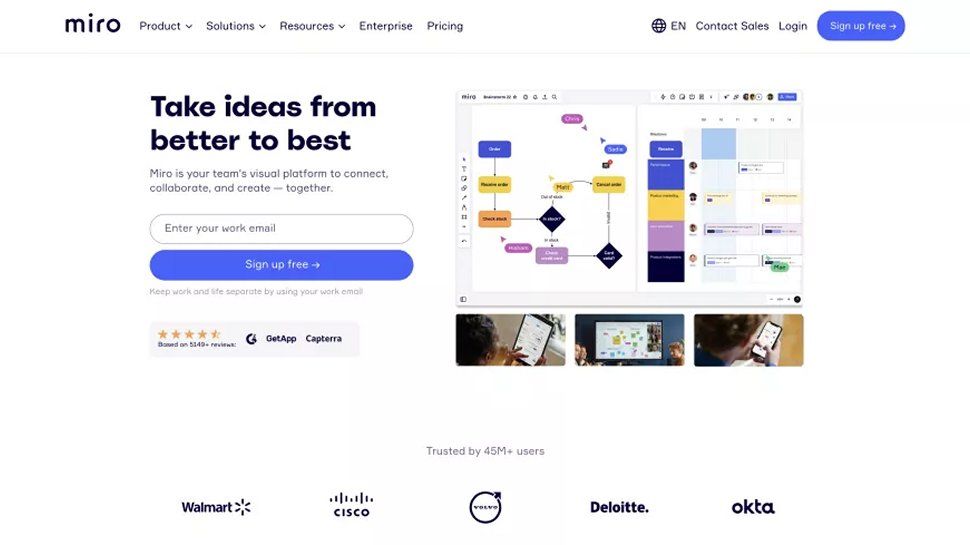 Miro, whose customers include Okta and Cisco, reckons it can give you most of the tools you need to get your business going. Beyond project management, there are whiteboards, brainstorming, and other mapping tools available to suit the start of your journey.
In terms of dedicated project management, you may be a bit disappointed, but if you're a startup looking for the basics, a selection of templates may give you what you need. Users can also submit their own templates to the 'Miraverse.' Pricing is about on par with rivals, but what it offers is slightly different.
Read our full Miro review.

Not very many companies manage to offer such a comprehensive business suite as Zoho - a company you may already be familiar with for its endless catalog that includes CRM software, accounting software, email hosting, a webinar platform, HR apps, and so much more.
Existing customers may value being able to keep everything under one roof, and use a company they already know and trust. New users will value the easy-to-use task management, time-tracking, file sharing platform that is Zoho Projects, which promises on-the-go capability through a mobile app. It's not the last word in project management, but it's a very strong contender and has so much more to offer besides it.
Read our full Zoho Projects review.
---
How we tested the best Asana alternatives
To test for the alternatives to Asana we considered the key areas around project management that the software covers, as well as some wider categories. In order to assess the software, we first set up an account with the relevant software platform, whether as a download or as an online service. We then tested the service to see how the software could be used for different purposes and in different situations, with varying requirements as per different businesses' needs, while comparing the software to other, similar tools beyond Asana itself. Also forming part of the testing was detailed comparison between what each service offers in its broaden ecosystem, and its value for money.
Should I pay for project management software like Asana?
The short answer is yes. Chances are you're considering Asana and its alternatives because you're a company looking to get the most out of your business and you value organization, in which case you'll likely find yourself paying a monthly fee for each member that uses your chosen platform. Most offer free tiers, but the features are limited and geared more towards personal and starter users, including some sole traders and freelancers, but you'll also find most paid plans have free trials and customer support to help you make the right decision.