We're expecting to officially see the Huawei Mate 10 Pro two weeks from now on October 16, but we've seemingly just had a strong, unofficial look at the phone.
Shared by reputable leaker @evleaks, a new high-quality render shows the Huawei Mate 10 Pro from both the front and back, revealing a colorful rear in blue, black or brown, with a distinctive strip near the top housing a dual-lens Leica camera, while a fingerprint scanner sits below.
That camera is believed based on earlier leaks to be a 20MP and 12MP pairing, while around the front there's what's thought to be an 8MP snapper above a massive edge-to-edge screen.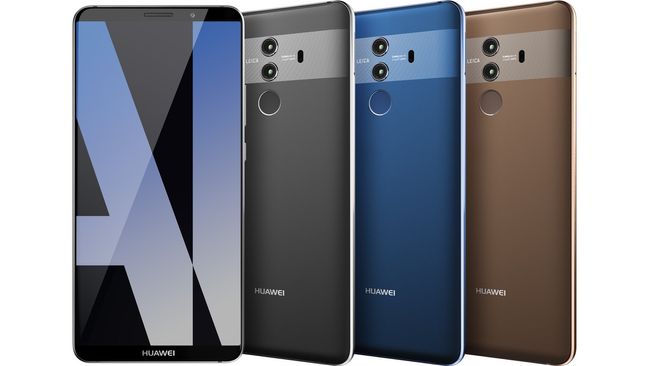 Yes, the Mate 10 Pro looks to be joining the Samsung Galaxy S8 and iPhone X that's almost entirely eliminated bezels, with just a slim strip at the top and bottom.
The display itself is thought to be 6 inches based on previous leaks and to have an 18:9 aspect ratio, making it super widescreen like a growing number of handsets on the market.
As smart as it looks
The screen also sports the letters 'AI', hinting that the Huawei Mate 10 Pro will have AI smarts of some kind.
We don't yet know what that will mean, but Huawei previously teased AI in relation to facial recognition on Facebook, so it's possible that the Mate 10 Pro will have a Face ID-like feature.
All in all, the Huawei Mate 10 Pro is shaping up to be an interesting phone, though one with a design that's seemingly divisive, with @evleaks noting that it's "rare to see a phone as polarizing, aesthetically, as this one seems to be."
Wherever you stand on it, you should be able to get a much closer look in a couple of weeks, when the phone will likely launch alongside the standard Huawei Mate 10.
Via The Verge