Better battery life, improved performance insights and smarter design, these are just some of the things we've come to demand each year as we sift through the latest offerings from the likes of Garmin, Polar, Suunto and TomTom in search of the best running watch.
Of course we still want highly accurate GPS, idiot-grade usability and excellent partner apps to help us learn from our stats and stay motivated.
Thankfully, 2017's new crop of running partners haven't disappointed, with a few familiar (watch) faces getting a welcome overhaul and the odd newcomer joining the fight for that space on our wrist.
'But what's the best?' we hear you ask. Well, from the perfect partner for trail running through to the ideal watch for marathons, we've run with every watch on this list and selected the best devices for every running need.
Note: we've ranked these from cheapest to most expensive according to prices at time of writing. We're currently testing plenty more - so keep coming back to see if other options make it into the listings!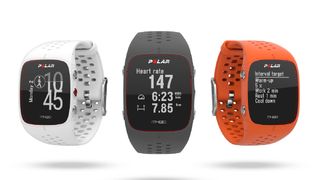 1. Polar M430
Polar's best-selling tracker with a HR upgrade
Good battery life
Easy to use
Annoying charging lead
Not the best looking
Polar's fuss-free M400 was Europe's best selling running watch for a reason. Simple, effective and at a good price, the company was clearly onto a winner.
Thankfully with the new Polar M430 they've heeded the old adage 'if it ain't broke' and kept most of what made the M400 a favorite but added some useful new skills.
Still easy to use, with a durable, if unremarkable design, the biggest upgrade is that the M430 now comes with built-in heart rate (HR) monitoring for zone training and continuous HR tracking off the wrist, so you can monitor your resting heart rate and your fitness progress.
There's also sleep tracking and smart notifications and the benefit of the ever-improving Polar Flow app, which allows you to add smart coaching to your wrist for training that's tailored to your abilities and goals, as well as providing one of the best 'see your day' views of everything you've done.
Somehow the wizards at Polar have squeezed in these extra smarts while still offering a decent battery life of up to 30 hours of training tracking. While it lacks some of the deeper running dynamics you'll find on the Polar V800 or Garmin Forerunner 935, this is a very accomplished running watch at a very reasonable price.
Read the full review: Polar M430
2. TomTom Spark 3 Cardio + Music
For music lovers who like to run to the beat
Built-in tunes
Fitness progress tracking
It ain't pretty
Unsophisticated app and web tools
If you need music to motivate your runs but you hate carrying your smartphone then the Spark 3 Cardio + Music, with its 5GB built-in storage for more than 500 songs, custom playlists and Bluetooth skills, is a great option.
Connecting your Bluetooth headphones with the Spark 3 Cardio also means you can make the most of its audio training features, with alerts that tell you if it's time to speed up or slow down, or if you're shifting outside of your target heart rate zone.
As you improve you can actually see your Fitness Age drop, showing that your efforts are having an effect on your body.
There's treadmill tracking, interval training and an 11-hour GPS training battery time, while water resistance, route guidance and multi-sport support are just a few other benefits thrown in on top of this watch's running training skills - and all for a really impressive price.
Read the full review: TomTom Spark 3
3. Polar M600
Still the best Android smartwatch for runners
Robust fitness tracking
Multi-sport skills
Screen quality not perfect
Not the best-looking smartwatch
Android Wear has been around for years now, bringing plenty more than GPS and heart rate tracking to watches like the Polar M600. Sure it'll track speed, pace, distance, calories and more while you run - but it'll also keep you fully connected via your phone 24/7.
That means route guidance, calendar alerts, messaging and even music onboard, all with voice controls too.
Being Polar, the M600 is made tough with IPX8 water resistance for swim tracking and a rugged comfy strap for all day tracking. You also have minimalist controls for quick access even while you're a sweaty running mess.
In terms of battery life, you get eight hours of training with GPS, which is plenty for most race distances, or up to two days of normal daily use.
Read the full review: Polar M600
4. Suunto Spartan Trainer Wrist HR
Slimmed down Suunto for urban to off-road adventure
Slimline Suunto
Off-road and GPS route nav
Complicated to use
Intermittent syncing problems
Let's be honest, most Suunto watches are bulky beasts. They're capable but they're rather chunky and that means for some runners the brand has been a bit of a no go.
That's where the new, more compact, Spartan Trainer Wrist HR comes in. It's lighter and smaller than its predecessors but still comes with built-in (and excellent) optical heart rate tracking, bringing Suunto's multi-sport and adventure running smarts to smaller wrists.
With this we've also finally got a Suunto we think looks good enough to wear all day, so you can take advantage of its activity tracking features as well.
At 56g it's only 6g heavier than something like the TomTom Spark 3 and offers 10 hours of training time or up to 14 days of activity tracking and general use.
As you'd expect from Suunto there are trail smarts too, with GPS route navigation and breadcrumb view, which makes it easy to go in search of new routes and places but still find your way back home.
The Suunto Movescount app helps here too. In addition to laying your training data out clearly it also gives access to its community, where you can see how your efforts stack up against the rest of the world and dive into trail running routes logged by others in the community that might not appear elsewhere - being able to see runs in new areas is a really nice feature.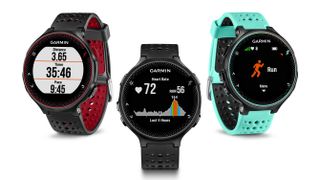 5. Garmin Forerunner 235
Brilliant for serious runners on a budget
Resting heart rate insights
Sharp looks, lightweight design
Intermittent sync issues
A bit plastic
This reasonably affordable watch offers everything the world of Garmin has perfected for runners, in compact form. That means GPS tracking for 11 hours and activity tracking 24/7 for 9 days on a charge.
It also means you get wrist-based continuous heart rate and Garmin's many apps for things like custom watch faces or marathon-specific training apps. You can enjoy smartphone notifications, audio prompts, live tracking and of course the Garmin Connect app for an in-depth analysis of your efforts.
While out on a run you can use information like aerobic Training Effect to ensure you don't push yourself too far and hinder training, all while powering through heart rate zones to ensure progress - and following that, monitoring your VO2 Max will show how you're getting fitter (although pay no heed to the utterly inaccurate race time predictors).
Another nice feature: if you ever get lost you can use the Back To Start feature to be guided right back to where you came from.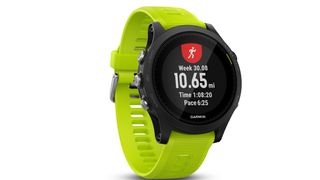 6. Garmin Forerunner 935
Advanced tracking tool for goal-chasing amateurs and serious athletes
Detailed running stats
Long battery life
No music playback
Pricey
A bit like having a Fenix 5 crammed into a slimmer body, with the Forerunner 935 Garmin has taken everything it learned from years of making GPS running watches and applied it all to this one do-it-all device, producing what we'd suggest is the most complete running watch we've seen to date. This is a tool for serious runners and triathletes.
In addition to the reliable GPS you'd expect, there's a huge range of advanced running metrics including cadence, ground contact time, vertical oscillation, VO2 max, recovery time guidance and more.
The emphasis here is on using your run data to adapt your training, make alterations to your form like shortening your stride, and keep an eye on your overall training load in the build-up to your next big challenge.
You also get up to 50 hours of UltraTrac GPS training on a full charge, smart notifications from a connected phone, plus the option to customize your watch's features by adding to it from the many apps on Garmin's IQ Connect software.
Read the hands on review: Garmin Forerunner 935
We've got some great stuff incoming - check out some of our previews of new running watches that we're looking forward to offering full reviews of soon!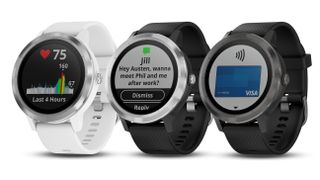 Garmin Vivoactive 3
Garmin's most stylish smart running watch activity tracker yet
Is it a smartwatch, is it a GPS sports watch, is it a fashion watch? It's all three in one. This is the first Garmin watch that's really clearly gone for the design-loving runner, going up against the likes of Apple Watch and Android Wear devices.
As you can probably imagine it's got all the Garmin smarts, meaning GPS and heart rate tracking, multi-sport support and even Garmin Pay, which allows you to make contactless payments even without your phone.
All that and battery life lasts a hefty seven days of normal use or 13 hours of GPS training.
On the design side of things this features a stainless steel bezel and comfy rubberized strap that can be swapped out to suit the occasion.
A huge selection of watch faces and app options are available on Garmin Connect, which is open to developers, meaning more cool new additions all the time.
Read the hands on review: Garmin Vivoactive 3
Apple Watch 3 - Nike+
For casual runners who like a bit of style
We're pretty confident that when the Apple Watch Series 3 Nike+ arrives, it's going to be better than the . With that in mind if you want a stylish GPS tracker that's as much smartwatch as it is running partner, then this is your best bet.
The addition of built-in GPS letting you track runs minus your phone was a big step forward for the second-generation Apple Watch's running credentials, and now that we're finally getting LTE so you can make calls without your phone it's getting painfully close to being a watch that lets you run unburdened by keys, cash and phone.
There's also rapid GPS fix, on-board storage for up to 250 songs, wireless pairing with treadmills and Apple Pay here.
It's still a way off being genuine competition for the expanding training capability of the Polars and Garmins on this list, but when it comes to casual running for fitness there's plenty here to excite.
The Nike+ version's extra run-focused features do well to add to that with custom watch faces and the ability to quick launch the Nike+ app from the home screen. And since this also tracks daily activity and multiple sports, the options are enough to keep you busy and entertained while training for longer than most.
Read the hands on review: Apple Watch 3