Kymco's battery-swapping tech could be a huge deal for small EVs – here's why
It cuts cost of ownership and makes charging simpler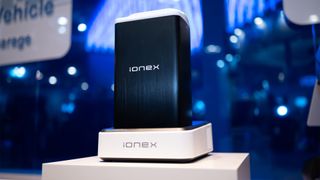 (Image credit: KYMCO)
While other motorcycle manufacturers were busy wowing crowds with their latest sports bikes and retro-inspired petrol cruisers at EICMA 2023, Taiwanese company Kymco, which is one of the leading manufacturers of scooters, motorcycles, and ATVs worldwide, unveiled a much bigger ambition.
Revealing its Ionex range of EV solutions at this year's Milanese motorcycle show, it says it plans to roll out a swappable battery platform that it hopes a number of motorcycle manufacturers will soon adopt.
The Ionex Common Battery is a versatile removable battery with "a proven track record of millions of charges and swaps", according to its maker. It's easy to remove and top-up, while it also fits seamlessly into any two-wheeler architecture when used alongside the company's Battery Metering Unit (BMU).
The latter delivers smart vehicle features, like OTA updates and smartphone app integration, without the massive developmental costs involved. This is a "plug and play" solution, essentially.
But offering the battery packs is just the tip of the iceberg, as Kymco also unveiled plans to roll out its cloud-based Ionex Operating System, which manages every Ionex Common Battery to automate all aspects of the Battery-as-a-Service operation.
This includes things like handling the mobile billing and payment collection features, as well as diagnostic-tracking, alerts and battery recovery. Essentially, it is the cloud-based brain behind the hundreds of thousands of swappable battery packs the company plans to have on the streets in the coming years.
Finally, Kymco will also provide its own Ionex Energy Station to its franchised battery-swapping network operators, which is akin to a giant vending machine where electric motorcycle and scooter owners swap out their battery packs for freshly charged modules.
The system is already underway in its home country of Taiwan, where a number of Ionex Energy Stations are already in full effect, allowing owners to quickly and easily replace their Kymco battery packs on the move.
It is a notion that some of the world's biggest EV manufacturers have considered, but due to the size of the battery packs in cars, it has proved an ungainly logistical nightmare. Not so with smaller scooters and motorcycles.
The adoption has been fast in Taiwan, where Ionex has run its battery swap business on a subscription basis, drastically reducing the cost of entry to electric motorcycle and scooters.
After all, the battery pack is one of the most expensive parts of any EV, so renting this element helps keep costs down.
Welcome to the battery swap shop
While Kymco's solution is attempting to effectively standardize the battery swap market, it faces stiff competition from brands like fellow Taiwanese upstart Gogoro and Japan's Honda Motor Company.
In fact, if you wandered a little further along the hallowed halls of Milan's annual motorcycle show, you would have also stumbled across Honda's grammatically irritating 'SC e: Concept' (above).
This small but stylish electric scooter features the brand's Honda Mobile Power Pack e: batteries, which have been designed in-house and can be swapped at its own kiosks that are based in and around Tokyo – although Honda is rolling out more all the time.
The aforementioned Gogoro has been pushing the idea for years but, like Honda, users are currently limited to its own ecosystem and line-up of electrified scooters.
That said, it has been aggressively expanding over recent years, with its swap shop-style system now available in China, India, Indonesia, the Philippines, Korea, Japan, Singapore and Israel.
Kymco's solution could push things even further, and if major manufacturers like Yamaha and Kawasaki get onboard with a standardized system, it could rapidly speed up the adoption of small, convenient EVs in urban settings and make it much easier for us to conveniently run an electric vehicle from our favored manufacturers.
You might also like
Sign up for Black Friday email alerts!
Get the hottest deals available in your inbox plus news, reviews, opinion, analysis and more from the TechRadar team.