If you're on the hunt for the best PS4 controllers on the market, then you're in the right place. Sure, every PS4 console comes bundled with a DualShock 4 wireless controller, but it's worth noting that it's not the only PS4 gamepad option out there.
When it comes to controllers, everyone has their own preferences. Some people have large hands, others small, while some want all the bells and whistles of a pro-standard gamepad, and others are happy with a more minimalistic approach. There's no 'one-size-fits-all' controller, making choice important. That's why we've put together a list of the best PS4 controllers available right now, spanning both first and third-party gamepads across a range of budgets, designs and performance options.
The DualShock 4 is a great controller (and even features on our list), but PS4 controllers from other brands might offer you something a bit different. Many offer more serious style points, with extra features like lights and colors. Some offer different ergonomic options, which will make gaming more comfortable. A few will have added features to upgrade your performance, like digital triggers for speedier reaction times in FPS games. Whereas others might just make more sense if you're on a strict budget because they're affordable.
There is a wide range of PS4 controllers on offer, so it's worth looking beyond Sony's DualShock 4 if you need a replacement or a spare - though it's worth noting they won't all work on PS5. Below we've selected the top PS4 controllers you can buy today, whether you need a cheap gamepad or an all-singing, all-dancing controller filled with features. Read on for the best PS4 controllers available right now.
Best PS4 controllers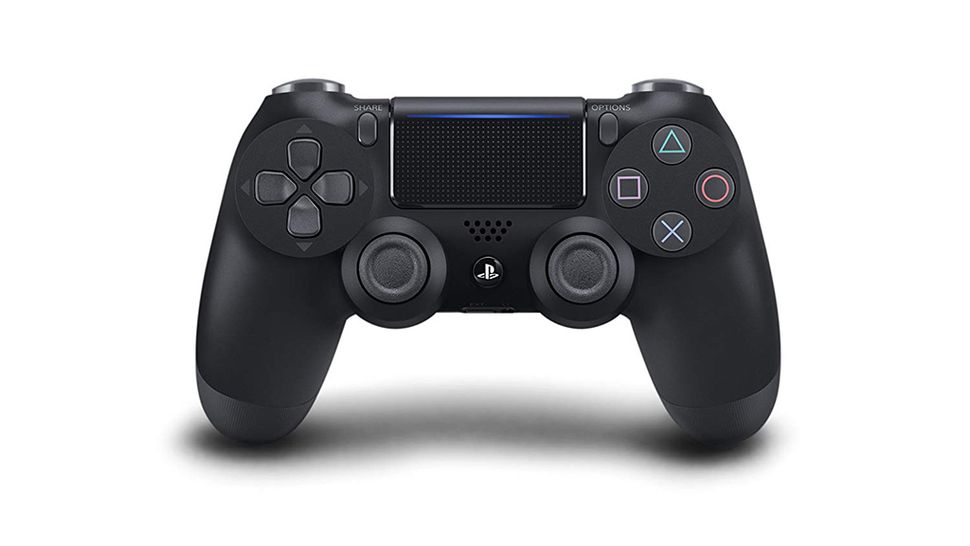 The trusty DualShock 4 is always our first recommendation when we're asked about replacement PS4 controllers.
The DualShock 4 is perfect for its purpose: sleek, small and wireless. Not to mention the built-in speaker, varying lightbar colors, touchpad and motion sensors, which enhance play.
This need not be a cop-out option either. You don't have to make do with the plain old black style shipped with the console. Jazz things up a bit with a red, blue, gold or green camo DualShock 4.
You can attach a gaming headset or headphones to the controller easily too (unlike the Xbox One pad). However, battery life can be a pain. The controller holds charge for around four to eight hours. Frequent top-ups are required so you might want to buy a charging dock, particularly as they use microUSB charging.
Many of us have already moved onto USB-C for our phones, so there are fewer suitable cables lying about the house. Read more about Sony's official charging station in our best PS4 accessories round-up.
We find the DualShock 4 is a great PS4 controller for someone who just simply wants to get on with playing and isn't fussed about the customization available in some of the third-party pads below. However, it's worth noting that, while the DualShock 4 does work with PS5, it can only be used to play PS4 games on the PS5 console.
Find out more: DualShock 4 controller review
Imagine you took a Sony DualShock 4 and redesigned it to fit in four well-spaced paddle controls on the back that replicate the inputs of the face buttons. You'd end up with the Scuf Impact.
With the EMR Scuf Impact you can remap these paddles with a little magnet that sticks on the back. If you don't care about the paddles or the tweaks you can make to the design, stick to a DualShock 4 – it's a lot cheaper.
During our testing, we found it easy to switch to this pad. Spacing is different, but the core features of the DualShock 4 are replicated with no odd-feeling or low-quality parts that stick out.
We reviewed the digital trigger version, which has ultra-fast triggers made for FPS games. They're a hit, but aren't ideal for other types of game, particularly racers. Do a little research and you can design your own Impact to suit your play style.
Like the DualShock 4, the Scuf Impact won't work with PS5 games but will work with supporting PS4 games on Sony's latest hardware.
Find out more: Scuf Impact review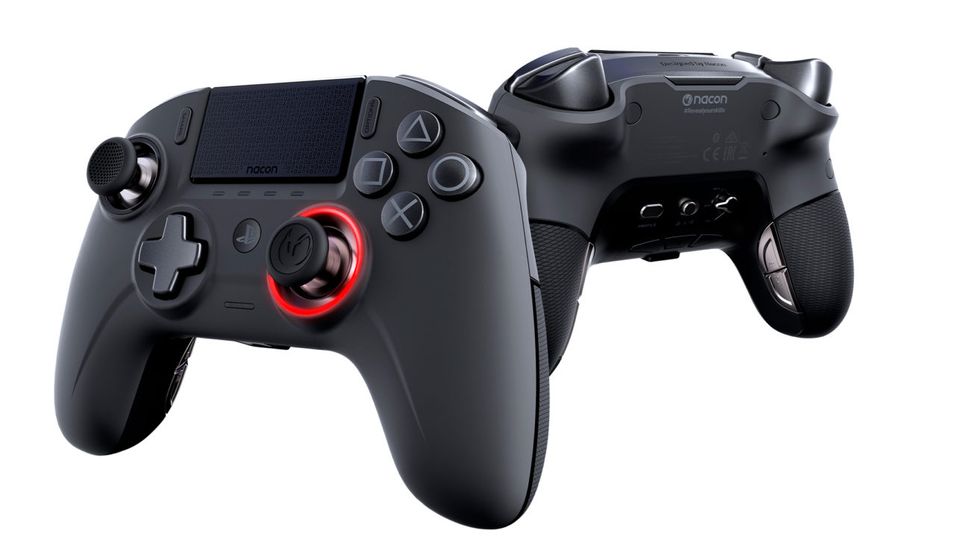 If you have a PS4 but like the design of the Xbox One controller, then the Nacon Revolution Unlimited Pro Controller is for you. Design-wise, it feels larger and more ergonomic shape than a traditional DualShock controller. It has a sleek black/gray finish, and a lot of options for button mapping and customization, too.
Developed by Nacon, a company that specializes in gaming accessories, with eSports in mind, the Unlimited Pro is compatible with PlayStation 4 consoles as well as PCs.
The good news is, this is officially licensed by Sony, so it'll work well and for a long time. So, if you want a PS4 controller with a few extra bells and whistles, but not an overwhelming amount, and prefer a chunkier controller that is a bit more resilient, the Nacon Revolution Unlimited Pro Controller could be for you.
Find out more: Nacon Revolution Unlimited Pro Controller review
The Razer Raiju Ultimate Wireless PS4 Controller is one of the smartest PS4 gamepads around and more suited to seasoned gamers and pros than beginners. It allows advanced customization via the Razer mobile app, which includes remapping and adjusting sensitivity.
If that's not enough customization, you can also make use of interchangeable thumbsticks, the built-in quick control panel, and Hair Trigger Mode. If you harness the controller's capabilities then you'll find your gameplay experience all that much smoother.
Much like the other pro controllers on this list, the Raiju Ultimate is chunkier than the DualShock making it more suitable for those who prefer the style of the Xbox One controller. The Raiju Ultimate is a fantastic PS4 controller, but it's not exactly cheap. Make sure you're going to make use of advanced customizations before investing.
Find out more: Razer Raiju Ultimate review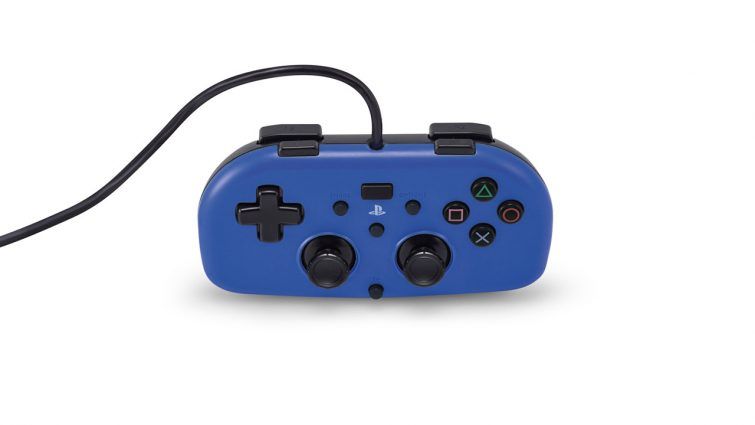 The Hori Mini Wired Gamepad is a good fit for smaller hands, whether you find regular PS4 gamepads too big or want an option for your kids.
The Mini Wired has a neat, colorful design and looks like a retro controller. It's plug-n-play with 10ft cable (no pulling the console off the stand) and it's 40 percent smaller than the DualShock 4. The grip is minimal as a result, but that's a good fit if you want a small pad to stash in a bag or want a compact and cheap back-up.
Because this PS4 pad is so small, you're lacking a few features, including a light bar, stereo headset jack, speaker, dual motors, or motion sensor. Think of it as a streamlined alternative to the DualShock 4.
A few games won't work with this controller. According to Sony, the Mini Wired Gamepad is compatible with "most" PS4 games. We're reading that as the less complicated ones, so don't fire up Assassin's Creed Odyssey and expect the controller to be able to hack it.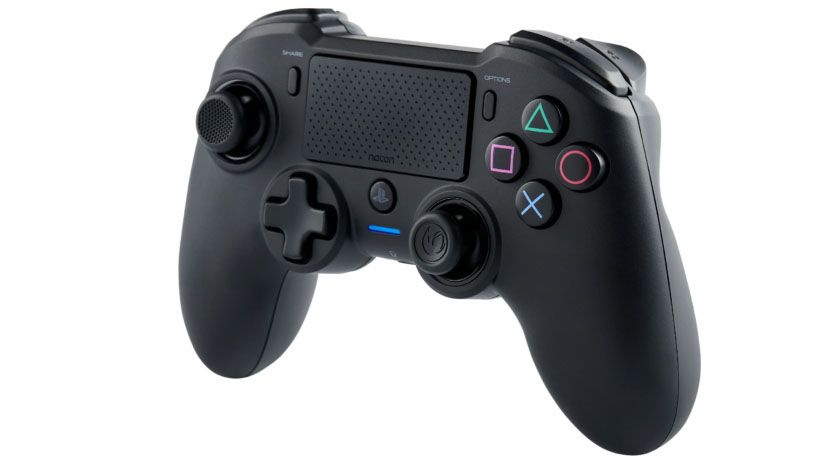 The Nacon Asymmetric Wireless Controller is a comfortable PS4 gamepad that brings the Xbox One controller experience to PS4 (and PC) players. It's robust and well-made, with a chunkier design than the DualShock 4, which makes it more pleasing to hold for long gaming sessions.
Its name tells you the main selling point: the Nacon Asymmetric Wireless Controller has offset analogue sticks, just like an Xbox One controller. We found this to be a better choice for those who have dexterity issues or simply prefer a bigger controller due to its bigger buttons and triggers.
However, there are a few performance issues to take into account. We noticed some grating lag during our testing, and there are no motion sensors inside. The light bar and speaker are missing, too, features that are important for some games. With that in mind, it's a good choice if you want a second pad to use for some specific dual-stick titles.
Find out more: Nacon Asymmetric Wireless Controller review
FAQs
What should I look for when buying a PS4 controller?
There are a lot of options to consider when you're looking for a new PS4 gamepad.
The first is budget. You can expect to pay $49.99 / £49.99 for the DualShock 4 controller from Sony (although it's sometimes discounted in sales). Pro gamepads can exceed that price and cost more than $200 / £200 but budget options can be snapped up for as low as $20 / £20.
You often get what you pay for here, the more expensive the gamepad, the more responsive it's likely to be with additional features. Then again, you don't need to spend more than around $80 / £80 unless you want finer controls, customization options and other high-end add-ons.
Also consider whether you'd prefer a wired or wireless PS4 gamepad. The DualShock 4 pad is wireless thanks to a Bluetooth connection. But there are wired alternatives. The downside of a wired controller is you're tied to your console. The upside is you might notice slightly faster response times.
Other considerations, like weight and color are down to personal preference. If you have small hands or need a controller your kids might play, the lighter the better.
Will a third-party controller work on PS4?
Most of the PS4 controllers you can buy will work with your PS4 – at least right now. The danger is if Sony updates the PS4 and some controllers that aren't officially licensed by Sony might become obsolete.
The only officially licensed PS4 controllers – other than the DualShock 4, of course – are the Razer Raiju Pro Gaming Controller, Nacon Revolution Pro Controller, HORI Wired Mini gamepads and Nacon Wired Compact Controllers.
However, brands not officially licensed, like Scuf or other top gaming companies, should always stay up to date too. It's the cheaper options that might be risky. It's worth double checking on product pages and reviews before you buy.