The best Nintendo Switch controllers in 2023
Best
Contributions from
last updated
All the best Nintendo Switch controllers available right now
Best Nintendo Switch controllers: Quick menu
1. The list in brief
2. Best overall
3. Best official
4. Best for multiplayer
5. Best handheld
6. Best budget
7. Best fight stick
8. FAQs
The best Nintendo Switch controllers make for excellent, upgraded alternatives to the pack-in Joy-Con controllers. And in 2023, there are more options than ever for both budget and premium gamepads. We're covering both wireless and wired models here, too, so you'll find something in our list that's well-suited to your preferences.
By and large, the best Nintendo Switch controllers are more affordable than on competing consoles. Pricier, premium options do exist, but manufacturers like 8BitDo, PowerA and Hori offer top quality pads that won't break the bank. That's great news if you're sick of the Joy-Con controllers and their tendency to drift, as many third-party offerings are designed to prevent this.
If you want to take your gaming experience that one step further, then, we've also pulled together the best Nintendo Switch accessories, alongside something more specific in our guide to the best fight sticks in 2023. We've also compiled the best handheld games console too so you know exactly where the Switch ranks in comparison to its competition.
The Quick List
Best Nintendo Switch controllers in 2023
The best overall Nintendo Switch controller
Reasons to buy
+
Excellent build quality
+
Ergonomically satisfying
+
Includes charging dock
Reasons to avoid
-
Slightly crowded central buttons
-
No NFC support
If you had to make a snap decision on which Nintendo Switch controller to buy, make it the 8BitDo Ultimate. Between the build quality, feel, battery life, and more it simply ticks almost all the boxes we'd expect for what's one of the best controllers on the market, period. Throw in extra features like remappable button profiles via the 8BitDo app (including two extra buttons at the pad's rear) and you've got a 'Pro' adjacent controller that's well worth the cash.
The price tag is even sweeter. At $69.99 / £59.99, it matches the cost of our next entry on the list, and packs in even more features. The 8BitDo Ultimate's value rises even further when you consider that it comes with its own charging dock, too. Handy for when you need to charge in a pinch when the pad's 20 hours of battery life runs dry.
There's only a couple of shortcomings to speak of, namely a slightly crowded central area where you'll find buttons like Start, Select, Home and Share. This can make it easy to hit multiple buttons by mistake. There's also no NFC support, so you'll need to rely on the Switch's Joy-Con controllers if you're into collecting and scanning amiibo figures and cards. But ultimately these are mere nitpicks and don't spoil anything that this fantastic controller gets right.
The best official Nintendo Switch controller
Reasons to buy
+
Phenomenal battery life
+
Top build quality
+
Has NFC support
Reasons to avoid
-
Shallow triggers
-
Face buttons feel a bit mushy
It's no great shock that the official Nintendo Switch Pro Controller is a contender for the best pad for the system. Despite being just slightly pipped by the 8BitDo Ultimate in our books, Nintendo's own is still an excellent controller worth considering. Especially if you like the sound of 40+ hours of battery life on a single charge. Yep, the Pro Controller's battery life might just be the best thing about it.
At $69.99 / £59.99 the Nintendo Switch Pro Controller matches the price of our top entry on this list. And while the Pro Controller lacks some of its rival's features (no charging dock, rear buttons or support for multiple button profiles), it makes up for it in other areas such as full NFC support and – again – that staggering battery life.

If you're looking for a controller that's a bit more traditional (not to mention much sturdier) than the Switch's pack-in Joy-Con controllers, there's very little wrong with the Nintendo Switch Pro Controller. While we do prefer the buttons and triggers on the 8BitDo Ultimate, the Pro is still an excellent choice especially if you play primarily in docked mode.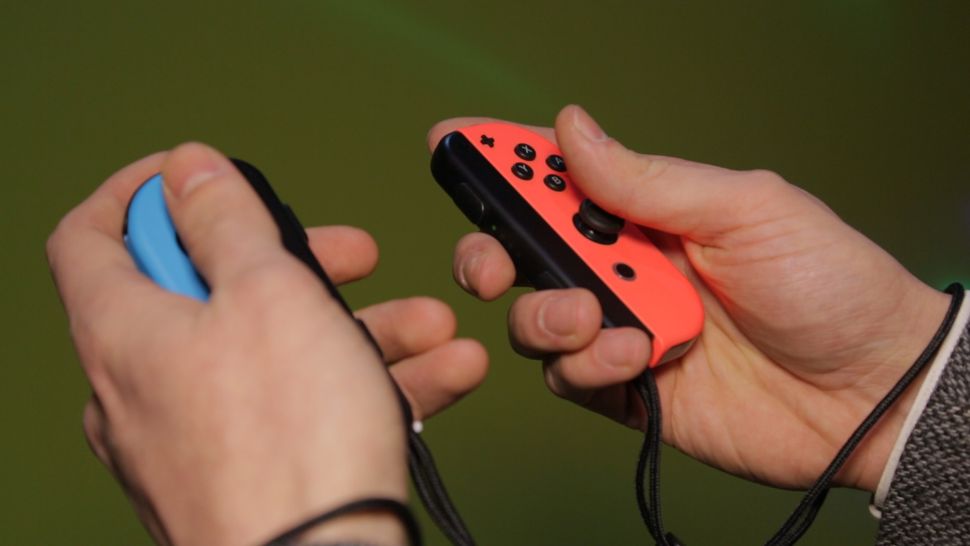 3. Nintendo Switch Joy-Con controllers
The best controller for local multiplayer
Reasons to buy
+
Essentially two controllers for one
+
Lots of different colors/styles
+
NFC support
Reasons to avoid
-
Relatively expensive
-
Analog sticks prone to drifting
The Joy-Con controllers were a fresh, novel concept when the Nintendo Switch launched way back in 2017. And some of their more forward-thinking elements, such as the HD rumble (a similar type of haptics as seen in the DualSense) are still great to this day. Chiefly the fact that – if you can handle their small size – you're effectively getting two controllers for the price of one. This alone makes the Joy-Con excellent for local multiplayer games.
But that fact, along with the Joy-Con's novelty, makes them even pricier than the Nintendo Switch Pro Controller. You'll be paying $79.99 / £69.99 for a pair of Joy-Con controllers, making them even costlier than the top two entries on our list.

Throw in that the Joy-Con controllers lack the firm build quality of the Pro Controller, and have analog sticks that are prone to a drifting defect, then you may be better off checking out some of the other options on our list. On the other hand, there's undeniable value in their versatility, and they're excellent for local multiplayer titles like Mario Party Superstars and Mario Kart 8 Deluxe. This makes the Joy-Con controllers fun and family friendly.
The best handheld Nintendo Switch controller
Reasons to buy
+
Sturdy, comfortable grips
+
High-quality analog sticks
+
Fantastic value for money
Reasons to avoid
-
A little bulky for some
-
D-pad could be better
The Nitro Deck is, as we referred to in our review, effectively the Swiss army knife of Nintendo Switch accessories. It's easily one of the best Nintendo Switch controllers in this list, and ideal for players who prefer gaming on the go.

It doesn't cost the world, either, with the base model coming in at just $59.99 / £59.99. However, given its portable nature, you may wish to opt for the slightly pricier $89.99 / £89.99 variant which features multiple choice of limited edition colorways and extras like a carry case.

The Nitro Deck simply feels excellent to play Nintendo Switch games with. Its sturdy build protects your unit from damage, and its smart Hall-effect sticks mean that it won't suffer from stick drift the same way many Nintendo Switch controllers do. It's an essential purchase, then, if you're looking for a portable way to play.
5. PowerA Enhanced Wired Controller
The best budget Nintendo Switch controller
Reasons to buy
+
Extremely budget friendly
+
Surprisingly good build quality
+
Plenty of colors and designs
+
Excellent for kids
The existence of the PowerA Enhanced wired controller is something of a small miracle. One look at the price might convince you these are low quality pads with little to offer. But thankfully, that simply isn't the case.

PowerA Enhanced wired controllers come in at just $27.99 / £24.99. This low price, along with the multitude of fun Nintendo-themed designs, make PowerA's pads excellent gifts for younger players.

Buttons, triggers and sticks here are also of a surprising quality. Naturally not quite on par with, say, the 8BitDo Ultimate's satisfyingly clicky buttons and deeper triggers, but still a remarkable effort for such an affordable pad. The only real drawback for its price point is that the pad is relegated to wired play, meaning it can't be used in portable play or with the Nintendo Switch Lite.
6. 8BitDo Arcade Stick
The best Nintendo Switch controller for fighting and arcade games
Reasons to buy
+
Top-notch build quality
+
Lovely retro aesthetic