If you need the best rugged smartphone you've got your work cut out for you - we've done the hard work of testing all the top phones designed for outdoor or intensive use, and ranked them so you can easily find the most useful for you.
The best rugged smartphones are water and dust resistant, sometimes even totally waterproof, with outer shells tough enough to be dropped on stone or hard surfaces. They'll withstand any drop, bump or impact without bearing a scratch (literally, in most cases), which makes them perfect for use while working outdoors. These devices have undergone stringent tests to ensure they meet military standards, for protection against shocks, extreme temperatures, and of course dust and water (albeit in controlled environments).
Software on the best rugged smartphone is no slouch either, as most offer extra features that are vital in certain lines of work: some might have infrared cameras, sound level meters, and sometimes even VOC (volatile organic compound) detectors.
So whether it's your hobby or your profession that is leading you to to wild or dangerous places, has you needing a device that'll last a long time with plenty of features, or simply makes you prefer hardy phones over fashionable yet fragile standard smartphones, the best rugged smartphone is what you need.
Finally, just bear in mind that while all ruggedized smartphones will be waterproof and dustproof (and therefore meet the IP68 specification), not all waterproof phones will be ruggedized. So think carefully while shopping for the best rugged smartphone for your needs, and make sure you look into all the features that these handsets boast.
So, read on to find out our top picks for the best rugged phones on the market right now.
We've also featured:
Best rugged smartphones - at a glance
Blackview BV9900 Pro rugged smartphone
Doogee S95 Pro rugged smartphone
Ulefone Armor 7E rugged smartphone
Unihertz Atom XL rugged smartphone
Ticwris Max 4G rugged Android wrist computer
Cat S62 rugged smartphone
AGM X3 rugged smartphone
Doogee S90 rugged smartphone
Blackview BV9500 Pro rugged smartphone
Cat S42 rugged smartphone
Best rugged smartphones
The best rugged smartphone we'd recommend is the Blackview BV9900 Pro, which pipped this top spot from its predecessor, the BV9800 Pro, and for good reason.
The Blackview BV9900 Pro has a FLIR thermal imaging camera, a rarity on rugged smartphones despite how useful it can be. This joins an array of 'standard' cameras lead by a 48MP one which is useful for a range of photography needs.
The phone performances well with its MediaTek Helio G90 chipset, which is paired with 8GB RAM, and takes on many tasks with ease. It's also pretty well protected for a rugged phone.
Sure, the phone is a bit behind in a few ways - its battery could be better and we would have liked to see 5G connectivity, it's still the best rugged smartphone you can get right now.
Read our full review: Blackview BV9900 Pro rugged smartphone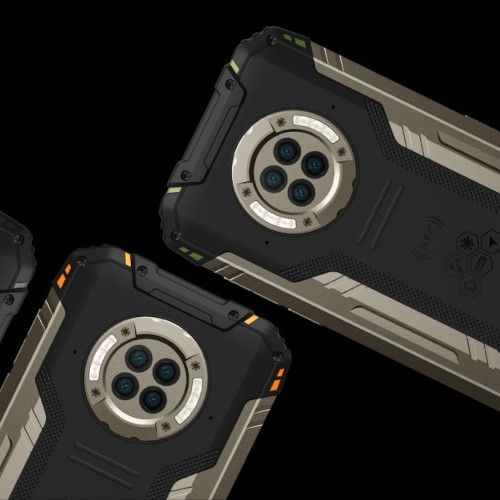 Doogee S96 Pro - $239.99 pre-order at Aliexpress
(£191.06/AU$431.93)
The latest rugged smartphone from Doogee is now available to pre-order. Its main selling point is a 20-megapixel night vision camera and it also comes with an 18-month warranty and massive 6,350mAh battery. The only issue is its mediocre HD display. View Deal
The Doogee S95 Pro might not be the best rugged smartphone on this list but it's certainly not far from that position, with the handset boasting enough features that could see it high on a list of non-rugged devices.
The handset is incredibly well protected with a metal and rubber frame that'll protect it from lots of what nature (or people) can throw at it. It also has features like an SOS button, fingerprint sensor, and three rear cameras.
We were pleasantly surprised by the Doogee S95 Pro's performance. It packs the best Mediatek chipset (as of writing) as well as 8GB RAM, which is more than some of the other best rugged phones on this list. If you need a decent amount of processing power, maybe this is the rugged phone for you.
Read our full review: Doogee S95 Pro rugged smartphone
The Ulefone Armor 7E replaces its non-E relative for this spot on our list of the best rugged smartphones - it's a watered-down version of its predecessor that brings you a lot of the same features at a lower price.
So if you're on the market for a great-value rugged smartphone, this could be it - but with a 48MP main sensor, wireless charging, a fast processor, a heart rate sensor and NFC, it ticks most of the boxes we have when looking for a rugged smartphone.
Well, the Ulefone Armor 7E refreshes its predecessor, but doesn't fix many of our issues, which mainly come in the design department - maybe your mileage will vary though.
Read our full review: Ulefone Armor 7E rugged smartphone
Unihertz is a company that constantly has at least one device in our list of the best rugged phones, and currently the Atom XL is the best phone from the company we've tested.
The Atom phones are pretty small, and even this extra-large version is still pretty tiny with a 4-inch screen. It's impressive, then, that such specs are packed in as a 4,300mAh battery, 48MP camera and 6GB RAM, most of which are specs you'd find on a 6.something-inch non-rugged smartphone.
Some drawbacks we found with the phone are the processor, which is a little on the old side (Mediatek has a Helio P90 in some phones right now), and it had a protection flaw that the USB and headphone jack had no cover.
Read our full review: Unihertz Atom XL rugged smartphone
Not all the rugged phones on this list are... well, phones at all, not in the sense you might understand.
The Ticwris Max is partly a smartphone in that it runs on Android, has a front-facing camera and has a small screen, but it's actually a wrist-mounted device akin to a complicated smartwatch.
This may sound like a fun novelty, but it comes with a few issues. The operating system is Android 7.1.1, quite old given the most up-to-date at time of writing is Android 10, and the form factor doesn't exactly lend itself to easy navigation.
Still, depending on your line of work or style, the Ticwris Max might be a great device for you, and its 4G connectivity makes it great for a variety of functions.
Read our full review: Ticwris Max 4G rugged Android wrist computer
The Cat S62 Pro is a great rugged smartphone from one of the most popular companies in the field, Cat, which builds on its predecessors in a few major departments. In fact, this is the best rugged smartphone with Cat naming you can buy right now.
If you buy the Cat S62 Pro rugged smartphone you're getting specs that would look good on a standard smartphone like the Snapdragon 660 chipset, a FHD screen and 128GB storage, and it runs Android 10 too which isn't something you can say about many rugged smartphones.
Then there are features that are useful in a rugged capacity like a FLIR sensor, a hardy build and a programmable extra button on the side.
We had issue with the low-resolution single rear camera, and also the phone doesn't have wireless charging like lots of its competitors, but if you can look past these issues it's a rugged smartphone worth considering.
Read our full review: Cat S62 Pro rugged smartphone
The AGM X3 is the third flagship rugged phone from the Chinese manufacturer, following on the X2, which was once also listed in this best rugged smartphone guide. With the X3, AGM is looking to break into new markets outside of its native China. The company claims this is the most rugged smartphone on the market with IP68 certification, and not only is it tested to MIL-STD 810G standards, it's also noticeably lighter and thinner than many of its bulky competition.
Not only is it impressively rugged, but it's also packed with the kind of tech we'd expect to see in flagship phones from the likes of Apple and Samsung, including a top-of-the-range system-on-a-chip, the Qualcomm Snapdragon 845 and bags of RAM.
Read our full review: AGM X3 rugged smartphone
We were promised that the Doogee S90 would be unlike any other rugged smartphone on the market, and to be fair, that's what we got, with a modular design that lets you build a handset that best suits your needs. This modular approach means the Doogee S90 is bulkier than many of its competitors, so bear that in mind.
However, in our tests the Doogee S90 performed brilliantly, racking up some of the best numbers we've seen in our benchmarks. Doogee confirmed that the price of the S90 after Kickstarter will be $369.99 (£285). The gamepad and the wireless charger will cost $29.99 (£23) each while the battery will be available for $39.99 (£31), the intercom for $49.99 (£39) and the night vision camera for $59.99 (£46).
Sure, the Doogee S90 has been succeeded by a bigger sibling which sits higher up this list, but that just means you can pick it up for cheaper.
Read our full review: Doogee S90 rugged smartphone
Blackview has a range of rugged IP68 certified Android phones available and they tend to be both tough and affordable, if a little light on features. This model, however, comes in at a considerably higher price point and it has all the bells and whistles including PTT (push-to-talk) for walkie-talkie style communication.
In fact, you'd be hard pushed to find another rugged smartphone that offers anywhere near the amount of features – and battery life – that the Blackview BV9500 Pro does. It's solidly built, which does mean it's a heck of a bulky device, but what really makes the Blackview BV9500 Pro stand out above the rest of the rugged set is its comprehensive list of features that make it ideal for outdoor use.
Read our full review: Blackview BV9500 Pro rugged smartphone
As its specs tell, the Cat S42 is one of the cheaper rugged smartphones on the market right now, but it's a very worthwhile phone, as it performs better than you'd expect for those specs.
The phone has a comfortable rubberized coating and other trimmings of ruggedized phones like a mappable button, rubber plugs to protect ports and a few pre-installed apps that people in the construction industry may find useful. As with many rugged handsets, the Cat S42 is IP68 and 810H protected.
The reason the Cat S42 is this low in our list is that its performance struggles a bit - with only 3GB RAM, 32GB storage and the middling Helio A20 processor you're not going to be able to run loads of apps at once, or even download too many. But if you don't need plenty of storage you won't mind this.
Read our full review: Cat S42 rugged smartphone