If you want a smartphone that plays high-end games you've got two choices: splash out on a premium flagship device such as the Samsung Galaxy S10 or iPhone XS, or opt for a specific gaming phone like the Asus ROG Phone, Razer Phone 2 or Black Shark – the latter of which now has a successor in the Black Shark 2.
The Black Shark 2 is a phone designed for the hardcore mobile gamers who want to play PUBG (PlayerUnknown's Battleground) Mobile or Fortnite at their highest graphics settings while on the go – you can sense its target audience from the mechanical angular design, and even more when you delve into specs.
But is a games-specific phone still viable in today's market when all high-end, and many mid-range, phones now play games to a high standard, and have other amazing features to boot? And is it worth buying the Black Shark 2 when a Black Shark 5G phone is reportedly in the works?
We got hands-on with the phone briefly to find out.
Black Shark 2 price and availability
You can already buy one size of the Black Shark 2 in the UK and China, which has 8GB RAM and 128GB internal memory, and will set you back £479 (roughly $625, AU$875). The phone is also coming to India soon, and Black Shark says it has plans to expand to as many regions as possible.
There's another variant that Black Shark hasn't released yet, with a massive 12GB RAM and 256GB internal memory, which will cost £559 (around $730, AU$1,020). This is available in Europe (except the UK), not no-where else currently.
We've checked with Black Shark to find out about international pricing and availability, as well as when this larger Black Shark 2 will be out, and will update this hands on review when we hear back.
Design and display
Most bespoke 'gaming' phones tend to be on the ugly side of smartphone design – look no further than the Razer Phone 2 for proof of that claim – but the Black Shark 2 doesn't look all that bad.
The Black Shark 2 didn't feel too hard to hold – at 163.6 x 75 x 8.7mm it's not a huge phone (those with smaller hands will still likely struggle to use it one-handed though), and performing everyday functions on it felt just as smooth as holding it landscape and playing games.
Image 1 of 3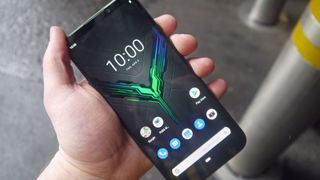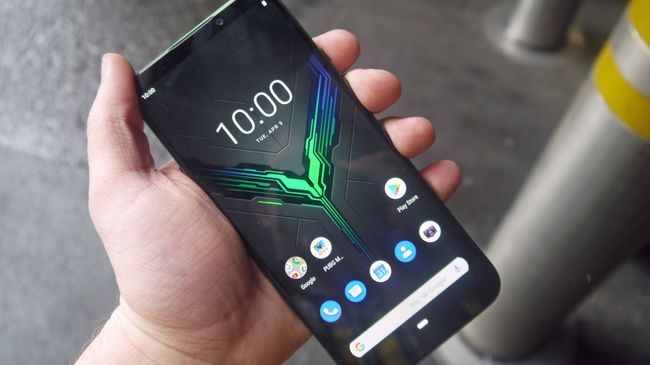 Image 2 of 3
Image 3 of 3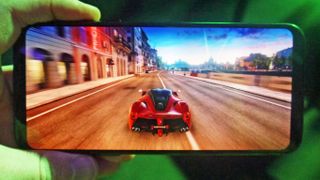 The device is a little heavy, weighing in at 205g, and while we didn't play with it for long enough for it to become a burden to hold, we could see long gaming binges becoming a strain.
Around the frame, there's the volume rocker on the left and the power button and 'Game Mode' slider (more on that later) on the right, with a USB-C port underneath.
We can see why the volume rocker was on the other side of the phone, as four buttons all on the right would be too much, but we did keep pressing the power button when we wanted to turn the volume down, and when we put the phone on its side we accidentally turned the sound up to full.
In addition the lack of a headphone jack feels like an odd choice given that many gamers like having big headsets for voice chat and immersive audio. Included with the phone is a USB-C to 3.5mm headphone jack conversion cable, but it's not quite a substitute for a traditional port.
In a statement to TechRadar, Black Shark described its decision as an act to follow the smartphone market trends, but also said future Black Shark phones will have the 3.5mm headphone jack.
Image 1 of 2
Image 2 of 2
The overall design of the phone looked unique if nothing else, with an angular ornamented back and the logo in big letters – you wouldn't confuse the phone for an iPhone to be sure, but it does feel like Black Shark is embracing stereotypical 'gamer' ideals a little too much.
The Black Shark 2's display looks amazing though – it's a 6.39-inch AMOLED screen with 2340 x 1080 resolution and a pretty high max brightness, and it made games look impressive to play.
At the handset's launch, Black Shark made sure to emphasize it's low latency touch screen, which is supposedly 25% quicker than that of the Samsung Galaxy S10, and we'll make sure to check out how fast it feels for day-to-day use and gameplay when we work on our full review.
Camera and battery life
If you're buying a gaming phone you're not expecting the best camera on the market, but the Black Shark 2's dual-camera setup is nothing to turn your nose up at.
The camera array consists of a 48MP main snapper joined with a 12MP sidekick, which has a lens designed for optical zoom.
In practice these worked impressively well – granted we only got to test it in one, rather dark room, but we found it quick to autofocus, and it took pictures of surprisingly high quality.
However the app felt a little limited – there was a limited number of modes, and we couldn't find a way to change image quality. Of course not many users need these features, but most phones come with them anyway.
The Black Shark 2 has a 4,000mAh battery pack, which will hopefully last for hours of unplugged game play, but again this is something we're going to need to test thoroughly in our full review.
Regarding charging, the phone supports 27W fast-charge. There's no wireless charging available, and since there's only one port on the phone this means you're not going to be able to charge and use a headset at the same time, or plug in the Game Pad peripherals while you charge.
Gaming power
The Black Shark 2 is powered by the cutting-edge Snapdragon 855, and has 8GB or 12GB RAM, which is fitting for a handset designed to play games well, but it also has a range of other features designed to improve gameplay.
Previously mentioned features, like the high-quality and low-latency touchscreen and large battery, are also intentional to increase how well the device performs.
But there's more: one important feature is Black Shark's six-step cooling system, curiously named mille-feuille (which is a type of pastry), which includes heat dispersion and advanced liquid cooling, so the handset doesn't overheat quickly.
Image 1 of 2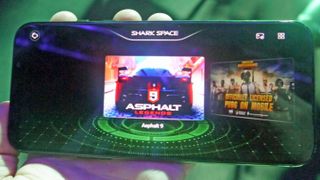 Image 2 of 2
In addition Black Shark made sure to emphasize the Game Pad peripherals, joy-con-style pads which can attach to the sides of the phone to turn it into a Nintendo Switch-style portable games device.
The unique selling feature of the phone is its game mode, turned on by a switch on the side. When this is done the phone's CPU puts all its processing towards the game, so you won't get any notifications, accounts won't sync in the background, and the phone won't incessantly scan for latest Twitter mentions while you're playing, so both you and the phone are focusing all your attention on the game.
Early verdict
It's hard to tell how well a gaming phone like the Black Shark 2 works in a hands-on review, because we need to spend a lot of time getting to know the phone and the way it runs various games to come to a verdict – but features like the gaming mode and the massive battery could solve some of the most annoying problems in mobile gaming.
The rest of the phone seems like a passable Android device – it's got the stock features you'd expect, and its camera was better than we expected, but it doesn't reach the same heights as its high-end Android competitors.