Zoho (opens in new tab) is an interesting website builder (opens in new tab) with the ability to grow with your needs, be it you requiring a more complex design, or more bandwidth, pages, or even contributors, all depending on the plan you choose.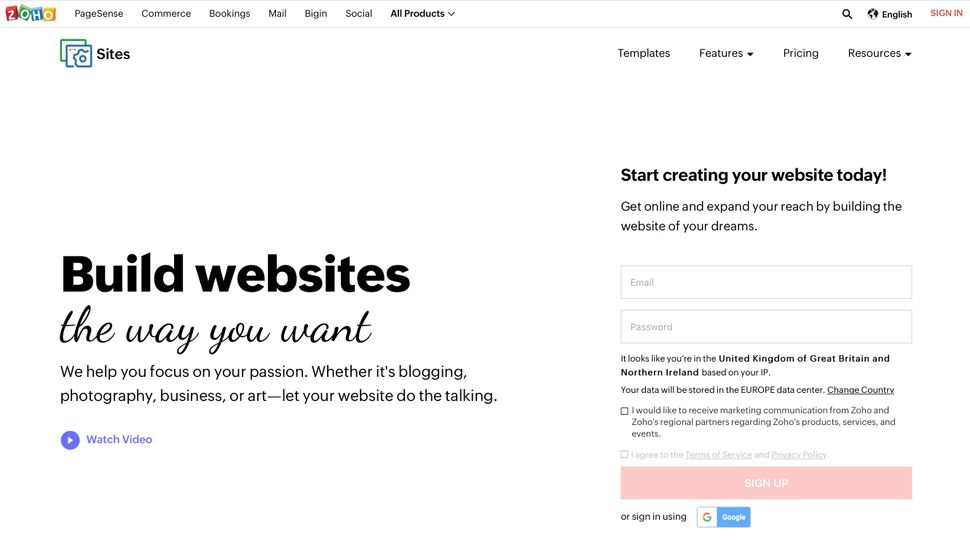 Getting started
Best of all, you don't need to pay to start experimenting with Zoho's features, as it grants you a 15-day free trial. All you need to take advantage of this, is an email address and a password (no credit card details are required).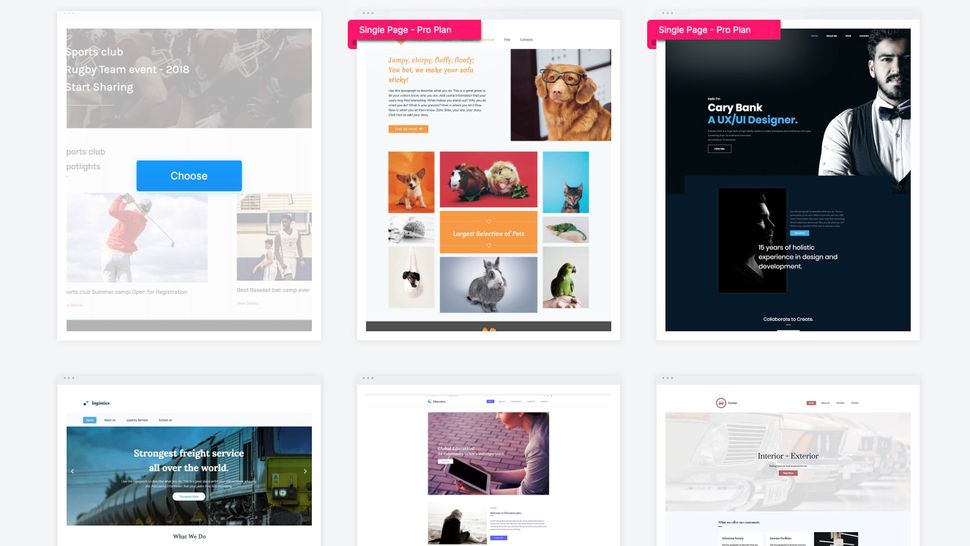 Once your account is created, you're graced with 44 templates to choose from (12 of which are only accessible via the Pro plan). You can't preview any aside from the large thumbnail on display, but select one, and your site will be based on it, ready to be customised.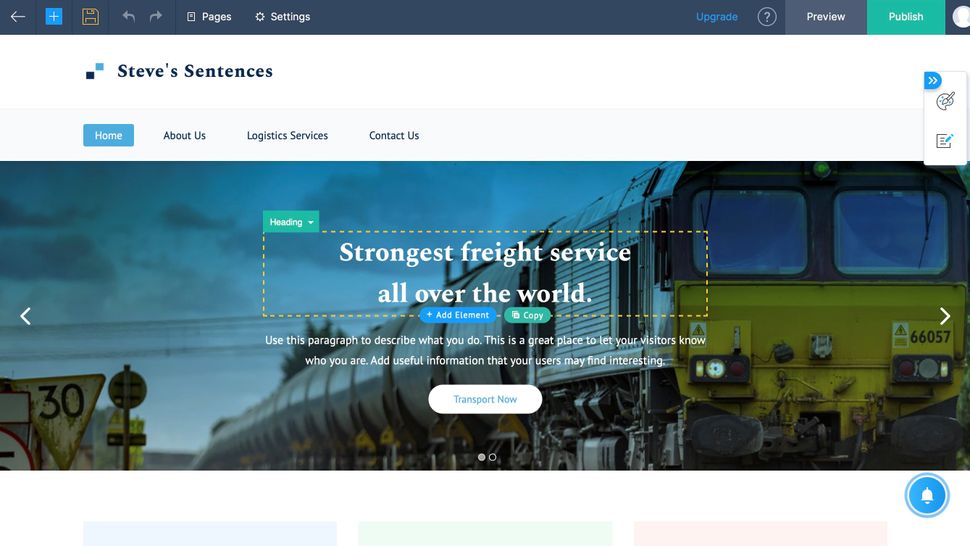 Interface
The editing process is pretty clean, with the preview of your site taking up nearly all of the page. Mouse over any section however, to see all the elements your page is made up of. Click on one of them to be presented with contextual tools. Click on a text box for instance, to have text editing controls, click on an image to see tools to edit said image, click on the main body to alter the number of columns in that section, that sort of thing.
Should you need to insert additional items, click on the big blue icon top right of the page. You can add a section, an element, a page, and even a blog post from there. Alternatively, as you mouse around your site, you'll see a blue 'add section' button appear in various places. This lets you add a section in that exact location as well.
Moving objects is a simple matter of selecting them and clicking on their cross icon. Want to get rid of a section? Hit its bin icon instead. It's all very simple and straightforward. The same goes for adding subtle animations to your elements, to make your page more vibrant as a visitor scrolls through it.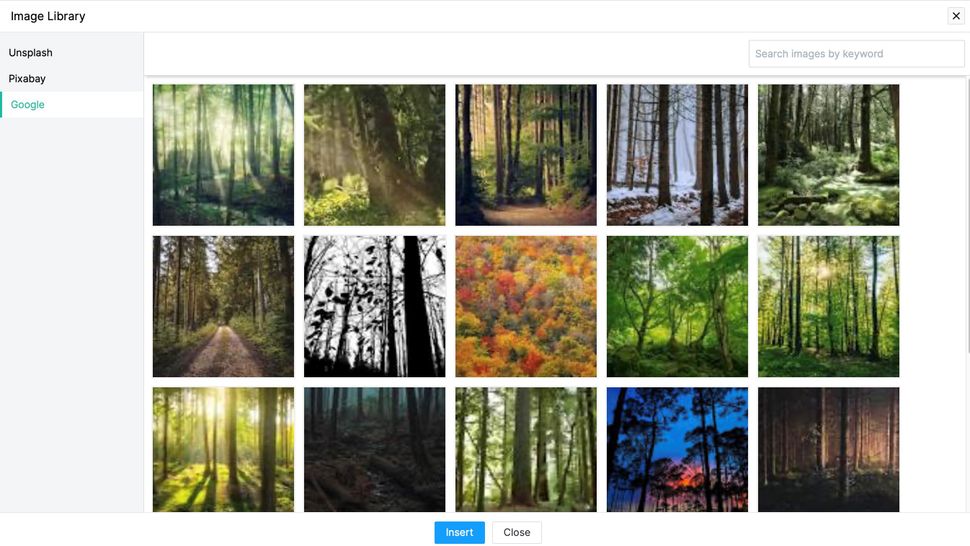 Media
We liked that there's a central repository for all the images you add to your site, saving you having to upload them again should you need to use the same shot in multiple places. But if you don't have the perfect photo on your hard drive, then a quick trip to Zoho's image library will sort you out quickly. Through it, you have access to free stock images (opens in new tab) from Unsplash, Pixabay and Google. Search what you need (there isn't a global search feature - you may have to do the same search in each to find what you're looking for), and add it to your image element.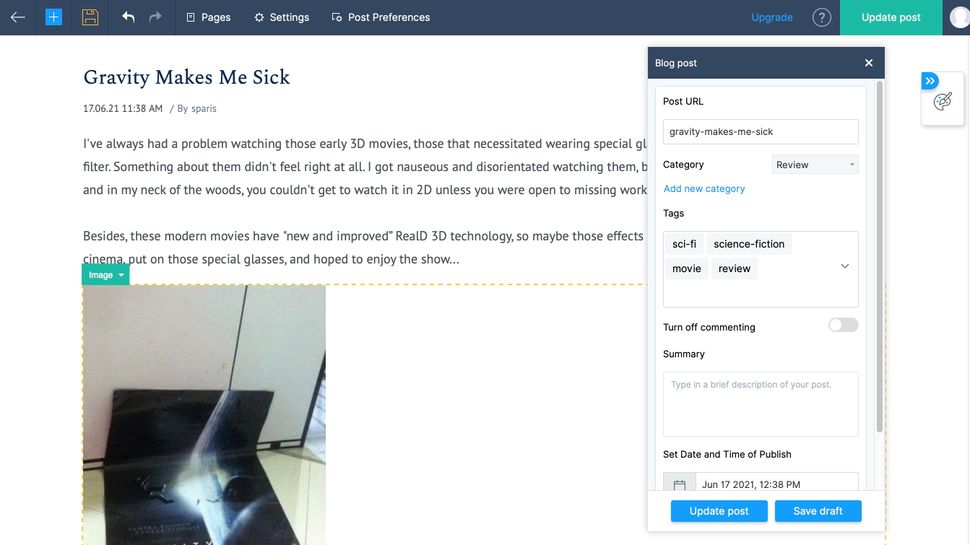 Blogging
Adding a blog is a simple matter of clicking on 'Add Blog Post' from the blue '+' section. This will create a new page to your site, and you'll be able to start writing your first article.
The designing options are the same as with other pages: you can add sections and elements, and customise them as you please. You're able to organise your posts by categories, choose to have comments on or off, and even schedule posts. Essentially, all the basics are there for you to populate the internet with your thoughts.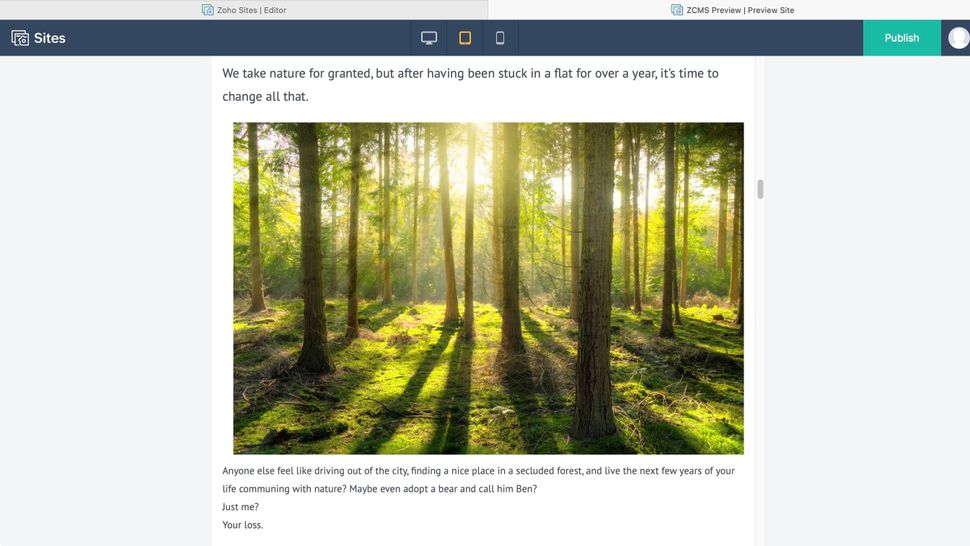 Settings
Thankfully, Zoho has undo and redo buttons, should you need to fix an accidental mistake, and the Preview section lets you see your design as it would appear on a desktop, tablet or phone.
The Settings option grants you access to numerous features which you can tweak to suit your needs, such as, adding a logo or favicon, customise your navigation menu, set up moderation for your comments, or modify your site's SEO (opens in new tab) settings. It's all pretty comprehensive. This is also where you can access your site's analytics.
Plans and pricing
As mentioned earlier, Zoho comes with a free 15 day trial (opens in new tab), but there is no unlimited free option. Once your trial has ended, you need to choose between the two available plans.
Starter (opens in new tab) only costs $5 per month when you purchase the annual plan ($8 on a month by month basis). This plan works great for small businesses and anyone who's just starting to build a website. It includes up to five pages, 500 MB of storage, 10 GB of bandwidth per month, and up to five forms. For a plan that also includes a custom domain, this is relatively inexpensive. You'll also have an SSL Certificate (opens in new tab), blogging capabilities, access to your own animation tool, and your site will be ad free. As its name implies, it's a good plan to get started on your online adventure.
Pro (opens in new tab) is more expensive at $17 per month when you pay annually (or $23 when paid monthly). You can create up to 50 pages, are given 100 GB of storage, have room for 200 pictures in your photo gallery, and have unmetered bandwidth. You also have the ability to add up to 3 contributors to your site, which is great if you need additional people to help you manage your content, as your renown grows.
Pro also allows you to pay for add-ons to expand your functionality further. You can add 1,000 new members for $60 per year. Need more pages? Add an additional 200 for $60 per year. And if you require more contributors, you have that power, at $24 per contributor, per year.
Final verdict
Zoho is a good all round website builder and host. You have many design options at your disposal, and all plans come with an SSL certificate for added security (this is pretty much de rigeur these days). Since the Starter plan is so cheap, it's easy to build your website without hurting your budget. Whenever your site needs to grow, Zoho's Pro plan provides add-ons so you can keep everything in one place - for a fee.
You might also want to check out our other web hosting buying guides: