Verdict
The Sony Xperia L3 is a completely acceptable phone that deserves a completely acceptable score. It's not gratingly slow, the camera is not a complete embarrassment, the battery lasts a full day, and it can play most high-end games well enough.
However, the best in class phones tend to offer something a little more, something to get excited about or interested in. That's missing here, and parts of the software are a little too out of date for comfort.
While there are no abject failures in the Xperia L3's design, its pervasive okay-ness is unlikely to get many people too excited.
Who's this for?
The Sony Xperia L3 is for those who want to spend little on their phone, and like the brand image of Sony Xperia. There are better budget phones, but as the Xperia L3 doesn't do anything too wrong it shouldn't be a purchase you'll regret if you fit into that category.
Should you buy it?
This phone is fine in most respects, but there are more interesting alternatives out there, like the much longer-lasting Moto G7 Power. And, while you can still find it, the glass and metal Honor 9 Lite.
Find the Xperia L3 at a great price? It's a fine buy for the basics.
First reviewed: March 2019The Sony Xperia L3 is solid but unexceptional, so you might want to consider these alternatives:
Moto G7 Power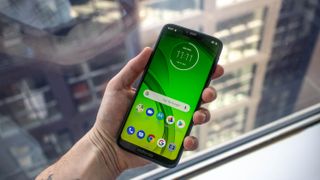 The G7 Power takes softer-looking photos than the Sony Xperia L3, but its general performance is slightly better and battery life is radically better. With better gaming support at launch and a more modern-looking screen, we'd pick the Moto in this case.
Honor 10 Lite
Like the Sony Xperia L3, this Honor phone is plastic (screen aside) rather than a combo of metal and glass. However, it offers more in every area for just a little more money.
Its screen is far sharper, the camera more versatile, you get double the storage and it looks much higher-end thanks to its bolder finish. The Honor 10 Lite is a little, or a lot, better in every way. And is worth the upgrade.
Moto G7 Play
The cheapest member of the Moto G7 family is a match for the Sony Xperia L3 in just about every way, but is also a little cheaper. We also prefer its approach to camera processing and software, and it is quite a bit smaller - if only in height.
There are two missing bits. The G7 Play does not have a second rear camera for background blur, and thanks to the notch the usable screen space is lesser.
First reviewed: March 2019