The Sonos Beam is small enough to attach itself to the majority of TVs, and comes coupled with enough innovation and sound performance to impress. There are a few issues worth pointing out but, at this price, they soon fade away.
Pros
+

Great compact design

+

HDMI ARC compatible

+

Superb sound
Cons
-

App isn't home theater friendly

-

No Dolby Atmos

-

Setup on non-HDMI ARC TVs is tricky
Why you can trust TechRadar We spend hours testing every product or service we review, so you can be sure you're buying the best. Find out more about how we test.
The Sonos Beam is an impressive soundbar that launched in 2018. Back then, we rated its compact design and powerful sound, which supports everything from Alexa to Apple's AirPlay 2.
It's since been eclipsed by a newer model. Read our Sonos Beam (Gen 2) review for the latest version, which is a significant upgrade of the original Beam with Dolby Atmos support, HDMI eARC compatibility, and a refreshed design.
Sonos Beam Specs
Dimensions: 650 x 100 x 68.5mm
Colors: Black and white
Surround sound decoding: PCM and Digital Dolby
HDMI ports: 1
Connectivity: Audio streaming, WiFi, Smartphone app
Display on soundbar: Yes
Audio format support: Dolby Digital, DTS
Latency: ARC -14 ms
However, the original Sonos Beam is still a solid soundbar with Sonos' multi-room audio tech, which makes it easy to use, and more well-connected than other older soundbars still on the market.
Although it isn't as streamlined as some rivals, which we put down to the fact that this is only Sonos' third attempt at a TV-connected speaker.
It's also not packed with the latest and greatest in home theater tech, like Dolby Atmos or DTS Virtual:X, that creates a more immersive experience. You'll have to look at newer options for those advanced features.
Check out our best soundbars guide for our pick of the top TV-enhancing devices you can buy today. Or our best surround sound system guide if you want an even more immersive listening experience. But if you want to find out more about the original Beam, read on for our full Sonos Beam review below.
Sonos Beam review: availability and price
Launched in 2018
Costs $399 / £399 / AU$599
When it first launched in 2018, the Sonos Beam was cost $399 / £399 / AU$599. Although it might be available for a little cheaper today from some third-party retailers.
The Sonos Beam was considered the entry-level soundbar of the product line-up and came after five Sonos speakers and four home theater audio setups from the company.
Now there are plenty more Sonos soundbar devices on the market, including the Sonos Beam (Gen 2), which launched at a higher price than the original Beam at $399 / £339 / AU$599. Or for a smaller and cheaper alternative from Sonos, check out our Sonos Ray review, which costs $279 / £279 / AU$399.
The Sonos Beam was competitively priced at the time it launched, a little more expensive than similar entry-level soundbars from Sony. Take a look at our Sony HT-MT300 Soundbar review to see how it compares, which retailed for $300 / £250 / AU$434.
Sonos Beam review: design
Compact design
Simple to use and set-up
The Sonos Beam soundbar will happily sit in front of a 32-inch set up or a 40-inch plus TV—we should know, as we tested it on both variants.
Measuring 650 x 100 x 68.5mm, it's much smaller than its super-sized sibling, the PlayBar, which you can find out more about in our Sonos PlayBar review. In fact, it's 60% smaller (and that can be said of the price, too) but has the addition of HDMI connectivity—something the Sonos PlayBar sorely lacked.
It's a slick-looking device, taking its design cues from both the Sonos One and the Sonos Play:5. The controls on the top are touch sensitive and look identical to the Sonos One.
The setup is simple: a four dot square on the left for volume down, the same on the right for up and a play/pause button in the middle. Above this is the ability to turn the speaker mic on and off.
We nearly slipped there and called it the Alexa mic, as that's what it currently is. But Sonos is also one of the only speakers to support both Google Assistant and Siri.
That doesn't mean that it has scrimped on design quality. The 43,000 hand-drilled holes may no longer be there—something the over-engineered PlayBase boasted—but it's still a lovely-looking device. Instead of a metal grille, fabric is draped over the opening to the speakers.
The soundbar can be mounted or plonked in front of the TV. With a depth of 100mm, most TVs will happily have it sit in front of them and it not impinge on the actual screen, merely block the stand.
Inside the Sonos Beam are four full-range drivers, a center tweeter and three passive radiators which are there to add to the bass. These drivers work together to help the speaker deliver sound somewhere in between a Sonos Play:3 and Sonos PlayBar. The speakers inside have been specially made for the Beam, though, so there is no recycling here by Sonos.
The Sonos Beam is designed for three-channels, but it can nearly make those three channels sound like true surround sound thanks to Trueplay—a software feature that calibrates the sound to the room.
The magic happens during setup when the speaker asks you to use your tablet or smartphone to 'scan' the room (essentially wave your device around while the speaker plays a series of sounds).
When Trueplay is enabled, the room fills with sound - it feels like it works better with something like a soundbar as the radius is that much larger. If you're an Android user, unfortunately you will miss out on this option as Trueplay is only available through iOS devices at the moment.
Flip the device around and the ports are minimal. There's an ethernet, HDMI slot, power and a Wi-Fi button.
Sonos Beam review: setup
No remote, you need to use the Sonos app
EQ option
Setup of the Sonos Beam is two-fold. If your TV has HDMI ARC (Audio Return Channel, there will be a symbol near the HDMI slot), then it's a cinch. HDMI ARC allows the Beam to sync up audio and picture and have everything working through your TV's remote in a matter of minutes.
That last part is pretty important for the Sonos Beam as the device doesn't come with a remote. As with all Sonos products, the idea is that you use the Sonos app to control volume, link up speakers and the like. This is fine but in a home theater scenario, you want this as an addition rather than the sole way to control your speaker. And that's why Sonos chose HDMI ARC.
Without HDMI ARC, things become a little more complicated. Sonos has done its due diligence, though, and added in an optical adaptor to the set up. Plug this into the accompanying HDMI cable and you can use the Beam through the optical port.
To make it work properly, however, you need to delve into the settings of the Sonos app (and the ones on your TV, too).
In our tests, we had to reconfigure the Beam so that it would automatically come on when the TV was turned on. Obviously, you don't have to do this but it means going into the app every time if it is not sorted.
It wasn't very clear where and how to do this, but after a few minutes of going through myriad menus, we found the TV Autoplay setting in Room Setting>TV. It's also here that you can configure the remote control setup. Follow the instructions on the app and you should have the remote working with your Beam in no time.
While we didn't mind going through the app, it's clear that Sonos would prefer you use HDMI Arc. Its app, while pleasant enough, is currently setup to help more with making sure your Sonos system works in unison with any other Sonos devices you may have and not to configure a home theater system.
To give the app some credit, alongside the 60+ audio services that are compatible with it, it does have a number of nice home theater options. Two of the most used are situated just above the volume slider. These are Night Sound (which takes out any booming bass, so you can watch something when the rest of your clan are in bed) and Speech Enhancement.
Since using the Beam we have had Speech Enhancement on almost all the time and it's really helped with the clarity of speech, especially in any scenes we are watching that are full of bombast.
Dig into the room settings and there is also an EQ option (with bass and treble sliders and a Loudness button), and TV Dialog settings which allows you to sync the voice if it's a little off (something you won't get using HDMI ARC).
Sonos Beam review: voice control
Lots of smart assistant integration
We used touch controls a lot
There is, of course, another way to control the Sonos Beam, and that is with your voice. One of the big features of the Beam is its Alexa integration.
This is something that was first seen on the Sonos One (where it works extremely well), but using Alexa to control a part of a television is a whole other matter. It's something that's happening more and more—Alexa voice control is now available with the Amazon Fire TV and Fire TV Stick and it is also available in the Amazon Fire TV Cube.
There's a thread here: all of these products are Amazon based, and you will need an Amazon Fire TV or Fire TV Stick to get the most out of the Sonos Beam's voice functionality. If one of these are plugged into your TV, then the Beam offers up the power to search Netflix and Amazon Prime - something which is fun, if still a little awkward, to do.
Without Amazon's back-end tech, you can still use the voice controls for things like volume (Alexa, turn it up 30% etc), to request radio stations and to pause and play whatever you are listening to. You will also be able to turn your TV on and off with Alexa if you are using HDMI ARC.
It's fun, if a touch limited. And speaking of touch, we found ourselves using the intuitive touch controls on the top of the Beam far more than we thought that we would.
The good news is that you have a bevy of smart assistants to call upon if you want to go hands-free. There's Alexa, AirPlay 2 and Siri integration, and now Google Assistant in most of the major English-speaking territories.
Sonos Beam review: audio performance
It sounds fantastic
Update to S2 app adds DTS digital sound
Before getting the Sonos in for review, we demoed the Sonos Beam in the company of a sound engineer from the company. On the demo reel was a scene from Wall-E, a rather loud clip from WestWorld, as well as some music by Leon Bridges, Radiohead and Beck. All of this was rounded off with a scene from Stranger Things.
In a demo setting, all of these sounded fantastic, offering richer and deeper audio that was contrasted with the size of the soundbar and the relatively modest price.
In a home setting, and with TruePlay configured, the results were still utterly impressive. Our go-to movie was Dunkirk. In the first few minutes, when the devastating sound of the bullets whiz past the young soldiers into metal and brick, the Beam managed to output a really clear and impactful sound.
We paired the device up with two Sonos:1s as rear speakers (something that's really simple to do within the app) and the surround effect was striking.
Moving on to a television show, the wooziness of Legion oozed from the Beam; warped sound effects that sometimes masked the rather mumbled dialog separated themselves nicely from the vocals. As we mentioned earlier, the Vocal Enhancement really did help with this.
Music-wise, we tried a diverse mix of frail acoustic tracks—Animal Collective's beautiful Man of Oil and the soft synths of Chvrches' My Enemy worked well. The moody, 'rhythm stick' driven Miami, by Baxter Drury, sounded immediate.
To test the treble sounds, the opening to the Four Tet remix of Bicep's Opal sounded crisp but deep. When the bass did begin, though, it did sound a little murky. This may be more to do with the mix, however, as when we tried John Hopkins' euphoric Emerald Rush there was much more impact.
In 2021, Sonos unveiled an update to its S2 app that added several new features, including compatibility with DTS digital sound, a rival format to Dolby Digital. This update comes to all of the Sonos soundbars.
Conclusion
The Sonos Beam takes full advantage of the Sonos ecosystem and is a joy to use (and set up, if your television has HDMI ARC). Its smaller form factor means it's a device that will sit comfortably next to a 32-inch TV but it's got enough of a footprint to not be dwarfed by a much bigger set.
It doesn't offer earth-shattering bass, but this isn't missed. The lack of Dolby Atmos support will irk some, but at this price point we'd think it would be more of a surprise if it had been included. The voice control works well and if you have adopted some of Amazon's TV toys, it really is worth experimenting with.
But there's no getting around it, the Sonos Beam is now an old soundbar. It launched in 2018 and audio tech has improved since then—that's why we'd recommend anyone interested in the original Beam check out the Sonos Beam (Gen 2).
The original Sonos Beam is a fantastic soundbar, especially for its price. Which was already decent, but has since been reduced as newer Sonos products are launched—that's if you can still get your hands on an original Sonos Beam, they're not easy to come by.
Also consider...
If our Sonos Beam review has you considering other soundbar options, then here are three alternatives to choose from.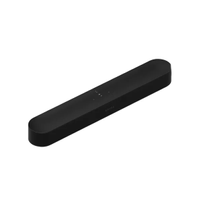 Sonos Beam (Gen 2)
The Sonos Beam (Gen 2) is an improvement on the original Beam, coming with Dolby Atmos support, HDMI eARC compatibility, and a refreshed design. This soundbar sounds fantastic and fits small spaces perfectly, while its mid-range price is more expensive than the original, it won't be too hard on your bank balance.
Read our full Sonos Beam (Gen 2) review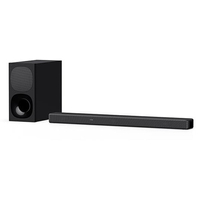 Sony HT-G700
Both the Sony HT-G700 and Sonos Beam are similar soundbars in terms of performance. The Sonos soundbar might have a better stereo soundstage, but you'll likely find better surround performance with the Sony HT-G700. It's slightly more expensive, but it's a solid alternative, especially if you have a Sony TV.
Read our full Sony HT-G700 review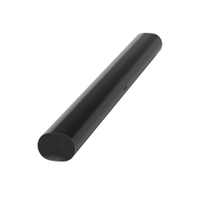 Sonos Arc
The Arc offers a premium surround sound experience without supplementary speakers. It also delivers deeper bass and has better surround and height performance than the Beam. If you want a minimalist surround sound package and you have a squarish home cinema room it's an excellent all-in-one surround sound system. If you have a smaller room, stick with the Beam, the Beam (Gen 2) or the Ray.
Read our full Sonos Arc review
First reviewed September 2018.
Marc Chacksfield is the Editor In Chief, Shortlist.com at DC Thomson. He started out life as a movie writer for numerous (now defunct) magazines and soon found himself online - editing a gaggle of gadget sites, including TechRadar, Digital Camera World and Tom's Guide UK. At Shortlist you'll find him mostly writing about movies and tech, so no change there then.