Network Solutions is a decent web hosting platform. It enables you to build a website, host it, and buy a domain for it all in one place. It offers many hosting options for users, so you can scale with it as your hosting needs grow. However, we noticed some drawbacks, like the relatively expensive hosting plans.
Pros
+

Free website builder

+

99.99% uptime

+

Very scalable

+

User-friendly interface
Cons
-

Relatively pricey

-

Aggressive upselling

-

Inadequate customer support
Why you can trust TechRadar We spend hours testing every product or service we review, so you can be sure you're buying the best. Find out more about how we test.
Network Solutions is an American domain name registrar and web hosting service founded over four decades ago. It's one of the biggest web hosting platforms, with nearly 7 million domain registrations. The company is a subsidiary of Web.com, a web hosting giant.
Domain name registration is Network Solutions' primary service, but it provides complimentary offerings like web hosting, web design, online marketing, and search engine optimization.
We tested the ins and outs of Network Solutions to give you a comprehensive, impartial review. We assessed the platform based on specific factors, including pricing, customer support, features, ease of use, etc.
Plans and pricing
Network Solutions charges varying fees for different services. Its domain names start at $10 upward. The generic ones like .com, .net, and .org cost between $10-$20 annually, while uncommon ones like .app, .club, and .tips cost between $20-$40 yearly. Network Solutions' domain name prices are competitive.
Network Solutions offers web hosting services for $4 to $40 per month. It offers four hosting plans; Starter ($4 monthly), Essential ($10 monthly), Professional ($35 monthly), and Premium ($41 monthly).
Network Solutions offers a website builder free to everyone who purchases a hosting plan. However, it requires payment for the web builder's e-commerce features. The company provides three e-commerce web builder plans; Starter ($30 monthly), Standard ($55 monthly), and Premium ($100 monthly). Starter, Standard, and Premium, respectively, let you list up to 25, 300, and 100,000 products on your online store.
Network Solutions also offers SSL certificates to protect your website for $50 to $580 annually. It provides six SSL plans; UCC ($50 yearly), Xpress ($60 yearly), Basic ($125 yearly), Advanced ($200 annually), Extended ($399 yearly), and Wildcard ($580 yearly).
Features
Network Solutions is an all-in-one web hosting platform with many features, including;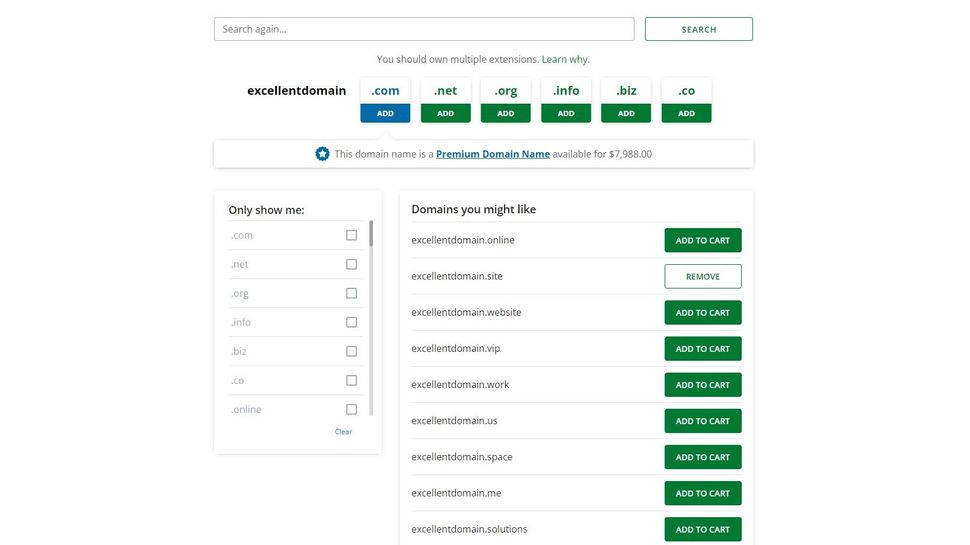 Domain name registration
Network Solutions lets you register available domain names. Just go to the website and search for any domain name you want. If it's available, you can grab it immediately. Network Solutions supports hundreds of TLDs, including regular ones like .com, .net, and .co and rare ones like .VIP, .website, and .expert.
Whenever you register a domain on Network Solutions, you can also pay for private registration so that no one would be able to fetch your contact information from the WHOIS database. Doing so helps prevent spammers from contacting you.
Likewise, you can also search the WHOIS database for information about domain name owners. But, you wouldn't find anything if a domain name owner has enabled private registration.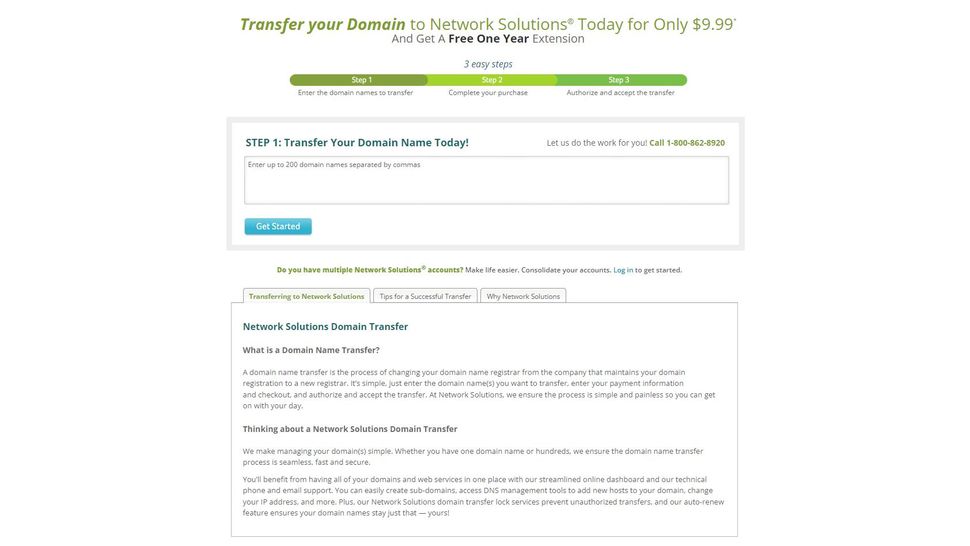 Network Solutions also lets you transfer domain names you registered elsewhere to its platform. It charges a one-time fee for that service.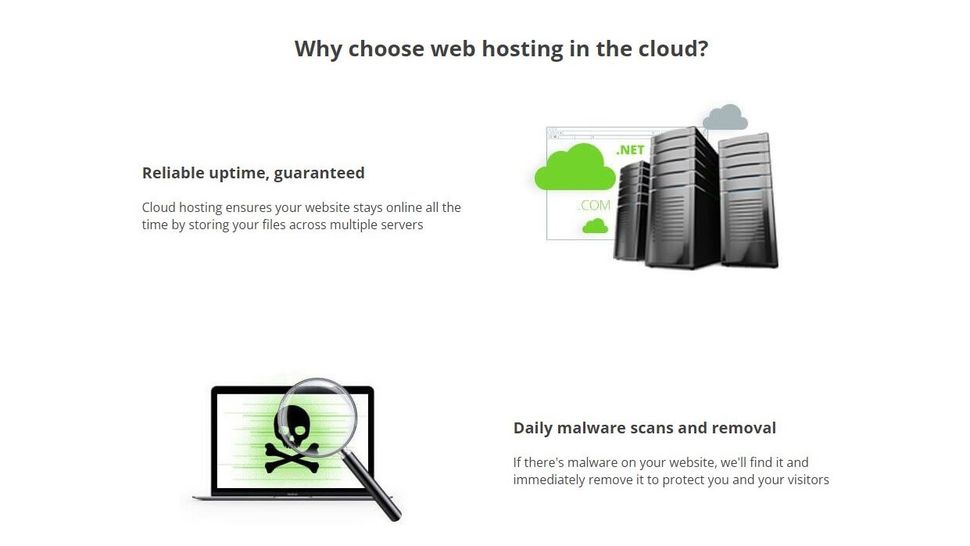 Web Hosting
Network Solutions offers web hosting services for users. You don't need to venture elsewhere after registering your domain when you can also host your website on the same platform. Network Solutions' cloud hosting is reliable and secure.
Network Solutions offers four hosting plans; Starter ($4 monthly), Essential ($10 monthly), Professional ($35 monthly), and Premium ($41 monthly). The Starter plan includes one website, 15GB of disk space, and 5 email boxes. Essential consists of 3 websites, 300GB of disk space, and 1000 email boxes. The Professional and Premium plans include 10 websites, unlimited disk space, and unlimited websites.
All Network Solutions hosting plans include a free business LLC formation service. It entails free legal assistance for customers to form limited liability companies for their businesses. Typically, you'll pay hundreds of dollars in legal fees for this service, but Network Solutions offers it free. Also, all its plans above Starter include a free domain name.
Network Solutions' hosting is compatible with many open-source applications, including MySQL, Joomla, Drupal, Ruby on Rails, and WordPress. It also includes SiteLock for malware protection and CodeGuard for automatic website backups.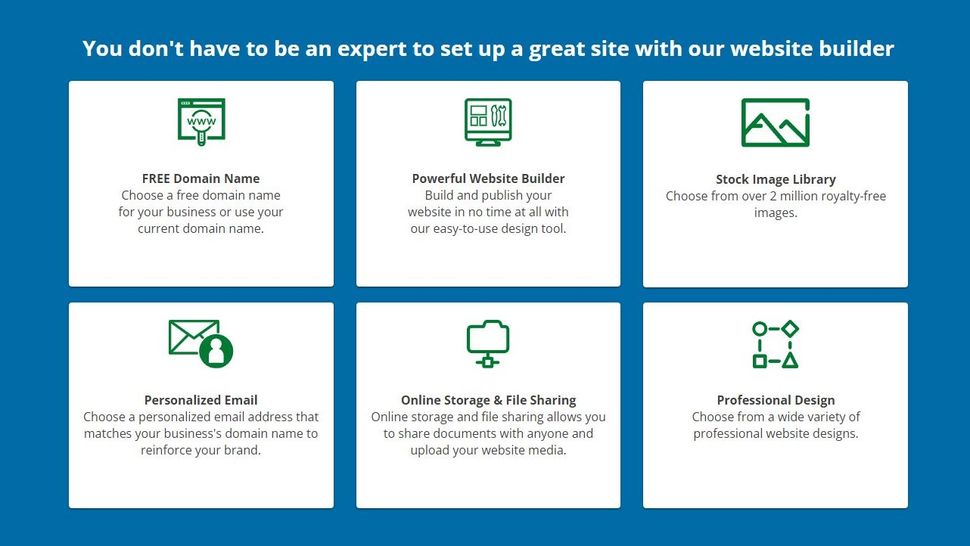 Website Builder
Network Solutions offer a free website builder to all customers. You can use this website builder to create functional, appealing websites without much technical work. However, Network Solutions requires payment for the web builder's e-commerce features, and they're pretty expensive ($30 to $100 monthly).
The e-commerce package allows you to set up an online store quickly without much stress. It integrates with a handful of payment gateways (e.g., PayPal) so you can easily collect payments from your shoppers. It also includes tools for online marketing, inventory management, and accounting.
Interface and in use
Network Solutions has a user interface that's a bit clunky. The interface isn't as modern as what you'll find on some competing web hosting platforms and thus is harder to use. We think that the platform's user interface could use a lot of improvement.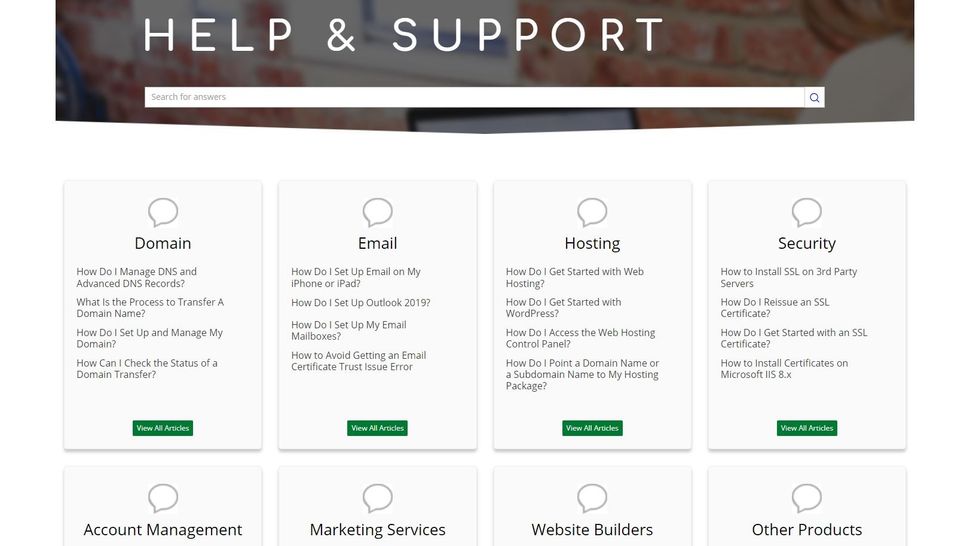 Customer support
Network Solutions offers customer support through telephone. There are separate support lines for US-based and foreign users. The company does not have any other customer support channels, which is a drawback. Telephone lines are prone to clogging in the face of too much demand.
The competition
Network Solutions' main competitors include Namecheap, Bluehost, and Domain.com. It's pretty expensive and lags in user-friendliness compared to these competitors.
Final verdict
Network Solutions is a suitable domain name registrar and web hosting service. It offers a broad range of domain name extensions and excellent uptime for hosting customers. However, we observed a significant drawback in its aggressive upselling. The platform uses some dark patterns to encourage you to purchase additional products.
Stefan has always been a lover of tech. He graduated with an MSc in geological engineering but soon discovered he had a knack for writing instead. So he decided to combine his newfound and life-long passions to become a technology writer. As a freelance content writer, Stefan can break down complex technological topics, making them easily digestible for the lay audience.