The Miofive 4K dash cam is high-spec car camera that's armed with a range of premium features, including a powerful Sony sensor, 64GB of internal storage and 5Ghz Wi-Fi for speedy transfers to your phone. It also comes with a rear-facing preview screen and a landscape-oriented design that's sleek and unobtrusive.
Design-wise, the Miofive 4K dash cam really looks the part, suggesting that it has the innards to deliver crisp and clear video from a vantage point near your rear-view mirror. At the same time, the rectangular body of the camera is wider than some dash cam models, so not everyone will see the appeal of this shape as opposed to a boxier, more compact model.
Of course, the reason for this width is to allow Miofive to pack in plenty of tech, plus the lens construction and a small preview screen on the back of the unit. The space certainly hasn't been wasted.
The camera and screen assembly is subsequently attached to a power module, which also sports the 3M sticky pad that allows you to fix it to the windshield. There's no suction stuff going on here, which may or may not suit your tastes. Usefully, there's a spare adhesive pad included, just in case you make a pig's ear of the installation, plus a handy square of cloth, presumably for wiping the lens and screen elements.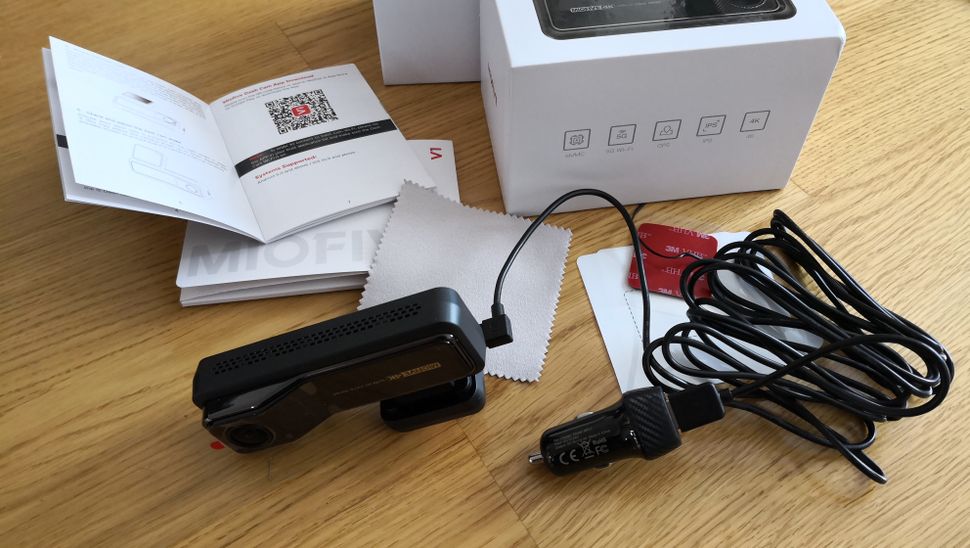 Meanwhile, also inside the box is a lengthy cable, plus a connectable USB socket, which goes into the cigarette lighter socket. You attach the two together via a USB plug, much like most other models. Unfortunately, there's no supplementary USB port for powering your phone as is seen on something like the Nexar Pro dash cam, for example.
Once the camera is in place, there's a handy little plastic implement that you can use to push the cable inside trim areas, if you're aiming for an inconspicuous finish. The user manual is small but clear and concise, telling you everything you need to know without fuss or bother.
The manual also contains a QR code that delivers quick and easy access to the supplementary app, from either Apple's App Store or Google Play. We went with the Android option and the install was easy, while the features that enhance using the camera are all impressive enough. In fact, registration and configuration was as straightforward as any other dash cams we've tested.
With the Miofive 4K dash cam in situ we powered it up via a button on the side of the unit, which has an LED status indicator close by. The body also features a speaker, cooling vents and a microphone, too. Other control options can be accessed on the back of the screen and include an Album/Back button, a Setting/Next button along with an Emergency Video/Confirm button, though you don't see these until the unit is powered up.
Like all dash cams, there's some fiddling around with calibration to ensure a good, reliable view of the road through the lens. However, the camera assists you thanks to a calibration tool that can be found going into Settings and then selecting 'AI and Camera Calibration'.
Meanwhile, connection to the app involves checking the indicator status – you're looking for a slow green blink. Your phone and the dash cam also need to be in close proximity – under two meters, ideally. From there, simply launch Wi-Fi, and then the app.
Miofive suggests you register and create an account to access additional features. After connecting to the Wi-Fi, using a default password, the app should indicate your connection has been completed.
The manual outlines the various blinking that will happen if, for example, the camera is offline or the battery is low. A 'Travel Log' records all your journey details, using the power of GPS, and this data can be stored for posterity if you create a Miofive account.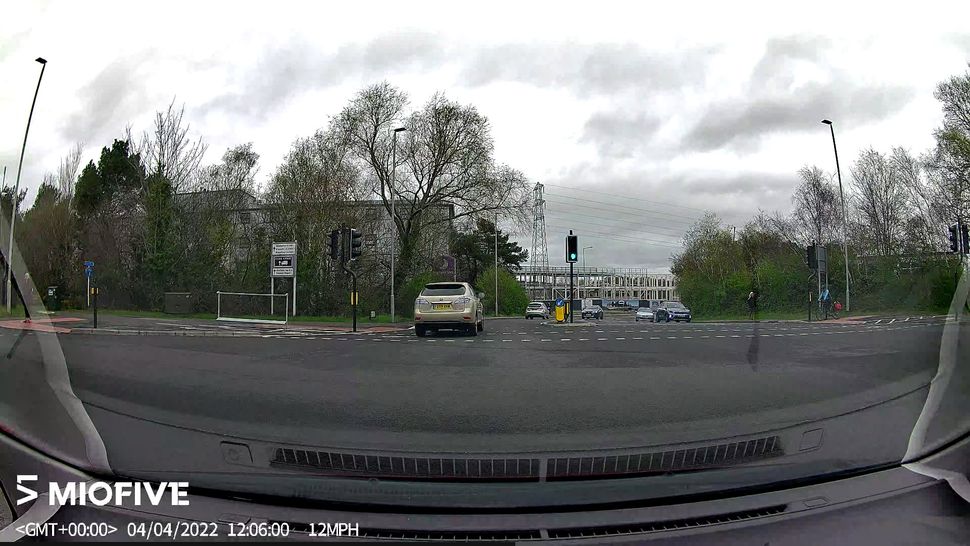 Aside from the everyday recording capability, which returns very good quality 4K/30p footage that displays date, time and speed information, you also benefit from a 'Parking' mode. This uses a built-in G-Sensor to record any bumps in both a 16-second and 60-second video. It's a neat inclusion.
If you go for a hardware installation (which isn't included), there's also a handy 'Time Lapse' feature that lets you go back over 24 hours of content after the ignition has been powered down. Trimming longer clips into bite-sized chunks is easily done within the app itself, too.
You do also get spoken warnings, like when the Miofive 4K thinks you've turned a corner too sharply, although this quickly gets annoying. Lots of features can be tweaked inside the app, which logs your footage and delivers a great array of information, such as your speed and the route journey. The Miofive 4K dash cam is therefore a very complete dash cam package, which performs as well as it looks and fully deserves its place in our guide to the best dash cams you can buy.
Should I buy the Miofive 4K Dash Cam?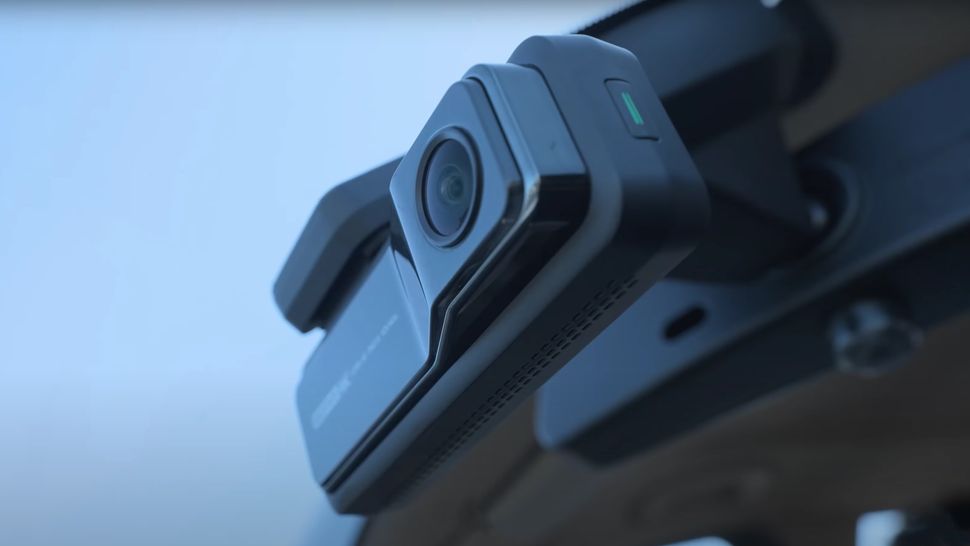 Buy it if...
You're looking for high-quality footage
Having 4K resolution on a dash cam isn't essential, but the Miofive's footage doesn't contain any compromises – it captures crisp and clear video in a wide variety of weather conditions.
You prefer a landscape-style dash cam
The Miofive dash cam features a wide, horizontal design that differs from its often boxy rivals. This means it sits neatly behind your rear-view mirror and is reasonably unobtrusive once it's in place.
You want a rear screen on your dash cam
One unusual feature on Miofive's dash cam is its 2.2in preview screen, which is a handy way to have a quick peek at video content and also tweak it settings.
Don't buy it if...
You don't need 4K resolution
A cheap and cheerful dash cam like the Garmin Dash Cam Mini 2 will suffice if you don't need 4K footage for reassurance.
A rear screen is a needless extra
Spend less on a cheaper dash cam and you'll lose the rear screen. This won't be a deal-breaker for most people, but it is an added bonus for usability if your budget can stretch to it.
You prefer a suction cup design
The Miofive is fixed to your windshield using an electrostatic pad. Unlike models that come with a suction cup mount, this means you can't move it to another car without unsticking it.