Verdict
For £100 (around $130 / AU$180), the Honor 7S provides a solidly built smartphone with a nice bright display.
Its camera, while sluggish and a little fiddly to use, can also take some decent pictures if you really work with it.
Read more: Honor View 20 review
However, the phone performs frustratingly badly, and the lack of a fingerprint scanner is a major omission in 2018. Elsewhere, Huawei's custom EMUI - and all the bloatware that accompanies it - continues to be an unattractive dilution of Android.
Who's this for?
The Honor 7S is aimed at a young and cash-poor audience. Little features like an LED light for the front camera and a big bright display will clearly appeal to that very market.
There aren't many smartphones available for so little these days, and Honor is clearly willing to take risks with some of its hardware cuts in order to meet that need.
Should you buy it?
Any phone that offers a solidly built chassis, a big bright display and a fairly competent camera for so little money is surely destined for success - or so you would think.
Unfortunately, the Honor 7S spoils its good start with appalling performance and the omission of a fingerprint scanner. It also continues to suffer for the inclusion of Huawei's sub-par EMUI, while whipping that camera into shape takes considerable patience.
It's hard to escape the conclusion that £100/$130 is perhaps too cheap to get a fully rounded smartphone in 2018. Spend 50% to 70% more and you'll have a much happier experience all round.
There are plenty of other budget options, such as the following three:
Vodafone Smart N9
The Vodafone Smart N9 is a similarly priced but much better-looking phone than the Honor 7S. It also benefits from a cleaner and more pleasant take on Android 8.1 Oreo, not to mention a fingerprint scanner.
Under its stylish exterior, however, the N9 is similarly under-powered to the Honor 7S, with fairly woeful performance dragging the package down.
Its camera, meanwhile, is a bit of a mess. And of course, you'll need to be on Vodafone to use the phone, which restricts its appeal further.
Wileyfox Swift 2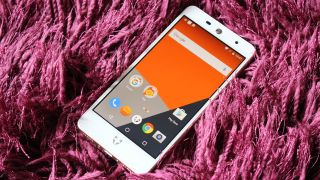 The Wileyfox Swift 2 is getting on a bit now, as can be seen with the suddenly out-of-date 16:9 aspect ratio of its display.
That aside, the Swift 2 remains a compelling package at a newly reduced price. It's a much better performer than the Honor 7S, thanks to the use of a more mainstream Snapdragon 430 chipset.
It also has a fingerprint scanner and a much cleaner version of Android, not to mention a surprisingly snappy camera.
Moto G5
Shop around online (you won't have to look far) and you'll find 2017's Moto G5 for a price not too far in excess of the Honor 7S.
It's flat out a much better phone, too, with a part-metal design, a sharper display, a superior camera and a fingerprint scanner.
You also get a near-stock version of Android, which is way nicer to use than the Honor 7S's EMUI.
First reviewed: July 2018