Why you can trust TechRadar We spend hours testing every product or service we review, so you can be sure you're buying the best. Find out more about how we test.
Fitness
Despite the Garmin name, this isn't the ultimate tracker that runners and lots of fitness fanatics will need strapped around their wrist. Instead the Vivofit 4 is designed for those who want something a little simpler, that can track fitness but doesn't bombard you with stats and data you don't necessarily need.
The Vivofit 4 will track your everyday steps automatically, but it's also suitable for jogging and a few other exercises. We found the Vivofit 4 would automatically start recording intense movement sessions from walking to jogging and this would for the most part be accurate.
The distance you've traveled can be a little bit off, but that's likely because the Vivofit 4 doesn't come packed with GPS or a heart rate monitor.
You can connect a heart rate monitor or use the GPS on your phone, but that means you'll have to have those other devices with you when you go out exercising.
We found the tracking of running and walking was otherwise accurate with more broken-down details than you might expect at this price. It'll give you stats such as average page, average speed, the time of your workout and a rough estimate of your calories burnt too.
Move IQ is the name for the feature that will kick start activity on the Vivofit 4 without you having to press a button. If you start running, it'll soon kick in and start recording your exercise automatically.
This is particularly useful for when you're out running as it means it's not a problem if you forget to set your tracker going before you start jogging.
When the Vivofit 4 was in the pool, we found it automatically started tracking the swim but then stopped soon after we had started. We kept swimming with it on, but nothing was recorded in the app.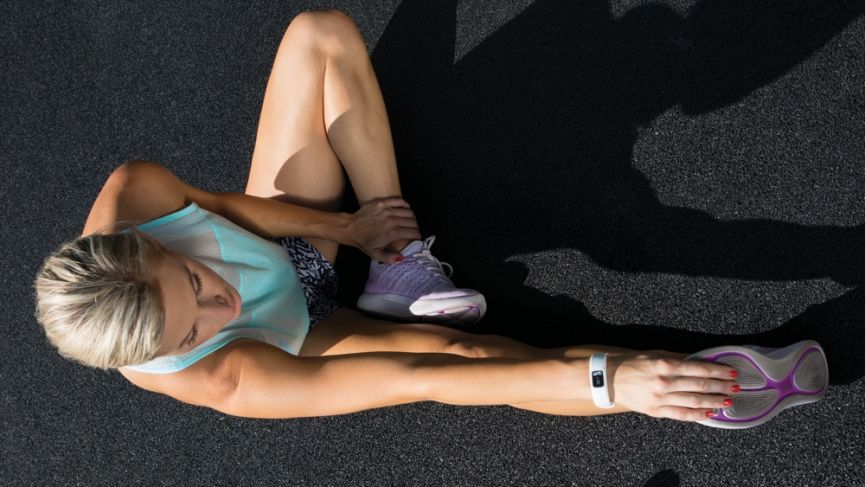 Even if you can get this working, you shouldn't expect many insightful metrics. It'll likely just show you the time you've been exercising, you'll need a more extensive fitness tracker to be able to properly track swims.
We plan to test swimming further in the future, but it's a strange occurrence that it just didn't record any further details from our exercise. We've yet to test the Vivofit 4 while cycling, but Garmin is certain it'll automatically record your bike rides too.
Then there's sleep tracking, which we found to work as well as it does on other Garmin fitness tracker bands. The app shows you the amount of time you've been asleep, your sleep movement and different levels of sleep too.
This works much like how it does on other fitness trackers and it's mostly just an estimate of how restless your night's sleep turned out to be, but the upside is smaller size of the Vivofit 4 makes it a comfortable device to wear at night.
Specs and performance
The Vivofit 4 is fast considering it's a basic device and doesn't need to be particularly intensive in use.
If you're cycling through the menus it works speedily and we found it would be reliable at all times. We don't know the exact computing power behind the Vivofit 4, but it gets the job done just fine.
Fitness data you've recorded will be put onto the device so you don't always need to have it connected to your phone, but be warned you'll only be able to track around four weeks of data, so you'll need to sync it with your phone every once in a while.
There's no storage here to upload music though and no Bluetooth music support, so this isn't particularly built as a device you can take out and about on its own.
App and compatibility
The Garmin app isn't as easy to use as some of the competition like the app you'll have alongside Fitbit devices, but it provides you with all of the necessary details within a reasonably easy to read format.
Once you've connected your Vivofit 4, the details of your daily step count and workouts will appear within the app. There's a News Feed function that shows you all of your stats for exercises you've done. If you've worked out on a specific day, you'll find that in the My Day section where it shows you your workouts.
This is all okay, but we particularly like it when you dive into the exercises themselves. It breaks down your data really well with a huge selection of stats for each different kind of exercise.
For example, with a run you'll get a map of where you've been (if you've used GPS on your phone), the time it took, distance, an estimation of calories burned, pace, elevation as well as cadence and much more.
We're not sure how accurate the cadence can be when it doesn't monitor your leg movement as well, but otherwise we found this to work out well and you can then share all of your stats from within the app to your social media or Garmin's own social networking elements.
You can connect up your Google or Facebook account to the Garmin platform so you can share your activity with friends and family or set them challenges so you can compete against each other.
If you've got a relatively recent Android or iOS phone, it's likely you'll be able to connect up your Vivofit 4. You'll need to have an iPhone that's running the latest in iOS software - at the time of writing that's iOS 11 or a phone that's got Android 4.3 or above software.
Battery life
We've gently see battery life improve on fitness trackers, but you can still buy a lot of devices that can only last for one or two days. The Garmin Vivofit 4 is not that device.
Garmin claims this tracker will last up to a year, so you won't need to charge this every week. Instead it takes an SR43 watch battery (which you can manually replace yourself at home) allowing for you to wear it at night as well as during the day.
We haven't been able to test this to its full, so we have to put our faith in Garmin that the tracker is able to last a long amount of time. It's not clear how you find out the battery life available on the Garmin Vivofit 4 either.
James is Managing Editor for Android Police. Previously, he was Senior Phones Editor for TechRadar, and he has covered smartphones and the mobile space for the best part of a decade bringing you news on all the big announcements from top manufacturers making mobile phones and other portable gadgets. James is often testing out and reviewing the latest and greatest mobile phones, smartwatches, tablets, virtual reality headsets, fitness trackers and more. He once fell over.