Roccat Magma Mini: One-minute review
The Roccat Magma Mini keyboard is clearly aiming for the underserved part of the gaming market and succeeds at most of its goals. So much of the 60% keyboard is dominated by gaming keyboards with mechanical and optical switches, leaving those looking for more affordable and practical products in the dust, but that isn't the case here.
Priced at a mere $49.99 (around £41 / AU$71), this is a cheaper alternative to getting a mechanical keyboard without breaking the bank on one. Unfortunately, there doesn't seem to be a plan to release this keyboard outside the UK or Australia at this time.
The Roccat Magma Mini's keys don't have all the bells and whistles of the more popular mechanical switches, instead electing to use the much quieter but no less satisfying to type on membrane keys. It's a solid alternative for those who may prefer an alternative to the loud clacking of mechanical keys, especially during those late-night typing sessions.
That said, this isn't some featureless, boring keyboard either. Roccat gave it some handy tools to enhance the typing experience, making it a great fit for both gaming and professional use. Helping with those late-night gaming or writing sessions is the gorgeous RGB lighting. The membrane keys are incredibly responsive, with the anti-ghosting feature, as well as Easy-Shift[+] technology that enables function layers. The keyboard itself is waterproof, which is a godsend for those of us who need a little drink on the side but have the coordination and grace of a bull in a fine china shop.
Other than the keys being a bit thin, which gives trouble to those with larger fingers or those with unstable hands, and the finger placement being a bit awkward and tight, the arrow keys need to be activated using the Function key. Once you get accustomed to it, hwoever, there's little issue.
Roccat Magma Mini: Price and availability
How much does it cost? $49.99 (around £41 / AU$71)
When is it available? Only the US at the time of writing
Where can you get it? Through the Roccat online storefront
Roccat Magma Mini: SPECS
Layout: 60%
Switch: Membrane
Programmable keys: Yes
Dimensions: 308 x 132.2 x 36.6 mm
RGB or backlighting: RGB
Currently, the Roccat Magma Mini keyboard is available in the US for $49.99 (around £41 / AU$71), which is a beyond excellent price that beats out most other 60% gaming keyboards. However, both the UK and Australia are out of luck, as this keyboard isn't available in any other region at the time of this writing.
There is a good chance that we could see a global release for two reasons. The first is that the product received a UK Roccat blog post (opens in new tab), and the second is that the standard-sized Roccat Magma keyboard (opens in new tab) is available in the UK at least. However, the pricing is a bit higher for that one, since its normal retail price is £49.99, which is much more than $49.99. Good thing it's discounted right now.
Roccat Magma Mini: Design and features
Water and dust resistant
Lightweight and compact form factor
As with any other 60% keyboard, the Roccat Magma Mini has a more compact form factor that's better suited for those with a lot less desk space. And though it only comes in black, the beautiful customizable RGB backlighting makes it pop and comes in handy during those late-night gaming or typing sessions.
It's incredibly lightweight and, combined with the small size, makes it one of the most portable keyboards we've tested. Its build is quite great as well – even though it's not a solid aluminum chassis, it can still take a beating without breaking down. It's a wired one as well, making it far more responsive than wireless keyboards. But it's a shame that said cable isn't removable, which would help out with portability and let you mod it with a coiled one.
Something it has in common with other 60% keyboards is that in order to use the arrow keys, you need to press FN first. It's not a deal breaker, but it's certainly a more awkward choice that requires some adjustment on your part in the beginning.
One of the best features, bar none, is that it's both water- and dust-resistant. That means that you won't completely bust your keyboard if a bit of juice spills on it, and that dust will take much longer to accumulate on and in between the keys, which is normally a killer for keyboards.
Roccat Magma Mini: Performance
Fast and responsive keys
Easy-Shift[+] button is a great feature
Despite it being much smaller than your average gaming keyboard, we found the Roccat Magma Mini to perform just as well. The keys are exceptionally responsive, are equipped with anti-ghosting, has a polling rate of 1000Hz. When combined with the best gaming mouse, that means that even the most intense firefights are a cinch to play through.
This is in part to the membrane keys themselves, which have a fast, midway actuation point that makes them both accurate and fast-responding in the first place.
There's also a dedicated Easy-Shift[+] button, which activates a second function layer that can be programmed to expand the capability of each keystroke. It's an extra, and much needed, way to get even more mileage out of a smaller keyboard. It's also a wired keyboard, which means that performance is further enhanced as signals from the key switches travel and register at higher speeds than a wireless mouse.
For those who need a cheaper gaming keyboard that takes up very little space, the Roccat Magma Mini is an excellent one to invest in. The only real downside to it is the keys being a bit too narrow, which would make for an accuracy issue for those with thicker fingers or a disability that cause hand tremors.
Should I buy the Roccat Magma Mini keyboard?
Buy it if...
You need an affordable and high-quality gaming keyboard
Most dedicated gaming keyboards, especially 60% and 65% ones, are very expensive, which makes this one an excellent buy as it combines quality with a great price point.
You want a 60% gaming keyboard with solid performance
Though it uses membrane keys instead of mechanical ones and has a small form factor, it's responsive and performs well during more intense gaming sessions.
You want a dust- and water-resistant keyboard
The fact that it has dust and water resistance, which most keyboards and especially gaming ones don't offer, is a great reason alone to invest.
Don't buy it if...
You need wider keys
Unfortunately, like many smaller keyboards and even some larger ones, this one has narrow keys that makes it harder to use for some people.
You want a wireless keyboard
Though wired keyboards have plenty of upsides, if you prefer a wireless keyboard than you'd best avoid this one.
You need a higher polling rate
Though 1000Hz is quite solid and will serve most gamers, if you need something much higher for hardcore or professional use then this one is a harder sale.
Also consider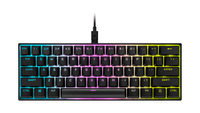 (opens in new tab)
Corsair K65
Though normally twice the cost of the Roccat Magma mini, this is still a high-quality gaming keyboard that won't break the bank. It also features a lightning-fast polling rate of up to 8,000Hz, which is perfect for professional gaming.

Check out our full Corsair K65 review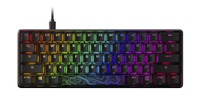 (opens in new tab)
HyperX Alloy Origins 60
A slightly more affordable option but still more expensive than the Magma mini, this keyboard has a sturdy build and HyperX Red switches on its keys. It's a bit awkward to use at first, however, and has no macros.

Check out our full HyperX Alloy Origins 60 review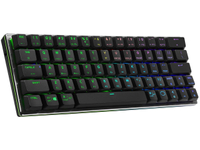 (opens in new tab)
Cooler Master SK622
A more affordable gaming keyboard than most, it boasts great gaming performance, light and thin form factor, can be both wired and wireless, and comes with tons of other features. The Bluetooth is a bit sluggish though.

Check out our full Cooler Master SK622 review
Roccat Magma Mini: Report card
Swipe to scroll horizontally
| | | |
| --- | --- | --- |
| Value | For just $50, this is an excellent value of a gaming keyboard. Too bad only the US gets it for now. | 4 / 5 |
| Design and features | Comes with RGB backlighting, dust and water resistant, and is way light and thin. | 5 / 5 |
| Performance | Though the 1,000Hz polling rate could be a negative, the price makes this way reasonable. And it's surprisingly responsive when playing most games. | 4.5 / 5 |
| Total | This is a well balance gaming keyboard for those on a budget but still want solid performance and design. | 4.5 / 5 |
First reviewed February 2023
How we test
We pride ourselves on our independence and our rigorous review-testing process, offering up long-term attention to the products we review and making sure our reviews are updated and maintained - regardless of when a device was released, if you can still buy it, it's on our radar.