Xiaomi unveils smart glasses because we so 'desperately' need more AR wearables
Opinion: The concept is called Xiaomi Wireless AR Glass Discovery Edition, but do we need another one?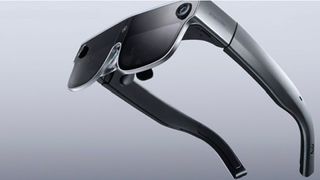 (Image credit: Xiaomi)
I don't know who needs to hear this but most consumers probably don't want to wear smart glasses. That harsh reality hasn't stopped everyone from Apple and Google to Facebook and Amazon to try building and selling them to disinterested consumers.
Stepping into the ring this week is Xiaomi, the Chinese tech manufacturer that makes some very interesting phones that we still can't buy in the US or in some other Western markets. At the bustling MWC 2023 conference in Barcelona, the company teased its Xiaomi Wireless AR Glass Discovery Edition.
While still a concept, the AR glasses do sound and look intriguing. Inside the magnesium-lithium alloy and carbon-fiber frame is the Snapdragon XR2 Gen 1 chip. That onboard intelligence connects wirelessly to a smartphone with, Xiaomi promises, "the latency of as low as 3ms1."
While the frame looks a bit bulky and, with its dual cameras, kind of shouts, "I'm smart glasses", Xiaomi says it weighs only 126g.
The glasses are cable of head tracking and, thanks to those cameras, can be controlled via gestures.
One of the chief criticisms of most previous AR headgear, including Microsoft HoloLens, has been the low-quality and narrow field-of-view displays. With the Xiaomi Wireless AR Glass Discovery Edition, Xiaomi is promising "retina-level" visual clarity. The concept glasses boast 58 pixels per degree (PPD), which is apparently almost high enough that the human eye will no longer see the pixels. By contrast, the HoloLens topped out at 47PPD.
As is often the case in modern AR glasses, Xiaomi's displays do not point directly at the user's eyes. Instead, smart glasses use prisms to guide the image in front of your eyes. Even so, Xiaomi is promising 1,200 nit of brightness. HoloLens has a max brightness of roughly 500 nits. That level of brightness might make augmented reality objects look like they're part of the real world.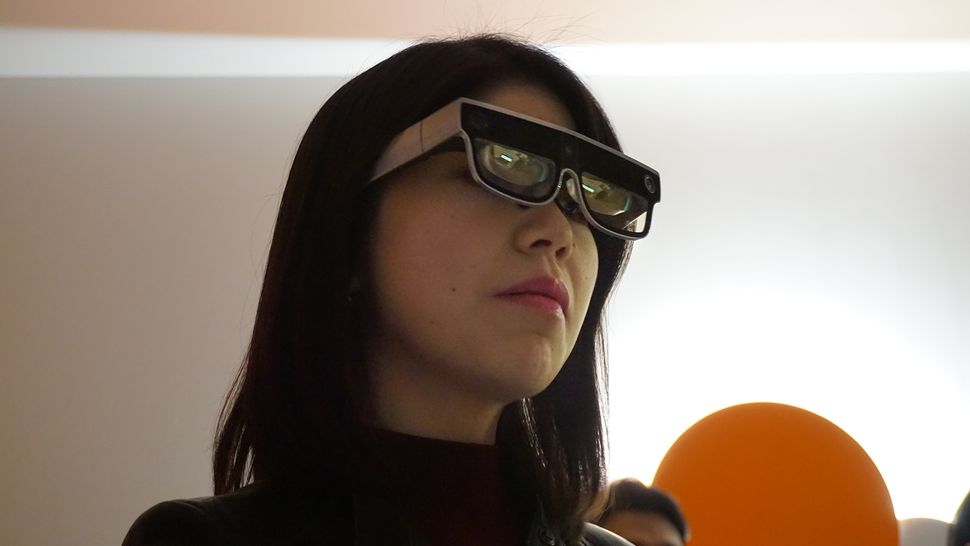 Things get a little weird after that. For its gesture control, Xiaomi is focusing not on the whole hand or even all of your digits. Instead, the glasses use inner fingers, 12 knuckles, the thumbs, and your palm to define movements around the interface and for input like text entry.
Fortunately, there will also be the option of using your smartphone to control the glasses.
The glasses will support a wide variety of applications including YouTube and, yes, TikTok. This is all we need, someone wandering the streets while using bizarre finger gestures to watch an endless stream of TikToks.
More intriguing is how Xiaomi envisions some might use the AR glasses to use the gesture of flicking on a switch to turn on an actual smart light.
There's no pricing or availability set, but Xiaomi is promising that the Wireless AR Glasses Discovery Edition (why are all these early glasses called "Discovery" or "Explorer" editions?) will be available in titanium and with three different nosepieces. Instead of support for prescription lenses, Xiaomi is offering a "myopic clip".
But why?
With Apple racing to deliver what may be a $3,000 mixed reality headgear and everyone else still working on normal-looking AR glasses, I still have to wonder what all the fuss is about.
It's as if a future described in tattered science-fiction magazines is dictating product development while consumers look on in confusion. How many people have you ever encountered wearing smart glasses of any kind?
Sure there are some influencer types who jumped at the chance to own SnapChat Spectacles or Facebook's Ray-Ban Stories, but few, if any, regular people are wearing them.
Back when Google Glass was a thing, I wore my pair on top of my regular glasses for days at a time. It was kind of fun and also a little weird to have these informational blurs floating in front of my face. Google Glass did not make me more popular and, awash in shame, I finally put them aside.
Headsets from Nreal, HTC, TCL, Lumus, and Magic Leap are vastly better than the original Google Glass and Microsoft HoloLens, but I remain unconvinced that we're heading for a wearable AR boom.
Until smart AR glasses look exactly like regular glasses, without the need for bulky batteries, a thicker frame to accommodate the processor, and weird-looking camera lenses on the front, I don't see consumers jumping to buy any of them.
Who knows, maybe these Xiaomi glasses will be the set to change their minds or it will more likely be whatever Apple delivers between now and 2026.
For all of our latest MWC 2023 coverage and news, check out our live blog.
Sign up to receive daily breaking news, reviews, opinion, analysis, deals and more from the world of tech.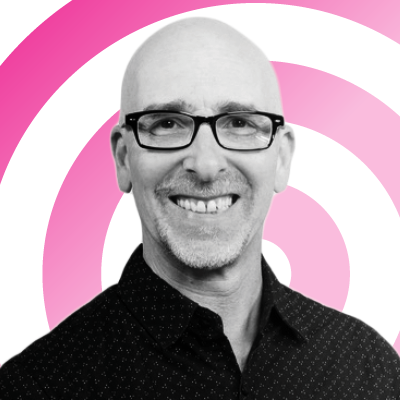 A 35-year industry veteran and award-winning journalist, Lance has covered technology since PCs were the size of suitcases and "on line" meant "waiting." He's a former Lifewire Editor-in-Chief, Mashable Editor-in-Chief, and, before that, Editor in Chief of PCMag.com and Senior Vice President of Content for Ziff Davis, Inc. He also wrote a popular, weekly tech column for Medium called The Upgrade.
Lance Ulanoff makes frequent appearances on national, international, and local news programs including Live with Kelly and Ryan, Fox News, Fox Business, the Today Show, Good Morning America, CNBC, CNN, and the BBC.