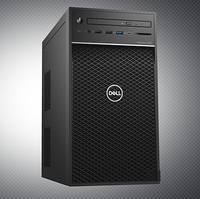 (opens in new tab)
Dell Precision 3630 tower workstation: $679 $401.90 at Dell Direct (opens in new tab) (Save $277.10) - Although it doesn't look like it, this is a stunning price for a workstation PC that comes with Windows 10 Pro as well as a long 3-year onsite warranty, great for peace of mind for those that want a bargain AND a quality PC build to last, not something you usually get off the shelf.
Hidden in the depths of Dell's website is the Dell Precision 3630 (opens in new tab), a tower workstation that's not in Dell's Black Friday deals (opens in new tab) but we chose to highlight it because it is the cheapest workstation (opens in new tab) the company right now - cheaper than anything Lenovo or HP has to offer at the time of writing.
What makes this deal special, apart from its price ($401.90), it comes with Windows 10 Pro (opens in new tab) (which typically costs $91.74, as you can swap it for Ubuntu Linux (opens in new tab) 18.04) and a standard 3-year onsite warranty (a $36 upgrade on the Vostro line). The rest of the configuration is in line with what we'd expect from an entry level workstation.
There's a 10th generation quad-core Intel Core i3 processor with a single 4GB memory module, a 500GB HDD and a 300W power supply unit. There's no optical drive, keyboard, mouse or memory card reader to keep costs down, but since this is a Precision workstation, you get all the clever features you'd expect from that family.
That includes a plethora of ports (two 4K-capable DisplayPort connectors, 10 USB ports, a Gigabit Ethernet card as well as legacy connectors (PS2, RS232/Serial etc). Expansion capabilities are excellent as well with space for four SATA storage devices with support for host based RAID 0/1/5/10 modes.
TechRadar is scouring every retailer and rounding up all the top deals over the Black Friday period, and we've put all the best Black Friday deals and Cyber Monday deals in easy-to-navigate articles to help you find the bargains you're looking for.