Advertisement Feature
Students, don't spend more than you have to – save big with discounts on iPads, laptops and more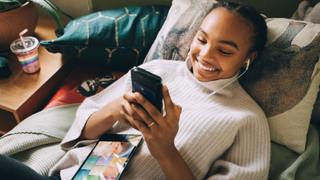 (Image credit: UNIDAYs)
Starting out at university is one of the most exciting times of anyone's life. Everything changes. Whether you are a new student getting ready for uni, or a parent helping your loved one prepare and pack for their new life, knowing what to take is crucial. But having reliable tech, be it a laptop for coursework, an iPad for note taking, a printer for proof reading or just a portable speaker to sing along to, all help enhance the student experience.
Devices enable students to succeed academically, connect socially, keep in touch with family and stay as stress free as possible. But at a cost.
The good news is the free UNiDAYS app exists solely to save students money. It has discount codes for over 800 big brands, knocking at least 10% off the asking price - which is considerable especially when shopping for tech. In addition, you'll get access to codes to use online and instore.
If you're unsure where to start, fear not, 5,000 students have voted for their favourite devices (laptops and smartphones aside) that help them study, have fun and unwind.
The results are below. Plus, you can win EVERYTHING on this list by clicking on the UNiDAYS link at the end of the article.
1. Tablets - perfect for creative courses, note taking and looking like a pro: up to 15% off
iPads and tablets were in the top five devices students wished they had bought as a Fresher. 80% of the UNiDAYS members surveyed bought a tablet to study with.
They're more portable and practical than a laptop, especially handy for taking to lectures. If your course is design based then the iPad Pro is definitely the best tablet on the market thanks to its fantastic screen and second generation Apple Pencil support.
56% of students also purchased a tablet for relaxing. Remember, downtime is just as important as studying, and with a tablet, you can find any comfortable spot to watch Netflix and take your mind off your studies.
2. Printers - perfect for proof reading after 10 hours of screen time: 10% off
A third of students regret not buying a printer according to UCAS. You don't want to be relying on your library credits to hit the deadline.
Sometimes it's good to get away from your constant screen time and take your work somewhere you don't need a Wi-Fi connection to proofread your essays.
Whether you're in halls or rented, you don't want a big lump of a machine to take up vital bedroom space so being compact is key.
3. Monitors - perfect for big screen essay writing, TV and gaming fun: up to 35% off
Not all course material can be easily printed though, so if you want to use less paper, a second plus-size screen is really useful.
Students rave about Dells which can organise and spread out your windows with Dell EasyArrange.
And you can watch a video on one screen whilst you take notes on the other. It doesn't take up much desk space either, and it's well priced for a 27-inch ultra slim monitor.
4. Bluetooth speaker - perfect for room ambience, socialising and happiness: 15% off
A quality speaker for your room is a must. Whether it's background music whilst you get ready in the morning, tunes to study to, or DJ sets during breaks that everyone in your flat can control - there's a lot of advantages to having a standalone Bluetooth speaker.
5. Headphones - perfect for working out, zoning out or going out: up to 60% off
76% of UNiDAYS members bought headphones for relaxing. Wireless headphones are commonplace on campuses and are helpful for traveling to lectures, pumping iron in the gym or drowning out noise when you have a deadline.
"96% of over 5,000 students agree that having decent tech helps get their coursework done to the required standard, and 89% rely on their laptop and devices to keep in touch with family and friends. UNiDAYS are proud that we can help in any way possible to make the university experience more affordable and fun." Josh Rathour, CEO UNiDAYS
Win the ultimate uni tech bundle
If you loved this top five list, UNiDAYS is giving a lucky reader the chance to WIN the ultimate uni tech bundle before term starts.
Click on the link below to win all the tech featured in this student survey PLUS a MacBook Pro! Altogether worth a massive £3k!
Sign up to receive daily breaking news, reviews, opinion, analysis, deals and more from the world of tech.