Kodak and Samsung partner for printers
Samsung will use Kodak tech in European distribution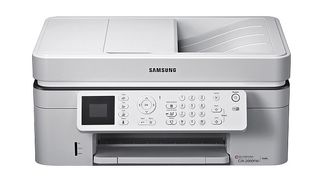 Kodak and Samsung have announced a partnership which will see the pair work together on printers for the European market.
Consumer all-in-one inkjet printers from Samsung will use Kodak's printer and proprietary ink technology.
Previously, Samsung had not been present in the inkjet printing market, only offering laser printers up to now.
Printing technology
The company said that it would benefit from Kodak's experience of inkjet technology.
Earlier this year, Kodak, the iconic photography brand, announced it was stop making cameras to concentrate on its printing business.
Kodak has sued Samsung in the past for patent infringement relating to its imaging portfolio, but Kodak called the new partnership a "win-win" situation which allowed Samsung to take advantage of Kodak technology with the already successful Samsung brand.
The company will continue to invest and market its own range of All-in-One Printers, along with Kodak ink cartridges and inkjet paper.
It is thought that the new printers have already gone on sale in Germany.
Sign up to receive daily breaking news, reviews, opinion, analysis, deals and more from the world of tech.
Amy has been writing about cameras, photography and associated tech since 2009. Amy was once part of the photography testing team for Future Publishing working across TechRadar, Digital Camera, PhotoPlus, N Photo and Photography Week. For her photography, she has won awards and has been exhibited. She often partakes in unusual projects - including one intense year where she used a different camera every single day. Amy is currently the Features Editor at Amateur Photographer magazine, and in her increasingly little spare time works across a number of high-profile publications including Wired, Stuff, Digital Camera World, Expert Reviews, and just a little off-tangent, PetsRadar.