White House hears the call for legalizing cell phone unlocking
Executive branch fights for the right to have unlocked phones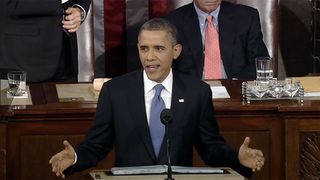 Who knew cell phone unlocking would become such a hot button topic?
The White House today issued a formal response to a petition seeking reconsideration of a January policy that made it illegal to unlock a cell phone for use on another network without permission from the carrier that issued the phone.
Prompted by a "We the People" petition that garnered more than 114,000 signatures, White House Senior Advisor for Internet, Innovation & Privacy R. David Edelman wrote, "consumers should be able to unlock their cell phones without risking criminal or other penalties."
Those penalties were never formally outlined, but nevertheless the White House said that as long as consumers have paid for their mobile device and aren't tied into a service agreement or other obligation, they should be able to use whichever network they desire.
"It's common sense, crucial for protecting consumer choice and important for ensuring we continue to have the vibrant, competitive wireless market that delivers innovative products and solid service to meet consumers' needs," Edelman gave by way of explanation.
Freedom
The Librarian of Congress issued the rule that made unlocking cell phones without permission illegal in October 2012, but the policy went into effect on Jan. 26, 2013. Phones bought on or before that date were exempted from the policy.
In that time, the online "We the People" petition was started, eventually catapulting past the 100,000 signatures needed to garner a formal White House response.
While Edelman noted that the White House respects the process of the Librarian of Congress to establish or eliminate exceptions to the Digital Millennium Copyright Act (DMCA), the law that blankets unlocked cell phone use, coming up with exceptions is "a rigid and imperfect fit for this telecommunications issue."
To address unlocking more thoroughly, the White House said it would back a number of practices, including coming up with "narrow legislative fixes to telecommunications policies that make it clear: neither law nor technological locks should prevent consumers from switching carriers," granted they are free from carrier contracts or other obligations.
Commission work
The Federal Communications Commission (FCC), the chairman of which last week promised to investigate the Librarian of Congress's policy, has an important part to play in coming up with policies, Edelman wrote.
From now on, the Department of Commerce's National Telecommunications and Information Administration (NTIA) will work with the FCC to address the issue.
The NTIA, the White House's principle advising body on telecommunications and internet policies pertaining to economic and technological advancement, last year wrote a letter to the Librarian of Congress advocating the maintenance exceptions for unlocked cell phones in the DMCA.
Last but not least, the White House encouraged carriers to examine their business policies to "ensure that their customers can fully reap the benefits and features they expect when purchasing their devices."
While sidestepping actual policy measures or promises, the White House's response is good news for those affected by the Librarian of Congress' policy, especially if the FCC and NTIA play a greater role in forming policies.
Will we see greater cell phone freedom in the future? Time will tell, but it looks like free use advocates will have an ally in the White House for at least four more years.
Sign up to receive daily breaking news, reviews, opinion, analysis, deals and more from the world of tech.
Michelle was previously a news editor at TechRadar, leading consumer tech news and reviews. Michelle is now a Content Strategist at Facebook. A versatile, highly effective content writer and skilled editor with a keen eye for detail, Michelle is a collaborative problem solver and covered everything from smartwatches and microprocessors to VR and self-driving cars.