Remote working: the tech you need to consider
Choosing the right mobile technology for your business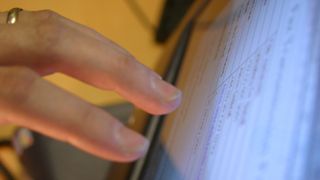 With the numbers of mobile office workers continuing to rise, and BYOD (Bring Your Own Device) taking hold, building the perfect remote office is now a commercial imperative few small businesses can ignore.
Sean Suematsu, European Document Scanning Solutions Director at Canon Europe, comments: "With mobile working and connectivity to cloud services on the rise, organisations are looking for ways to ensure their business processes can cope with the demands of employees working more remotely and making use of smart devices.
"According to our Office Insights Report, European workers want to be mobile with a third now working remotely more often compared to a few years ago, and consider mobile technology like laptops, tablets and smartphones as crucial in enabling them do their job."
For workers on the move, having the right office technology to hand can vastly improve their efficiency. Today, all of the main office services have a mobile equivalent that can be easily taken on the road. Designing your own personalised mobile office means understanding your core needs when away from the office. Ask yourself these key questions to help you choose the right mobile technology:
Will you need to capture information for analysis later?
Is there any need to print out materials?
Will your remote working require the scanning of paper documents?
Does your remote office location have an adequate power supply?
Vendors have been quick to take note of the increasing need for the portable office. What's more, remote workers want all the office services they take for granted back at base available to them no matter where they happen to be. There are now groups of technologies that anyone can use to design their own bespoke mobile office.
As every mobile worker will travel with their smartphone or tablet, expanding the capabilities of these devices can enable you to create a powerful and efficient office on the move. The Tascam iM2 Stereo Microphone is a good example. Turning to the camera, lens accessories are available from Photojojo designed for Android phones and the iPhone.
The creation and capture of data is one of the primary components of a mobile office. Using a notebook PC, or a tablet places in the hands of a mobile worker a powerful data-capturing device.
However, ancillary technologies are also available. One of the most innovative is the digital pen from Livescribe.
Now with Wi-Fi capability, the pen enables anyone to digitally capture written notes. The pen can also record audio that is then translated into a digital file that can be accessed with applications including Evernote.
Gilles Bouchard, Livescribe chairman and CEO, says: "With the Livescribe Wi-Fi smartpen, anyone can easily capture important ideas, presentations and conversations in the most natural way - on paper - and they automatically appear right where they want them - on their mobile devices and personal computers."
More traditional data capturing devices are also available: The NeatReceipts scanner is designed to capture - not surprisingly - till receipts, but can also be used to scan any paper-based documents.
An alternative is the Brother DS600. Measuring 282 x 50 x 39mm and weighing in at 0.32kg, both these scanners are powered by their USB connections, dispensing with the need for a mains power supply. Also in this category is IRIS, with the IRIScan Book 3 offering particular portability.
Printing when out and about
Printing out when working remotely had meant a trip to a copy shop, but with inkjet printers continuing to shrink in size, remote workers can now take a printer with them. Leading suppliers in this area include HP Officejet 100 that offers excellent output from this battery-powered printer.
Also, the Canon PIXMA iP100 and the Brother PJ663 PocketJet 6 Plus that offers Bluetooth connectivity, and the Brother MW-260A thermal printer that offers the ultimate in compact printing onto A6 paper.
Working away from the office may also mean carrying other specialist equipment. Here, compact versions of digital cameras are available, including the Panasonic DMC-TZ40EB that offers 18.1 megapixel quality, full HD video, 20x optical zoom and Wi-Fi connectivity in a camera that weighs only 0.44kg.
Also, the Nikon Coolpix S01 offers 10.1 megapixels in a camera that measures just 77 x 51 x 17mm and weighs only 96g.
If you need a dedicated video camera, there are a plethora of compact models available. A leading contender for your mobile office could be the Panasonic HC-X920 that offers 38.28 megapixels. And if you need a dedicated voice recorder the Zoom H series offers perfect recording in a compact device.
Of course the mobile office is power hungry. Travelling with rechargeable batteries is an option, but, for completely independent power generation, a range of bags and rucksacks are available with integrated solar panels from Voltaic.
The range of portable office technology that is now available ensures that no matter your location, all of the expected office services are at your fingertips. With remote working becoming the norm, developing your own digital rucksack is now child's play.
Are you a pro? Subscribe to our newsletter
Sign up to the TechRadar Pro newsletter to get all the top news, opinion, features and guidance your business needs to succeed!