Microsoft's 10 best moments of 2015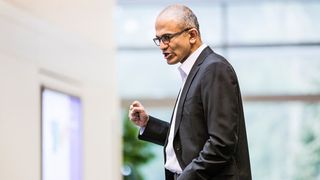 (Image credit: Future)
Introduction
Despite its ranking as the third largest technology company, and a steadily increasing stock price over the past five years, Microsoft has had a perception problem. To the zeitgeist, Microsoft is the old, stately mansion with the brown lawn and the peeling paint. Always in need of a fix-up, a pruning of the topiaries, a cleaning of the pool – something to get heads turning again.
It's a problem magnified by the growth of other tech companies like Samsung, Google and Facebook, and the massive resurgence of Apple.
But thanks to a strong 2015, Microsoft's perception problem could be a thing of that past. Here are Microsoft's 10 best moments of 2015 that let us know this old house is no antique.
1. The platform for all launches
Microsoft's flagship product, Windows, has had its ups and downs, but its latest iteration, Windows 10, was met with positive reviews and (more importantly) positive user experiences, breathing new life into the franchise and the company.
"Accommodating." That's how many are describing the new Windows experience. It's not a word one usually associates with excellence, but as a description of an operating system, there's no higher praise. An OS should be something not noticed because if it is, it's getting in the way.
With an easy learning curve, a much improved user interface that's designed for multiple platforms and a Cortana eagle-eyed enough to find your PowerPointon the merits of the Zune from eight years ago, Windows 10 lets you use your device without having to fight it.
Plus, it's a free download for modern Windows users. 110 million users agree: you can't get more accommodating than that.
2. The laptop game gets a new player
You never get a second chance to make a first impression, and this year Microsoft made sure it wouldn't need one with its first-ever laptop, the Surface Book.
Though undeniably powerful with a 3,000x2,000 resolution screen and Intel Core processor, the show-stealer for the Surface Book is its detachable screen. Microsoft's Muscle Wire detach mechanism, along with a controllable magnet that puts your local junkyard's car-grabber to shame, ensures both a strong bind and an easy separation of screen and base.
This interchangeable work and play functionality seemed already perfect with the Surface Pro, but at least for enterprise clients and creatives, the Surface Book may be the gold standard.
Who would be surprised if the usually innovative Apple imitated the Surface Book's hybrid-style in the next iteration of MacBook Pro?
3. The fourth time's the charm
Microsoft is touting the Surface Pro as the laptop killer and while it's not that deadly yet, the Pro's fourth iteration, revealed in October, might just knock the laptop into the ICU.
The Surface Pro 4's Type Cover sports a much-improved set of keys, with deeper key travel and better spacing. And while the Type Cover will always be the Surface Pro's biggest feature, the 4's new Surface Pen is undeniably cool. This latest (and arguably biggest) shot in the stylus arms race features incredible sensitivity, near-perfect palm rejection, and a responsive eraser that also summons Cortana for search help.
Factor in a huge jump in resolution over the Surface Pro 3 and the Surface Pro 4 is gunning for that spot in the holiday gift box usually reserved for the iPad.
4. 365 ways to access Office
Though not as flashy as some of its Microsoft siblings, Office, like Windows, is an iconic product of the Redmond company. Any new version then leads to a great deal of nail-biting: will Microsoft mess up a good thing?
Nah, this is 2015 Microsoft we're talking about.
Office 2016's September release put any lingering skeptic's mind at ease. It expanded on Microsoft's commitment to collaborative software thanks to strong Skype integration, a social media tied calendar sharing and customizable project management tools.
But best of all, as part of its 2015 promise to create a platform for all, Microsoft made sure its iconic desktop apps were accessible anytime and nearly anywhere thanks to the new Office 365's cloud services, and continued support for Office for Mac and Office Mobile.
5. The Lumia at the end of the tunnel
Microsoft's acquisition of Nokia has been far from easy. This year the software giant laid off nearly 7,800 of its workers, mostly from the Nokia division, and all but admitted the acquisition of the phone manufacturer was a failure.
That was not Microsoft's smartphone swansong, however. With the Lumia 950 announcement this past month, Microsoft is showing it can still make a splash in the phone space.
The 950 fully integrates Windows 10 – and shows off the OS's ability to recreate a PC experience on other platforms. Couple that great interface with the Lumia's fantastic storage and camera, and Microsoft has a device that could change our perception of what a phone can do.
6. Lightning in a bottle
Microsoft and Salesforce have been partners since 2014, but 2015 saw the two companies introduce even more ways for Microsoft products to work with the Salesforce Lightning Experience, the new name for Salesforce's main CRM product.
Skype, OneNote and Delve are key applications Microsoft is planning to integrate with Salesforce. On its end, Salesforce intends to build a Salesforce 1 Mobile app for Windows 10, an important addition to the new OS's mobile apps library.
The partnership with Salesforce is shaping up to be more than just an exchange of logos; it'll ensure Microsoft's office applications maintain a dominant presence in the enterprise space.
7. A new way of looking at the world
For years, the Oculus Rift has dominated the news out of the VR/AR space. Facebook's acquisition of Oculus in 2014 seemed to further cement it as the premier VR platform in development.
Then E3 2015 happened. Microsoft debuted the HoloLens with a breathtaking demonstration of Minecraft augmented and sent a message that the Redmond company is diving head first into the virtual reality pool.
Though the HoloLens is a natural fit for Microsoft's gaming division, its application to work and non-gaming spaces is where the platform is most intriguing — and where it will set itself apart from other VR companies. Considering its strength in the enterprise space, who would be surprised if in ten years the HoloLens is a ubiquitous tool for Microsoft's business clientele?
8. Small in size but not in impact
Thanks to its size it's easy to overlook Microsoft's new fitness wearable, the Band 2. But this piece of technology was an important reveal for the Redmond company this October, because of its potential to capture the ever-growing (and full of garbage tech) wearable market.
The Band 2 not only has the bells and whistles you'd expect from standard fitness bands (heart-rate sensor, calorie counter, step tracker), it also incorporates a built-in GPS, guided workouts and Cortana as a pseudo-personal assistant. (She'll happily/annoyingly remind you of missed workouts.)
All the data collected will be copied to Microsoft Health, the free app associated with the Band 2. The app also works with other third party fitness services – another example of Microsoft's willingness to integrate with other platforms.
The first Band was universally panned for its flat, unappealing design. With the Band 2's new curved OLED surface, Microsoft showed it could listen to criticism and improve.
9.The new giant of Fifth Avenue
Only a mammoth store in America's largest city could match Microsoft's 2015 ambitions, and that's exactly what the Redmond company has in mind when it opens its flagship store on New York City's Fifth Avenue later this month.
Take one look at the concept art and it's immediately evident what adjective was bandied about in Microsoft design meetings: "Big." Five stories of everything Microsoft, the Fifth Avenue store will hold plenty of demo space for consumers looking to experience the new 2015 product line, as well as a troubleshooting center called the Answer Desk. There'll even be a theater where consumers can learn how to use their new Microsoft products. With its huge space, the new flagship store is the embodiment of Microsoft's 2015 philosophy.
10. October 6
Sometimes it's not the message, it's how you deliver it.
Microsoft's October 6th hardware event was a game-changer, and not only because of the hardware it showed off. Its bursting-at-the-seams enthusiasm for its products was just as important to see, especially for a consumer base that needs grand gestures to react to and evangelists to adore. (How many Steve Jobs movies are there?)
That's not to say Microsoft's hardware couldn't sell itself (my list would be pretty bare if it couldn't), but there's a chance this great technology would be mere morning coffee chatter instead of the bandwidth burning hype the Redmond company generated with their Panos Panay led event.
From the Doge-riding cat greeting, to Brian Roper's meme-ready "I can be productive like a boss wherever I am now," to the always-turned-up-to-eleven Panay, (not to mention the extremely compact two-hour running time) Microsoft made sure that after October 6th we wouldn't be talking about anything else.
Are you a pro? Subscribe to our newsletter
Sign up to the TechRadar Pro newsletter to get all the top news, opinion, features and guidance your business needs to succeed!