FTC to search engines: don't make ads look like search results
Consumer protection agency warns Google, Bing and Yahoo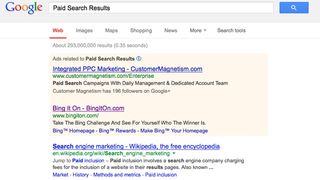 The people at the Federal Trade Commission must have a terrible time distinguishing organic search results from paid search advertisements, as it has found the two are hard to distinguish.
The FTC staff sent letters to search engines like Google, Bing, and Yahoo today to update its guidance for online advertisers, which was originally published in 2002.
The notice was also sent to AOL, Ask.com, Blekko, DuckDuckGo, and 17 more search engines, said the independent U.S. government agency in a press release today.
"The letters note that in recent years, paid search results have become less distinguishable as advertising, and the FTC is urging the search industry to make sure the distinction is clear."
"Failing to clearly and prominently distinguish advertising from natural search results could be a deceptive practice."
Visuals cues suggested
In addition to warning search engine operators, the FTC made some suggestions for the ever-changing digital media landscape.
"The updated guidance emphasizes the need for visual cues, labels, or other techniques to effectively distinguish advertisements in order to avoid misleading consumers."
"It makes recommendations for ensuring that disclosures commonly used to identify advertising are noticeable and understandable to consumers."
Just in case the FTC doesn't get around to updating its guidelines for another decade again, the government body acknowledged "new" search engine methods in its letter.
"Social media, mobile apps, voice assistants on mobile devices, and specialized search results that are integrated into general search results offer consumers new ways of getting information."
Regardless of the precise form that search takes now or in the future, paid search results and other forms of advertising should be clearly distinguishable from natural search results."
Top search engines reply
In response to the FTC guidelines, the most heavily trafficked search engines had their say.
"We have always been committed to providing a clear and transparent search experience for our users," Yahoo told TechRadar.
"We welcome the FTC's guidance and are in the process of further reviewing it."
Google also echoed that response, saying, "Clear labeling and disclosure of paid results is important, and we've always strived to do that as our products have evolved."
Microsoft's Bing had no comment to share at this time, but confirmed that it had been informed of the letter and intends to review it.
None of the top search engines companies are refuting the FTC, and seem to be toeing the line instead.
Maybe the government is running into too many paid search results while conducting its all-encompassing PRISM surveillance program
Sign up to receive daily breaking news, reviews, opinion, analysis, deals and more from the world of tech.