United takes Wi-Fi to the international skies, a first for a US airliner
Coming to international flights this year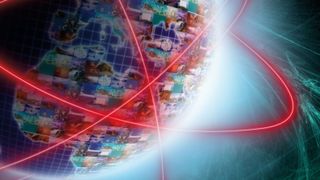 United Airlines recently announced that it's starting to equip international flights with satellite-based Wi-Fi for passengers to stay connected during overseas flights.
The airline has now installed a Ku-band satellite receiver on a Boeing 747, offering Wi-Fi on both trans-Atlantic and trans-Pacific flights.
Two domestic Airbus 319 planes also received a Ku-band satellite upgrade, as United expects to continue rolling out satellite-based Wi-Fi to Airbus 319 and 320 domestic flights and international flights on its fleet of Boeing crafts.
In total, 300 of United's mainline domestic and international aircrafts will feature satellite-based Wi-Fi by the end of 2013.
Airborne internet on the rise
United is now the first U.S.-based airline to offer Wi-Fi service on overseas flights, catching up to German-based airline Lufthansa, which has offered overseas Wi-Fi on flights since late 2010.
Last year Delta announced it will also feature similar Ku-band satellite Wi-Fi on international flights starting in early 2013, though the airline has not yet launched its first flight carrying the service.
The Wi-Fi provided through a Ku-band satellite connection will be faster than the air-to-ground Wi-Fi currently offered on United domestic flights.
With a faster connection, United will give passengers tiered pricing for internet access. Depending on flight length, a standard connection will cost between $3.99 and $14.99 while accelerated speeds will be available between $5.99 and $19.99.
While the price may seem steep for longer flights, Wi-Fi on United domestic fights currently runs through internet provider Gogo, with subscriptions starting at $14.95 for a 24-hour pass.
For some though, any price to stay connected may start to look like a bargain when stuck on a plane for a dozen or more hours, whether that means sending off important work emails or streaming equally important television episodes to a notebook or tablet.
Sign up to receive daily breaking news, reviews, opinion, analysis, deals and more from the world of tech.