Average UK broadband speed is just 3.6Mbps
Download rates significantly lower than advertised headline speeds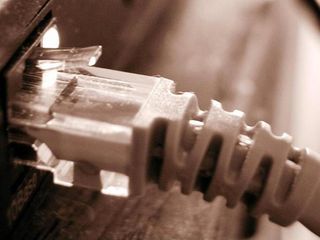 UK broadband customers are pulling down an average speed of 3.6Mbps, according to an Ofcom's report, published today.
At a time when service providers are talking up ever-faster broadband speeds, the results of the report make for sobering reading.
Customers on the most popular broadband headline speed package ('up to' 8Mbps) received an average actual throughput speed of 3.6Mbps, and an average maximum line speed of 4.5Mbps. One in five people on an 'up to' 8Mbps package are stuck with an average speed of less than 2Mbps.
Given the findings, it's surprising that 83 per cent of consumers say that they are satisfied with their broadband service. Over a quarter, though, claim that the speeds they receive are not what they expected when they signed up to their broadband service.
Satisfaction varies according to internet usage - 93 per cent of users are happy with their connection for web browsing, but the figure drops to 60 per cent for those who watch or download full feature films.
If you're planning on downloading large files, the busy period to avoid is between 5pm and 6pm on Sunday, the report found, when download speeds are at their worst.
"There is a lack of robust information available on the actual speeds that consumers receive and how these relate to both the maximum possible line speeds and the advertised 'up to' broadband speeds they pay for," the report notes.
"The Ofcom report is a step in the right direction for the broadband industry to cut through customer's confusion and improve trust in their services," says Felix Geyr, Managing Director of Be Broadband.
"Ofcom's broadband speeds code of practice, which Be Broadband signed up to when it was first announced, requires ISPs to better explain to new customers what speeds they are likely to obtain in practice, and also to tell them what steps they can take to improve their broadband performance."
Sign up for Black Friday email alerts!
Get the hottest deals available in your inbox plus news, reviews, opinion, analysis and more from the TechRadar team.
Global Editor-in-Chief
After watching War Games and Tron more times that is healthy, Paul (Twitter, Google+) took his first steps online via a BBC Micro and acoustic coupler back in 1985, and has been finding excuses to spend the day online ever since. This includes roles editing .net magazine, launching the Official Windows Magazine, and now as Global EiC of TechRadar.